Index Coop - MATIC 2x Flexible Leverage Index (MATIC2X-FLI-P)
Exchanges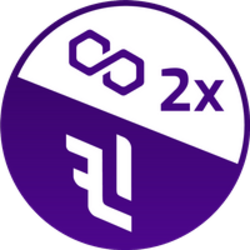 MATIC2X-FLI-P
Index Coop - MATIC 2x Flexible Leverage Index
$4.87
0.00%
Today's Current Price in US Dollar
Market capitalization of a coin is calculated by multiplying the current price in USD or EUR of a single unit of coin by the current circulating supply of that coin available for sale or purchase on public exchanges.

Ex: If the price of BTC is currently $20,000 and there are 50,000 BTC available on public exchanges, then the Market Cap of BTC is $1,000,000,000.
$67,590
Volume of a coin is the total spot trading volume reported by all exchanges over the past 24 hours multiplied by the value of an individual unit of that coin.
$40
Circulating supply is the approximate number of units of a coin that are currently circulating in the market in the hands of the general public.
13,886 MATIC2X-FLI-P
Release date is when the first tokens of this cryptocurrency were created and made available for mining or whatever other creation mechanism was specified in this token's blockchain protocol.
-
Data provided by Coingecko API
Index Coop - MATIC 2x Flexible Leverage Index Exchanges
Instant crypto to crypto exchange coming soon!