Možnosti bota
Options can be one of the most difficult financial instruments to master, but this barrier to entry is made up for in their potential for extreme profitability.
Prior to trading options, it's important to familiarize yourself with its fundamental concepts.
Let's look through the main options strategies and investigate its appeal to professional traders.
---
Koupit Call opci: Růst (Bull)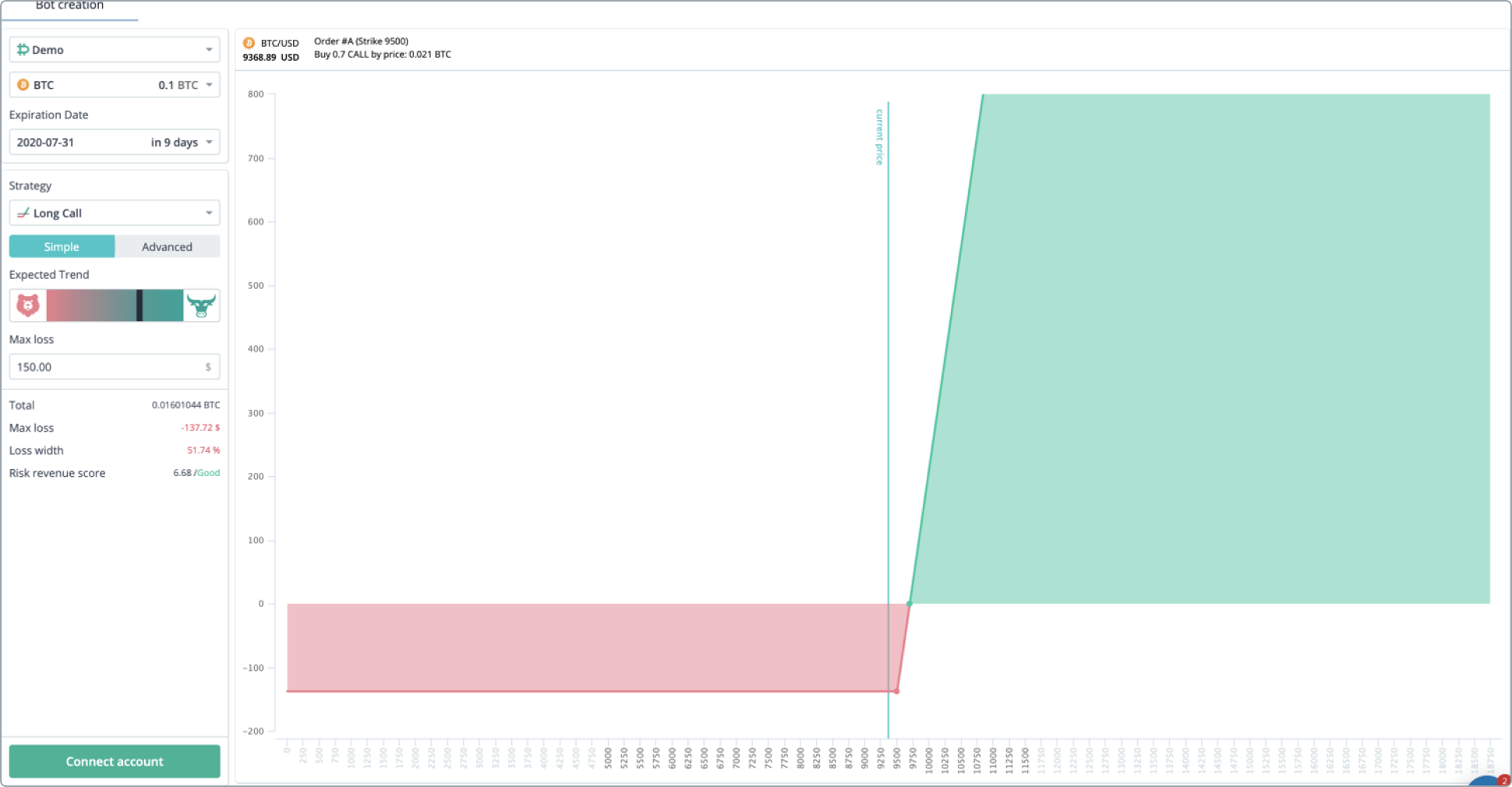 Buying a call is the main strategy in options trading. The primary advantage is limited losses and unlimited profit. As seen on the graph above, losses are limited by the premium paid for the option,but the profit is unlimited and depends on the price increase of the underlying asset.
This strategy should be applied when you are confident in the bullish sentiment in the market and the growth in the price of the underlying asset. If the market is dominated by bears, then it is worth taking a closer look at a Put strategy.
Koupit Put opci: Pokles (Bear)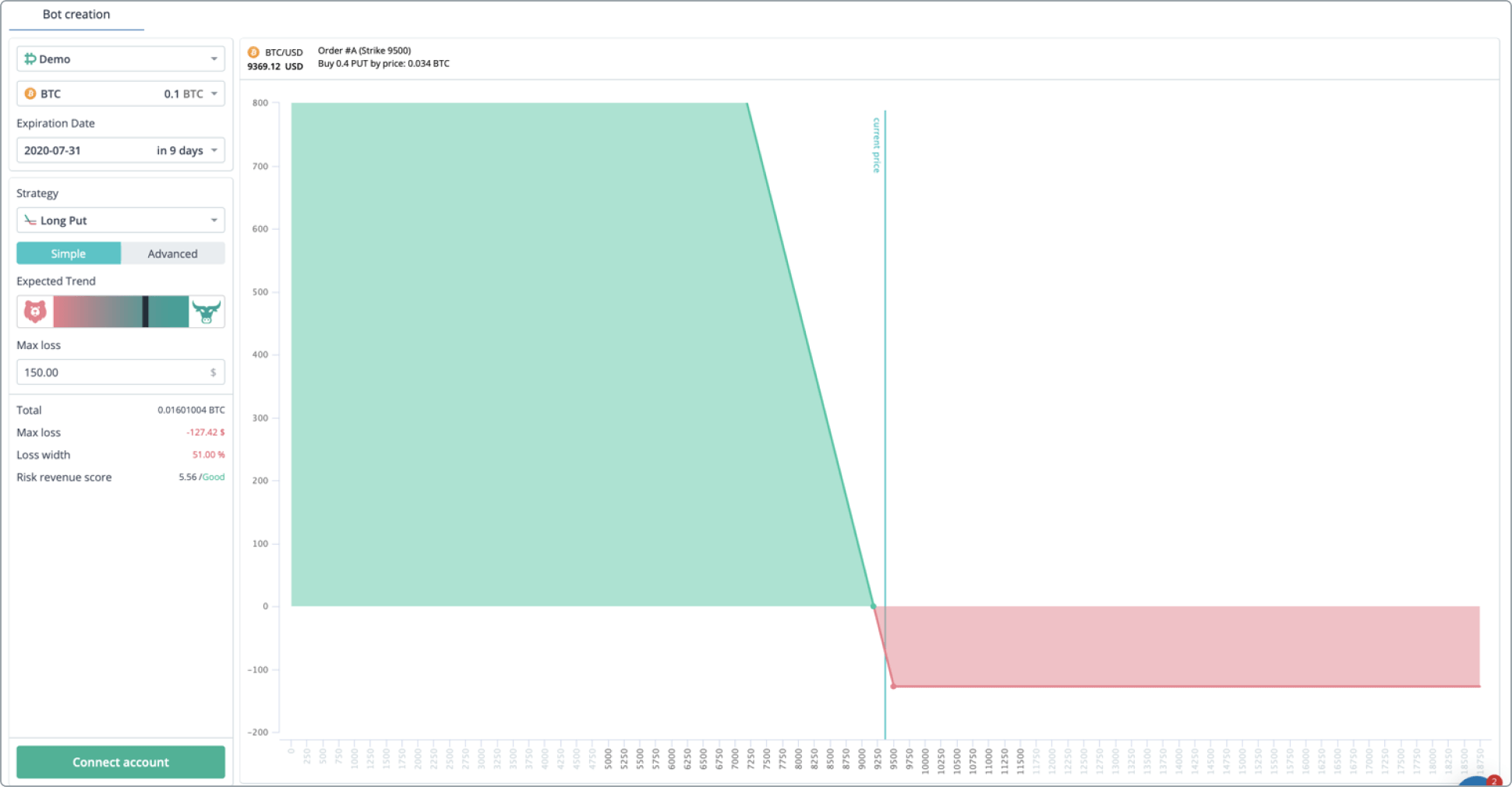 This strategy is the opposite of buying a call option and applies in a bearish sentiment market. At first sight it's not entirely clear why this strategy is appealing, but if you look at the big picture, you can see how it can be extremely profitable.
Here the loss is also limited by the premium paid for the option, and the profit remains unlimited.
Start Trading on 3Commas Today
With 3 days of full-access to our PRO plan, no credit card required
Prošli jsme si dva hlavní případy použití, které jsou považovány za jednoduché a nejziskovější strategie. Přejdime k něčemu složitějšímu.
Prodat Straddle: Long Straddle
The strategy is to sell Put and Call options with the same strike price and contract expiration date. The profit on this strategy is limited, but the loss, on the other hand, is unlimited. It is worth using this strategy when you expect a drop in market volatility.
Just like buying a straddle this is an important strategy
Koupit Straddle: Long Straddle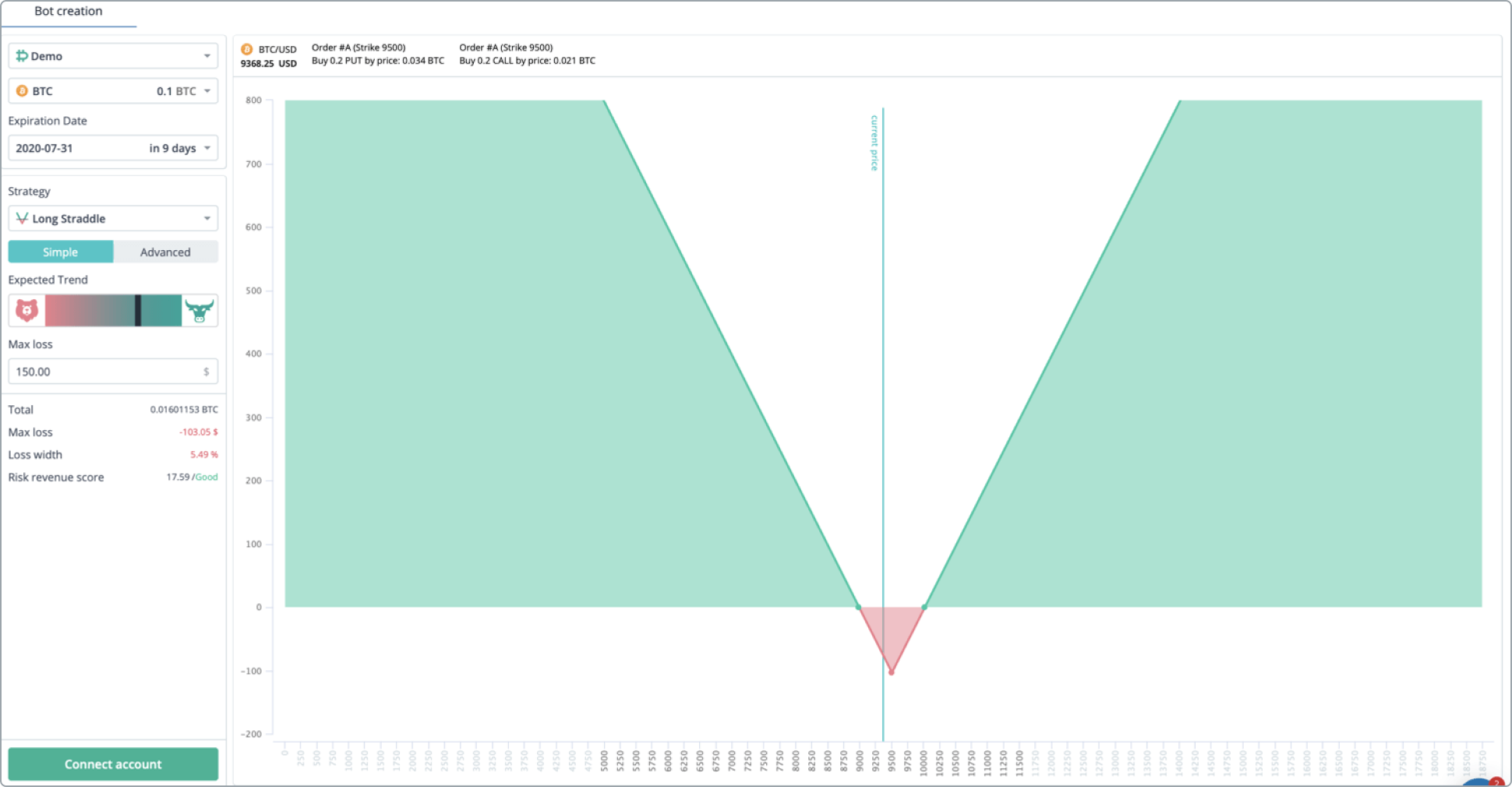 Toto je kombinovaná strategie a skládá se ze dvou jednodušších částí: Long Call A a Long Put A.
Strategie spočívá v nákupu opcí Put a Call se stejnou realizační cenou a datem expirace kontraktu. Zisk není omezen a vzniká, když se podkladové aktivum pohybuje jakýmkoli směrem.
Nejlepším přítelem této strategie je vysoká volatilita. Ztráty jsou omezeny na premium, zaplacené za dva opční kontrakty.
Ano, toto je naše nové rozhraní pro obchodování s opcemi.
---
A to nejlepší na konec!
Let's assume you are a bitcoin miner who must pay for electricity and other operating expenses at the end of each month. You forecast that you will mine 10 bitcoins in the next month.
You make the deal below to receive income in fiat to pay bills at the end of the month.
---
Prvotní údaje:
1-měsíční Call opce s cenou strike price
$6000 = $500
Nabídka
Prodej 100 Call opcí
---
Jste poskytovatelem BTC, takže váš příjem ihned po prodeji 100 call opcí je 50 000 $. Tuto částku můžete použít k úhradě provozních nákladů, jako je platba za elektřinu, oprava rozbitého zařízení nebo odložení do vašeho amortizačního fondu.
---
Cena bitcoinu roste: pokud se cena BTC do konce měsíce konsoliduje nad 6 000 $, poskytnete 100 BTC a získáte 600 000 $.
Bitcoin price drops: if BTC drops below $6,000 in the following month, you will not pay anything and you will not receive anything. However, you will still have $50,000, which will be enough to pay all of your costs.
Start Trading on 3Commas Today
With 3 days of full-access to our PRO plan, no credit card required