Trading ventures require that you utilize the best setup and strategy to accumulate any gains. 3Commas has partnered with Deribit to offer an auto crypto bot that can provide additional trade management tools. It's a program that is prepared to buy and sell your cryptocurrency orders on your behalf, think of it as a trading robot.
Having an automated program like 3Commas to work in conjunction with an exchange like Deribit allows access to advanced and efficient trading features. In other words, it helps you increase your earnings with reduced risks that curb your financial losses.
Overview of Deribit
Deribit is a platform for Bitcoin Futures and Options Exchange that was founded by CEO John Jansen in 2016 in The Netherlands. However, they have recently moved to Panama. Since its inception, Deribit has been a trustworthy and innovative trading margin for seasoned and rookie traders.
Deribit is also currently in the Top 10 Cryptocurrency Derivative Exchanges by Open Interest & Trade Volume. It is available for use almost anywhere in the world except in the USA. It also does not support any other cryptocurrency, except Bitcoin and Ethereum.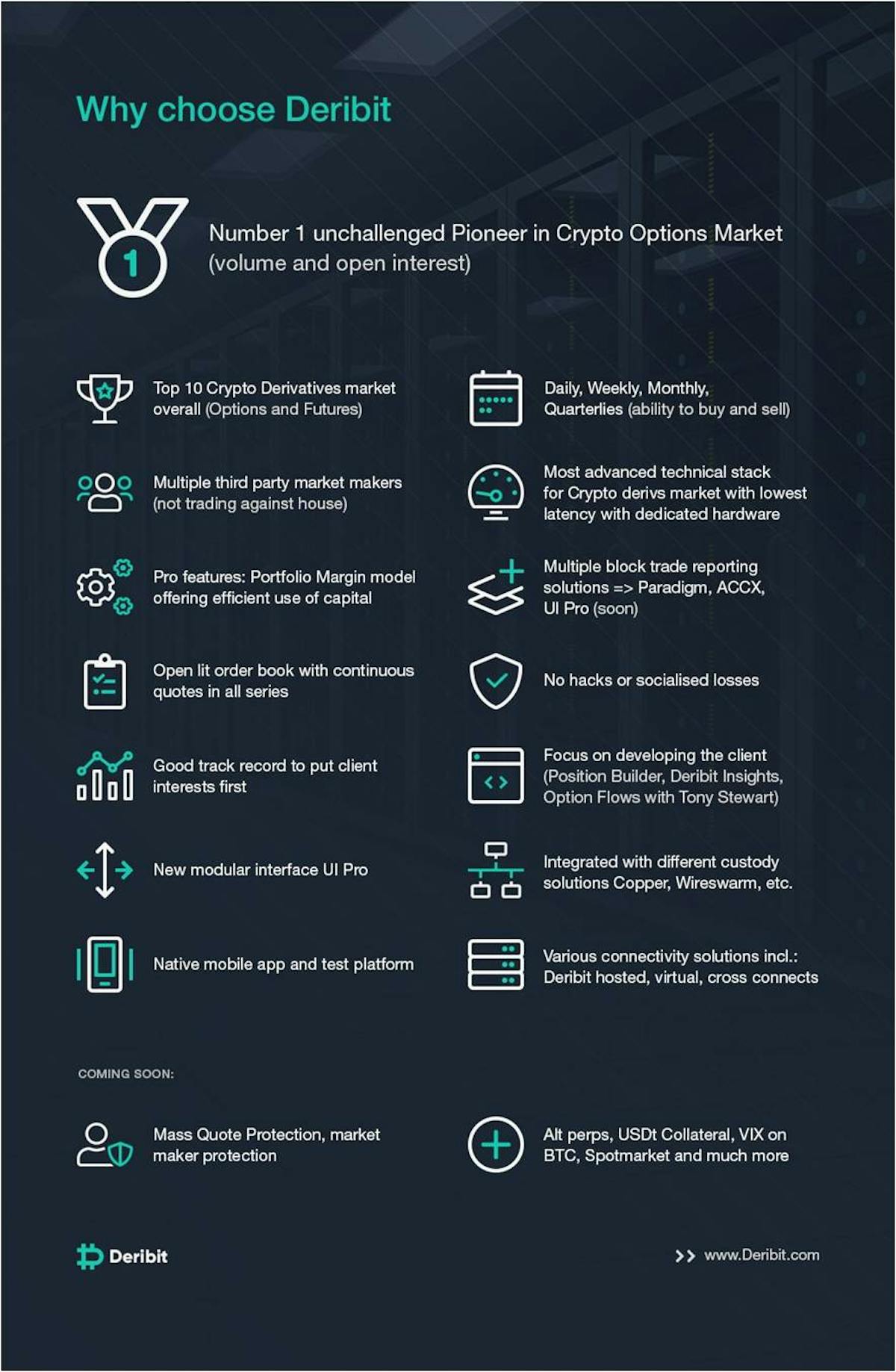 3Commas Trading Bots
3Commas helps traders utilize useful services by providing the tools to build a buy/sell bot through four options: short, simple, composite, and composite short bot. Through this, your trading conditions can be customized and then left to the AI work its magic. You can also copy portfolios such as Yobit exchange strategies.
3Сommas plans
Access to the platform features depends on the plan. Choose one that suits you most: starter, advanced or professional.
Pros of Using 3Commas Deribit Trading Bot
It has a clean and intuitive user interface with a wide range of tools and performance analytics that accepts monitoring and copy trading of the best portfolios. Access to the trading dashboard as well as the customer support team is available 24/7 to address any issues you may have.
Trading Fees and Structure
Deribit's fee structure is significantly lower compared to the global industry standard as centralized crypto-to-crypto exchanges charge around 0.25%. It does impose larger liquidation fees and is increased depending on the underlying contract size. They are also different for both Bitcoin and Ethereum. Withdrawal fees apply as well and may take time to process.

Take Advantage of the Free Trial
For 3Commas to prove that we are a good match for anyone and everyone, we are offering you to try the platform for free. Simply sign up by registering your details with our Deribit Trading Robot to get started on your free trial today!
Access to 3Commas
3Commas runs on SaaS. Meaning, you do not need to download the application as it is available through any device over the Internet.
Connecting the 3Commas Interface to Deribit
To give access to the 3Commas trading platform you will have to link your Deribit account(s) via API keys. You can check out this step-by-step guide or a more in-depth review of how to connect your account.
Is It Safe to Use the 3Commas Deribit Trading Bot?
The 3Commas team secures their Deribit users' accounts by incorporating an API connection that allows its users to customize their fund withdrawal to be switched off. Furthermore, an API connection constantly adapts over time to support data migration and thus makes it difficult to duplicate or hack passwords.
Deribit itself has also been prudent in terms of security and resilience to hacking attempts, therefore for them to entrust 3Commas with their users proves its safety.
Bear in mind that speculative investments such as crypto are risky, and profits are not guaranteed. 3Commas is not liable for any and all liability resulting from trading transactions.
---
More trading bots
Start Trading on 3Commas Today
With 3 days of full-access to all 3Commas trading tools