Become a crypto master
Become a crypto master
Learn everything about crypto,
trading and bots
Learn everything about crypto, trading and bots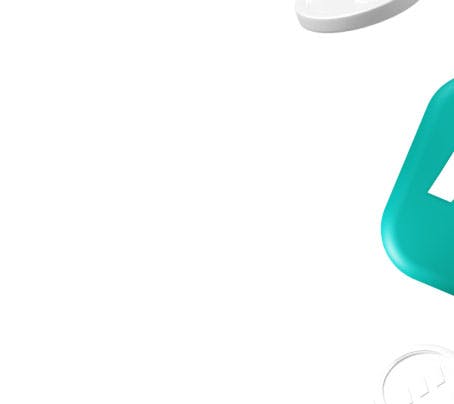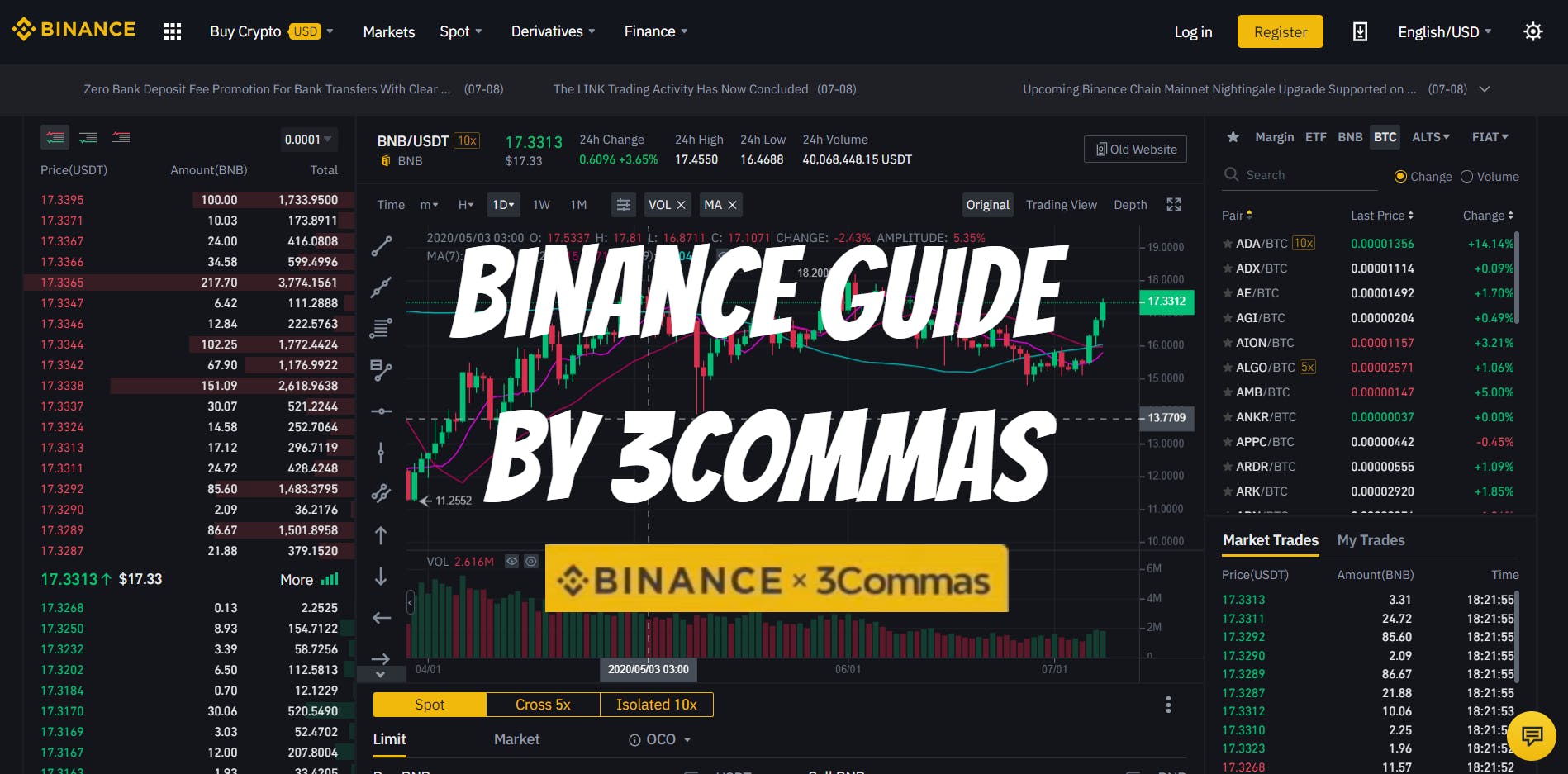 Binance Trading: Ultimate How-to guide
From

Free access for 3 days
Full-access to our PRO plan, no credit card required

Binance accepted countries:

Deposit methods
Cryptocurrency, Debit and Credit cards

Supported currencies
180 coins

Exchange Type:
Centralized exchange (CEX)

Supports:
Fiat to crypto, crypto to crypto

Trading fees
from 0.075% to 0.015%

Withdrawal fees
Depends on network load, displayed upon withdrawal request

Limits
3 levels, depends on verification,1 level – up to 2 BTC,2 level – up to 100 BTC,3 level – more than 100 BTC

Verification
Verification for individuals and companies
In this guide, you will get complete information on how to trade on Binance, how to make deposits, withdrawals, and many more things. We are going to disclose the most valuable exchange features and even provide you with tools to improve your trading results.
How to Use Binance: Basics for Beginners
Binance provides a wide variety of options for trading – a big number of crypto, coins, futures. Listing of the exchange is regularly updated, and new cryptos and coins are added after their applications are confirmed.
Along with trading, you also can earn on staking and p2p lending. You can get started in a couple of minutes, as you need to pass registration to trade, and verification to increase limits and get access to advanced features.
How to Sign up & Log in on Binance?
There is a simple and prompt registration process on Binance:
Press Register or Start Trading on the main page.
Fill in the registration data (email, password, referral ID, if someone has invited you. Make sure you use complicated password-it has to consist of 8 symbols with numbers, upper and lower case. It is better to use password generators and avoid your browser from saving the password.
After you fill in all the fields, you will get a letter on your email with a confirmation code. Go to your email, and you will see the letter (for Gmail, it will come to Notifications folder by default). You won't be able to copy-paste the code, so you need to type it on the confirmation page manually.
Log in to the exchange. You will see the captcha, which looks rather unusual – just move the fragment of the picture using the slider on the place it belongs.
Afterward, you will get redirected to your personal area on the exchange. You will instantly see an offer to enable 2FA authentication once the dashboard page is loaded. You can do it at once or do it later. We will disclose 2FA authentication process below.
Binance Verification: Requirements, Process & Documents
Verification is a standard process for exchanges like Binance. Here you can pass two types of verifications-for individuals and companies.
In order to complete the verification, you need to pass 4 steps:
Fill in fields with your personal info (name, surname, address, etc.). Make sure you fill in everything correctly.
The second step is about uploading your selfie with your ID/passport/DL. Any document will fit, and you can either upload a photo you already have or take a selfie on the corresponding page. You also need to upload the back and front of your DL/ID or corresponding pages of the passport.
Wait until the image quality for ID verification is checked. It can take several minutes.
Upload address proof documents (these documents should confirm the address you have pointed out in the first verification step) – it can be a bank account statement or a utility bill on your name.
After you completed filling info and completing photos, the support service will check your verification application. When verification is completed, you will get notified.
Binance Account Security
To provide your account with maximum security, it is important to enable 2FA feature and follow other security recommendations from Binance. When you log in to your account at the first time, there will appear a pop-up window offering to enable 2FA Authentication:
Enable 2FA Authentication. It is not necessary, though you should know that this can considerably increase the security of your account, and if an exchange is hacked, fraudsters won't be able to get access to your account if 2FA Authentication is enabled.
Consider that you will be offered to enable 2FA only upon your first login, and exchange won't remind you about that later, so do not forget to do that promptly. Choose any of the two options offered – SMS or Google authentication. Enter either your phone number and type the code that comes in a message if you choose the SMS option.
How to Add Binance to Google Authenticator?
Download a Google Authenticator  app on your smartphone – scan QR code or enter it manually, if it cannot be scanned – get a backup key and write it on a paper – your Google authenticator will be enabled, log in to the Binance using it.
Consider the recommendations on adding more security to your account:
Do not use a simple password
Store it on a paper, not using the passwords managers
Set up the anti-phishing code- it will be pointed out in each email from Binance so that you could be able to differ Binance letters from the those sent by fraudsters
Binance Deposit: How To Fill Your Balance?
You can fill your balance on Binance with all the coins that are provided in the listing of the exchange. The primary option is to deposit your wallet with BTC:
In this picture, you can see how the deposit page looks. Below we will describe the elements on it.
Payment currency/coin, by default there is pointed out BTC
Total balance is the sum of the number of funds available (that you can use now) and the number of funds that are pending transaction
In order is the amount of pending BTC that you have sent to the Binance wallet
Available balance is the amount of BTC on your Binance wallet
Press this button to buy BTC with your credit card
Here you can select the network to send BTC
Use this address to send BTC to your Binance wallet
Instead of using an address you can use a QR-code to send BTC using your smartphone
When you want to use the BTC address (7) specified on the page and generated for you (do not use the address specified on the screenshot). If you do not have crypto and still want to make a deposit with this crypto, you can buy BTC (5) with your credit card.
This is only available after you complete the verification. By the way, BTC is not the only currency you can buy with your credit card. You also can choose a network (6) to send BTC – it can be either BTC or you can purchase BTCB, which is fully backed by BTC cryptocurrency issued by Binance. In order to do that, you will need not a BTC address only but also a MEMO, which will be generated for you.
Consider that the transaction will be completed after one confirmation in the network when you deposit funds. Thus, the time it takes depends on the load of the network. At last, you can scan a QR-code with your smartphone to make a deposit with BTC.
There are also many other coins available for deposit:
The list of the coins which you can deposit is updated regularly. If you see the word Suspend near the coin code, the deposit method is currently unavailable for it.
 Can I deposit USD? 
No, you cannot. Still, you can use USD to buy crypto (BTC, ETH, etc.) on the Binance Deposit page.
 Can I deposit with a credit card? 
You can buy crypto with a credit card on the Binance Deposit page.
 Why could Binance deposit be suspended? 
There have been situations when Binance had some maintenance work, and thus deposits and withdrawals were suspended, and afterward funds still arrived in the wallet. Generally, your deposit can only be suspended if you make a mistake when filling in transaction data.
Binance Deposit Fees
Just like many other advanced exchanges, Binance has no deposit fee implemented on the website. That means that you can fill in your account for free. The exception could be when you use a credit card to buy crypto for fiat on the Binance website. The price of USD/crypto could be higher than on the exchange.
Binance Wallet
Binance wallet is a storage of all your assets (coins, futures, lending, and margin) that you have in Binance. An account with coins is opened by default- you can use it to exchange, withdraw, and deposit coins. Futures and margin accounts can be opened by your request. The lending account can be customized after you make your first deposit.
Here you can specify the interest rate, amount of funds that could be lent, etc. When it comes to security Binance wallet is stated to be one of the safest among all. Moreover, with all those safety measures like 2FA, withdrawal whitelists, and anti-phishing codes, you can increase your wallet security dramatically.
Binance Trading: How-To Guide for Beginners
To start trading you need to login to Binance account and choose exchange. For beginners it is better to choose Basic exchange interface:
On this screenshot you can see Search field where you should type a coin code you want to trade. Or you can choose one of the default ones:
On this screenshot, we have specified that we are going to buy/sell BTC, and we are going to use USDT for this purpose. If you scroll down, you will see where the orders can be customized and enabled:
This is one of the main elements of the interface which we are going to disclose in detail below.
On the screenshots below, you can see the Basic Binance trading interface and the way you can use it for your trading activity:
As you can see, there is an adjustable graph where you can analyze the price change, a table with the orders executed, and the price of the asset you chose to trade with compared to other assets.
When you start trading, you should choose the coin you want to buy/sell and the coin you will use for trading operations.
1. How to Buy & Sell Cryptocurrency on Binance
There are two modes for trading in Binance – Basic and Advanced. The interface of platforms looks almost the same, and the only difference is that in Advanced interface, you can use various Technical Indicators for a deeper analysis. For example, in Advanced interface you can use Technical indicators like on the screenshot below:
All other features available for traders are the same no matter which kind of interface you use. Thus, it is better to use the Basic interface until you get deeper into the technical analysis.
When you enter the Basic trading interface and choose the trading pair, you should choose type of order.
There are three types of orders available in Binance:
Market Orders
Limit Orders
Stop-limit orders
Market order is the simplest operation considering that you purchase specified amount of coins. Choose Market order, and specify the Amount of coins you want to buy on the market price.
Below we will disclose more advanced order types for trading.
2. Limit Orders
With a limit order, you can set up the price at which you will buy or sell the coin. The amount can be specified in the corresponding fields.
In the graph below, you can see the last order made for BTC.
It was traded for 7341.82 USDT, as you can see. Now we can specify the sum at which you are ready to purchase or sell the coin (if you have one).
That means the order will be executed on the conditions you specify. You also need to set up the amount of the asset you buy/sell.
3. Stop Limit Orders
Stop limit order is needed to specify the conditions at which the buy/sell orders should be executed, and conditions when those should be stopped. Here is how it works:
On the screenshot above, we specify that at the moment the price of the BTC reaches 6500 USDT, we start buying BTC until the price of the coin reaches the 6700 USDT limit. We also have specified that we buy at maximum of 3 BTC.
4 Stop Loss Orders
Stop-loss order can be specified just like the stop limit order in the Binance interface.
As you can see on the screenshot above, we set the price at which BTC is sold, set the amount, but do not set the limit. This function is valuable if you go on vacation or want to prevent losses when you are not able to make orders manually.
Frankly, when it comes to stopping loss, Binance doesn't provide users with the maximum options. For example, you cannot set up the trailing stop loss. Trailing stop loss allows you to specify the condition on buy/sell setting up the percentage of the price change, not the price itself. Though, if you use 3commas trading bot, you can find here advanced features to customize stop-loss orders, including trailing stop loss, stop limit, or limit order.
5 How to Buy & Sell Bitcoin (BTC)
If you want to buy&sell BTC, you need to pass through the several simple steps on Binance:
Buy BTC
Enter the Basic Exchange interface
Choose BTC and the coin you are going to buy it within the upper-right corner of the interface.
Now scroll down to the orders section and use them as shown in the section above. Or, if you just want to buy BTC, use the Market order option and specify in the corresponding field amount of BTC you want to buy.
The order will be executed on the market price. Make sure you have enough funds on your amount to complete it.
Then press the Buy BTC button and confirm the order.
Sell BTC
The steps are almost the same. The only difference is that if you need to sell BTC on Binance, make a deposit with BTC you want to sell on the Binance wallet.
When the transaction is completed (no Binance fee enforced), enter the Exchange.
Choose the BTC as the traded asset and the coin you need to get in exchange (USDT in our example).
Scroll down to the Market order section and specify the amount of BTC you want to sell on a market price.
Then press the Sell BTC button and confirm the order.
Consider that no matter whether you buy or sell, there is a minimum trade order size. To figure it out for the BTC on the exchange page, move the mouse on the Trading Rules button, and you will see full info like on the screenshot:
6. How to Buy Ethereum (ETH)
Buying ETH looks the same as buying the BTC. The difference only starts from the moment you have entered the Exchange interface.
In the right-upper corner of the page, enter ETH to the Search field.
Scroll down to the orders section and specify the amount of the ETH you want to buy.
Then press Buy ETH and confirm the order.
7 How to buy Litecoin (LTC)
After you enter the exchange interface:
Enter LTC in the Search field in the upper-right corner of the page:
Specify the coin you are going to use to buy LTC (it is BTC in our example).
Scroll down to the orders section and set up the order.
Press Buy LTC and confirm the order.
8 Supported Cryptocurrencies
At the moment, there are 180 coins supported by Binance. You can see the full list of coins and markets supported by the exchange on the Markets page.  You can find news on new coins added to Binance in the New Listings section.
9 Binance Margin Trading
Margin trading allows users to operate with larger sums than you have on your account. For example, you have $10 on your account, but with margin trading enabled, you can operate with $10 like with $50, or $100 or even more.
Recently, Binance has enabled this feature for traders, and now you can use it for your good. Though, it has to be mentioned that margin trading is rather risky. The thing is that here changes in the price of the asset can either lead to greater profits or greater losses. Thus, if the price of assets decreases on several percents, you can lose your whole deposit at once with margin trading.
This feature can be a valuable one for dedicated traders and can lead to great losses for the beginners. Thus, before you start using margin trading, it is better to get some experience and knowledge.
10. Binance & Metatrader (MT4 / MT5)
Binance trade can be automated using the MT 4/MT 5. However, this task demands from your advanced coding skills, and there is no simple solution on how to integrate Binance trading to the Metatrader platform. On the other hand, there are solutions like 3commas trading platforms that can easily be adjusted for automated trading even by beginners without any coding.
11. Binance App: How to Use & Trade
Mobile trading is also available for Binance users. Find the app in the store or get the link from the main Binance website page.
After downloading the app, you need to sign in if you already have an account. Use your current account data to enter the dashboard. The trading process and all other features look exactly the same for the Binance app as for the web version of the exchange.
Login to your Binance account once you have downloaded an app:
Choose Markets in the bottom of the display:
Choose the trading pair you want from the list or tap the Search button and enter the coin you want to trade:
Specify the sum and press Buy:
12. Binance Trading fees
The trading fee on Binance depends mostly on your activity and BNB balance (the amount of Binance coins on your balance).     The higher is your trading volume; the lower is the fee. From the start, your trading fee makes 0,075%, and it can get decreased to 0.015% or 0.075%. The trading fee is calculated and changed based on your activity in the past 30 days, so it can vary from month to month based on your activity. There is one more thing about the trading fee – you can get 25% discounts in case you use Binance coins in your operations. Thus, if you have a 0.05% fee, and you use BNB, your fee will make 0.025%.
13. Binance Withdrawal
Binance withdrawal can be conducted in a few steps.
Login to your account on Binance.
Enter your wallet.
Choose the coin you want to withdraw from the list.
Set the recipient's wallet address and specify the sum in the corresponding field. You also can see the withdrawal fee and minimum withdrawal amount as well.
Press Submit.
The withdrawal time depends on the network load of the chosen coin, so it can take several minutes or hours, depending on the coin you withdraw. Due to the user comments on Reddit withdrawal can take 1 or more hours upon high network load.
You can track the withdrawal status on the Deposit&Withdrawal History page.
14. Withdrawal Fees
There is no deposit fee for cryptocurrencies, though there is a withdrawal fee made for each crypto that can be traded on Binance. Consider that fees can change, as they depend on the network. The higher it is, the higher is the fee. You also should consider that for some of the coins, withdrawal can be restricted due to technical issues.
Summary
Binance is one of the most advanced and user-friendly exchanges either for beginners and professional traders. Here you can find one of the widest choices of trading pairs and two trading interfaces. What is also good about Binance is that here you have many options to deposit and withdraw funds, including making deposits with a credit card. The trading fees here are also rather low and can become the lowest if you show high trading activity.
However, even with all those things made by Binance to make trading easy, you still can get more from your user-experience if using trading platforms like 3commas. There are three main reasons to do that:
You can set up and enable trading bot for automated trading
Many features that allow you to decrease losses and increase profits
The platform doesn't take a fee from your orders and profits
Binance Pros & Cons
PROS
More than 180 coins supported and new coins are added permanently
You can get the lowest trading fee on the market
Cross-platform exchange (desktop and mobile apps or web service available)
Available worldwide
Multi-language support
High activity on the exchange
Live chat support available
CONS
Not regulated crypto exchange
You have to buy BNB to get trading fee discounts
Binance Trading FAQ
Here you can find answers on the most frequent questions asked about Binance.
How to Cash Out from Binance?

You cannot withdraw fiat from Binance; you only can withdraw coins.

How to Short on Binance?

Short is available when you enable margin trading [link]. You can use this feature on the Binance exchange. However, the best way to benefit from shorting on Binance is to use 3commas trading platform. Set up the Short strategy, and the trading bot will automatically make specified orders.

How to Day Trade on Binance?

You can day trade manually on Binance; thankfully, the trading interface on the exchange is user-friendly and clear after you figure out. However, it can be a demanding task, especially if you trade with several assets. Thus, you can automate day trading with trading bots like 3commas. All you need to do is to customize your strategy and launch the bot.

How to Activate BNB Discount?

BNB discount can be activated in your Binance Dashboard. Move the slider on the screenshot to activate/deactivate the Binance discount.
What Is Binance Minimum Trade Order Size?
The minimum trade order size is specified on the trading rules page.
Here you can find the minimum trading size for any coin on the exchange.
What Is Withdrawal Limit on Binance?
There are three verification levels on Binance that affect your withdrawal limits. Based on the verification you have passed your limits can make:
up to 2 BTC per day
up to 100 BTC per day
more than 100 BTC per day

Mikhail Goryunov
A proven leader, successful at establishing operational excellence and building high-performance teams with a sharp focus on value creation and customer success.
Free access for 3 days
Free access for 3 days
Full-access to PRO plan, no credit card required
Full-access to PRO plan, no credit card required