Become a crypto master
Become a crypto master
Learn everything about crypto,
trading and bots
Learn everything about crypto, trading and bots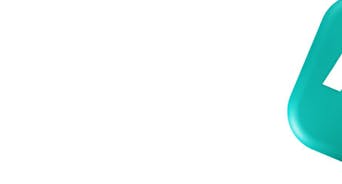 Crypto Signals Ultimate 2023 Guide
From

DATE PUBLISHED: JUN 6, 2023
DATE UPDATED: OCT 3, 2023
Knowing how the market works is important when investing in cryptocurrencies. We've laid out the best paid and free cryptocurrency trading signals to hone your craft in your cryptocurrency journey.
Start Trading on 3Commas Today
Get full access to all 3Commas trading tools with free trial period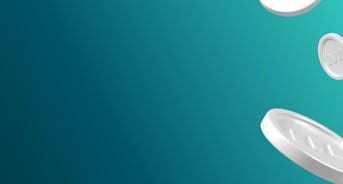 What Are Crypto Signals?

Understanding Crypto Signals in 2023
In the rapidly evolving world of cryptocurrency trading, crypto signals continue to play a crucial role in analyzing and monitoring market conditions. These signals serve as valuable tools for traders, providing them with insights and guidance to make informed decisions regarding their buy or sell positions. While it's important to note that no signal can guarantee success, they can contribute to traders' financial security by helping them identify potential profit opportunities and implement protective stop-loss strategies.
Crypto signals come in various forms, some managed manually by experienced professionals, while others are automated through the use of trading bots. The automation aspect not only enhances efficiency but also ensures timely analysis and response to market fluctuations. At 3commas, a leading cryptocurrency trading platform, a wide range of top-rated crypto trading signals have been carefully reviewed and generated. These signals are readily available on the 3commas website, catering to the diverse needs and preferences of traders.
In order to help users make profitable trades in 2023, we compiled and reviewed the Top Best Crypto Trading signals. These signals provide accurate readings, comprehensive tracking, and in-depth analysis, empowering users to make well-informed trading decisions and potentially enhance their trading outcomes.
Stay ahead of the curve and leverage the power of crypto signals to navigate the dynamic cryptocurrency market landscape in 2023.
How do Cryptocurrency Signals Work?
Crypto trading signals can serve as a strong basis for deciding when and where to trade coins by comprehensively analyzing existing market conditions.

In the dynamic world of cryptocurrency trading, understanding how crypto signals work is essential for traders looking to make informed decisions. These signals utilize advanced analysis techniques to comprehensively assess existing market conditions, providing traders with valuable insights on when and where to execute their trades. With the advancement of automated trading, trading bots play a significant role in tracking patterns and algorithms present in the market, enabling efficient and accurate analysis.
In 2023, the process of creating crypto signals typically follows a four-tier process:
Data Collection: Crypto signals start by collecting relevant market data from various sources, including exchanges, social media platforms, news outlets, and technical indicators. These data points provide a comprehensive overview of the market conditions and trends.
Analysis and Algorithmic Processing: Once the data is collected, sophisticated algorithms and analytical models are applied to process and analyze the information. These algorithms aim to identify patterns, trends, and potential trading opportunities based on predefined criteria.
Signal Generation: After the analysis is completed, trading signals are generated based on the insights derived from the data. These signals indicate the recommended actions, such as buying or selling specific cryptocurrencies, and often include target prices and stop-loss levels.
Delivery to Subscribers: The generated signals are then delivered to subscribers through various communication channels, including email, SMS, mobile apps, or other contact preferences specified during the subscription process. This ensures that traders receive timely updates and can act on the signals promptly.
By following this four-tier process, crypto signals provide traders with a systematic and data-driven approach to cryptocurrency trading. It allows traders to leverage advanced analysis techniques and automation to make well-informed decisions based on the current market conditions, potentially enhancing their trading outcomes in 2023 and beyond.
Action: Buy/Sell
The two fundamental actions commence the process: buy or sell cryptocurrencies. To "buy" is to purchase cryptocurrencies, while to "sell" is to offer crypto to the market for other users to buy. 3commas has many articles regarding smarter cryptocurrency trading practices and habits. Be sure to check them out! You can also watch this vlog for starters:
What Coin to Buy/Sell
One of the key aspects of crypto signals is determining which cryptocurrencies to buy or sell. Signal providers carefully analyze market conditions and perform in-depth analysis to identify the coins that are likely to yield favorable results and higher profit percentages. Based on their findings, they suggest specific coins that traders should consider buying or selling.
In 2023, this applies to a wide range of altcoins, as long as the signal provider supports them within the subscribed channel. To efficiently access and analyze signals from different channels that specialize in specific exchanges and coins, utilizing a crypto trading signals bot can be beneficial. These bots allow traders to gather signals from various channels, such as CQS premium and HIRN, which focus on specific exchanges and coins.
For instance, HIRN is a signal channel that specializes in one particular exchange, which in this case is Binance. Finding a signal channel that caters to the type of coins and exchanges you want to trade on can greatly enhance your trading experience. It's highly encouraging to align yourself with a channel that has expertise and specialized knowledge in the specific coins and exchanges you prefer.
By leveraging the insights and recommendations provided by crypto signals, traders can make well-informed decisions about which cryptocurrencies to buy or sell in order to potentially maximize their profits and navigate the ever-changing cryptocurrency market with confidence in 2023.
Price
After deciding which coin to sell or buy, the price must be considered to infer profit or loss expectations. Most signals already provide the price when they suggest which coin to trade. The prices they give are usually based on the current price of coins – or slightly lower or higher. After receiving a notification, the response must be quick in the volatile market conditions. 
It is worth noting the cryptocurrency exchange you are using as well, as it might affect the prices shown by the crypto signals. Automated bots like arbitraging trading software can address this concern, so check out some of the bots offered by 3Сommas.
Take Profit / Stop Loss Orders
In choosing crypto signals, make sure to include profit and stop loss orders. This feature offers an appropriate risk-to-reward ratio, prevents reckless gambling and paves the way for automated trading. In essence, the profits and stop-loss orders function as your signals, which means users don't have to constantly monitor trades and guess where to close the trade. Experts suggest using predetermined stop-loss to avoid incurring large losses during ever-changing crypto prices
Crypto Signals Types
There are two main types of crypto signals: those available for free and those requiring subscription fees. Sometimes the same signal provider offers an unpaid and paid version, as in the case of HIRN free and HIRN VIP and other paid versions. What exactly are the differences between the two?
Obviously, paid crypto signals offer a wider index of services than free ones. These additional services may include more supported exchanges and trading pairs. Another is the cutting-edge, intelligent, and self-efficient artificial intelligence that tracks algorithms and patterns in the market.
Free versions can only give you a basic overview and sometimes even superficial readings of market conditions, but utilizing a free crypto signals bot can help you access more precise readings and make informed decisions while considering users' feedback on the services provided.
Another matter to assess is whether you need a free or paid signals provider. Here are some basic considerations.
You can settle with free signals if you are:
A self-sufficient trader who can confidently make trades independently;
Already highly aware of the impacts of varying market conditions on crypto prices;
Always available to manage and monitor your trading;
Hesitant to engage with automated trading that does not have guarantees;
Doubtful of the performance records of signals.
On the other hand, you can avail crypto signal subscriptions if you are:
A beginner who is a novice when making trades;
Not really aware of how market patterns and conditions affect crypto prices;
Extremely preoccupied and does not have the time to constantly monitor and manage trades;
Well-off and can afford subscription fees;
If you want to avoid high traffic and unexpected bugs in free signals providers.
Free Crypto Signals in 2023
For traders, especially beginners, free crypto signals offer a convenient solution to kickstart their trading journey. However, it's important to be aware of certain limitations and considerations when utilizing free crypto signals.
One drawback of free crypto signals is that the platforms offering them can sometimes be congested due to high traffic, resulting in delayed loading times. This can impact the efficiency and timeliness of receiving signals. Additionally, while many signal providers offer both free and paid versions of their channels, it's crucial to exercise caution with providers that solely offer paid crypto signal channels. These providers often come with high costs and may not necessarily provide commensurate rewards.
Nevertheless, in 2023, there are reputable platforms that offer reliable and quality free crypto trading signals without compromising their service. One such platform is 3commas, which houses some of the best free crypto trading signals available. Despite being free, these signals maintain their effectiveness and reliability, making them a valuable resource for traders.
Another noteworthy free crypto signal provider is the unpaid counterpart of CQS. This community currently boasts over 5,000 members and offers support for exchanges such as Binance, Bittrex, and Huobi. The sustained support from its user base reflects its credibility and reliability as a signal provider.
When utilizing free crypto signals, it's important to exercise caution, do thorough research, and consider the reputation and track record of the signal provider. While free signals can be a valuable starting point, it's crucial to supplement them with personal analysis and risk management strategies to make well-informed trading decisions.
In conclusion, free crypto signals remain a viable option in 2023, especially for beginners. Platforms like 3commas and reputable communities like the unpaid counterpart of CQS provide access to quality free signals that can help traders navigate the cryptocurrency market effectively.
Paid Crypto Signals in 2023
Paid crypto signals have gained a reputation for potential scams, and it is essential to exercise caution and thorough research when considering them. While scams do exist, trustworthy and reliable paid crypto signals are still available for traders. It is crucial to distinguish between legitimate paid signal providers and those looking to exploit unsuspecting users.
To ensure the best value for traders, it is advisable to start by exploring free counterparts of paid crypto signals. Free versions provide an opportunity to assess the quality and reliability of the signals and the overall service provided. This way, traders can evaluate the worthiness of the paid subscription fees before committing to them.
In many cases, paid crypto signals offer additional functions and features compared to their free counterparts. For instance, take the example of CQS, where the free version may cover a limited number of altcoins available for trading. However, upgrading to the premium or paid versions provides access to a wider range of trading pairs and supported exchanges. This expansion of offerings and capabilities can be particularly beneficial for traders looking to explore diverse trading opportunities.
When considering paid crypto signals, it is crucial to carefully review the features, track record, and reputation of the signal provider. Look for transparency, verified performance results, and positive feedback from users. Trusted providers will often have a clear and detailed explanation of their strategies and analysis methods.
Ultimately, the decision to opt for paid crypto signals should be made based on thorough research and a comprehensive evaluation of the value they provide. While scams exist, there are legitimate providers offering valuable services. By exercising due diligence, traders can find reliable paid crypto signals that enhance their trading strategies and potentially yield positive results in the dynamic cryptocurrency market of 2023.
Bitcoin (BTC) Signals
If you focus on BTC trading, we recommend choosing a BTC-specific signal channel. As one of the most volatile cryptocurrencies in the market, it is important to closely monitor BTC. 
BTC prices can also fluctuate during short-term trading times. Previously, it reached record-high prices in November 2021 when the price hit over $ 48,000, but by December 2021, it dropped by 19%. These quick shifts in BTC trading are what make it among the riskiest trades to engage in.
Essentially, Bitcoin signals instruct you when buying and selling Bitcoins is ideal. HIRN is also among the best providers for Bitcoin signals, and so is MYC Signals, which is generally a BTC provider for the Binance exchange. 
Altcoin Signals in 2023
Altcoins are digital assets and tokens that encompass all cryptocurrencies other than Bitcoin (BTC). Trading altcoins is just as important as trading BTC, as they can provide incredible profit potential, often exhibit less volatility, and offer greater security for traders. In 2023, several altcoins stand out as recommended options for trading, including ETH, SOL, EGLD, ADA, and the coins generated by Binance.
As with any trading signals, it's crucial for traders to exercise their own judgment and conduct thorough research. Altcoin signals are meant to assist traders in making informed decisions but should not be solely relied upon. It's recommended to use altcoin signals as part of a comprehensive trading strategy and consider factors such as market conditions, risk management, and personal analysis.
In summary, altcoin trading is a significant aspect of the cryptocurrency market in 2023. Coins like ETH, SOL, EGLD, ADA, and those generated by Binance offer attractive opportunities. Moonin Papa's Top 10 MKT Cap Signals provides reliable altcoin signals, but traders should exercise their own judgment and consider the signals as a reference rather than definitive financial advice.
Best Crypto Trading Signal Providers
Below are some of the highest-rated crypto trading signals from our site. Our descriptions and reviews are based on our experiences and collated user feedback for each signal provider. We evaluated them with regard to the average profit they generate per trade, the coverage of exchanges and trading pairs that they support, and the cost of availing of their services.
We have also included some signals channels worth mentioning—both paid and available for free. Make smarter and more profitable trades by looking into these crypto trading signals.
CryptoSignals.org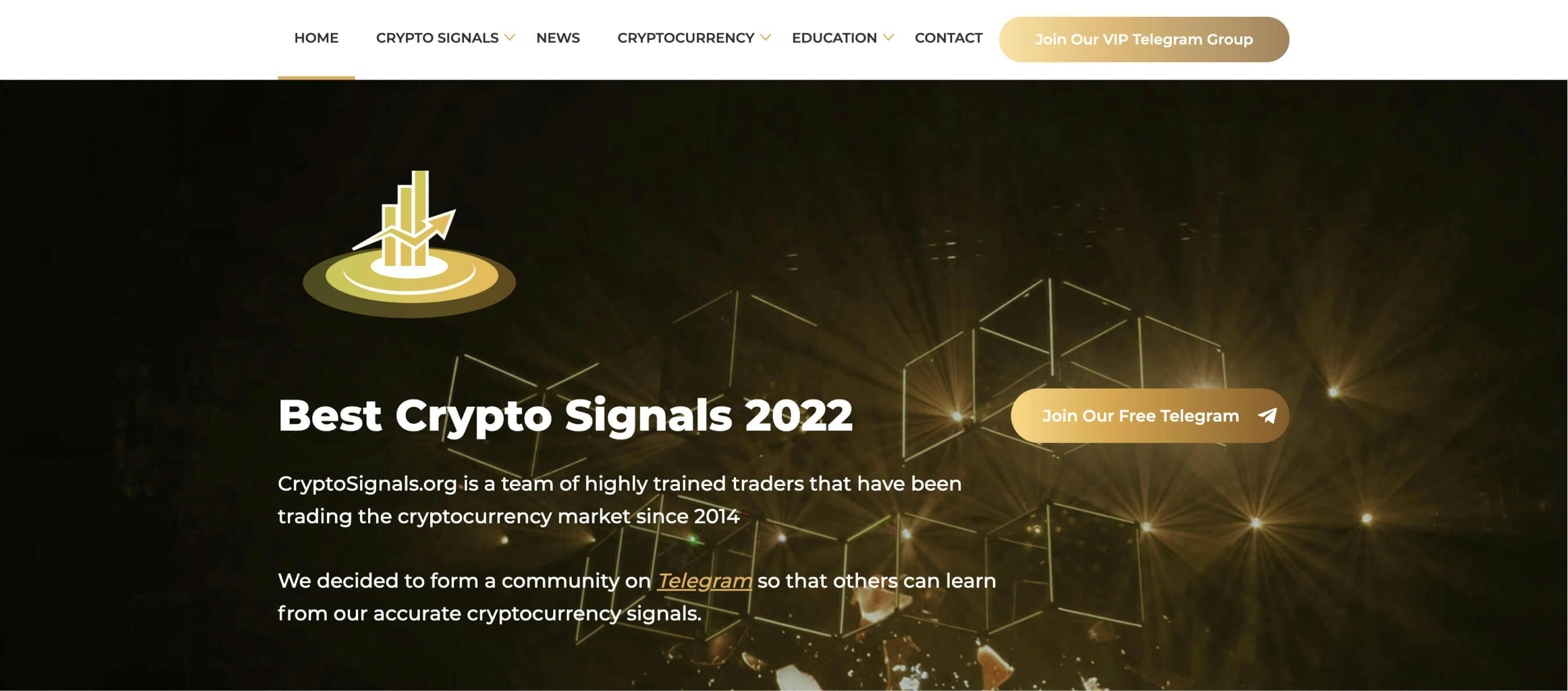 CryptoSignals.org's team of professional traders gives trading signals. In addition to offering trade notifications, the organisation maintains a Telegram group to assist users with trading information. According to corporate information, the crew has been engaged in cryptocurrency trading since 2014. 
Overall, their approach is straightforward. The team delivers real-time recommendations with information on how to conduct winning deals. You can execute trades efficiently and earn higher profits with the offered information.
Daily signals with an 82% success rate 

Cons 30-day money-back guarantee

No insights into the trading tactics. 

No history of success 

No details on security measures
Signals Blue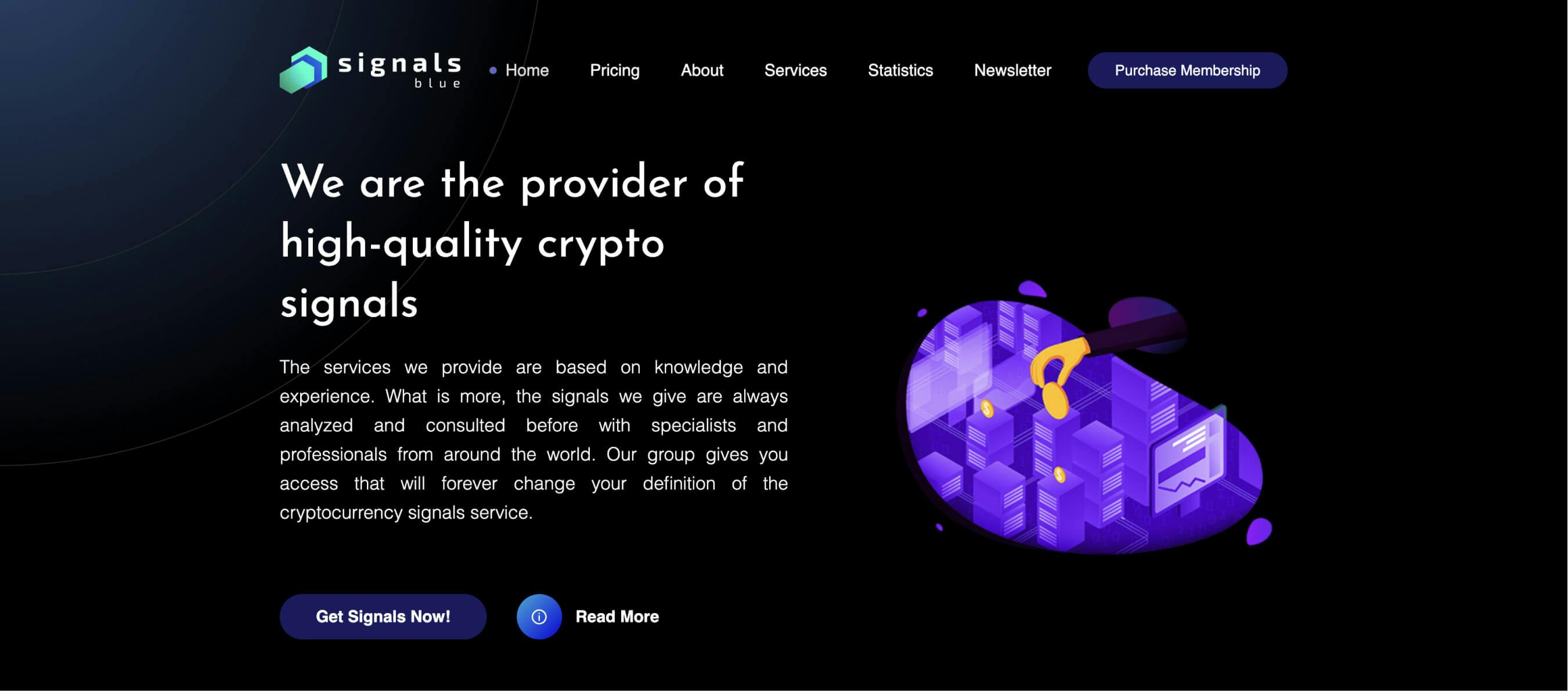 Signals Blue emerges as a prominent trading signal provider with a team of global specialists that analyse market data, news, and forthcoming upgrades of various cryptocurrencies before making trade decisions. 
Whether you are new to crypto trading or not, Signals Blue can help. Signals Blue has had a 91.07% win percentage since its start in 2018. The signals concentrate on Binance, Coinbase Pro, KuCoin, Kraken, and Huobi Global. 
24/7 support. 

91% success rate. 

AI-based technologies to monitor the crypto market. 

Global, flexible team. 

Automated bitcoin trading bot stats prove success. 

Bitcoin, altcoin signals 

No access to crypto education. 

No demo.
4C Trading Signal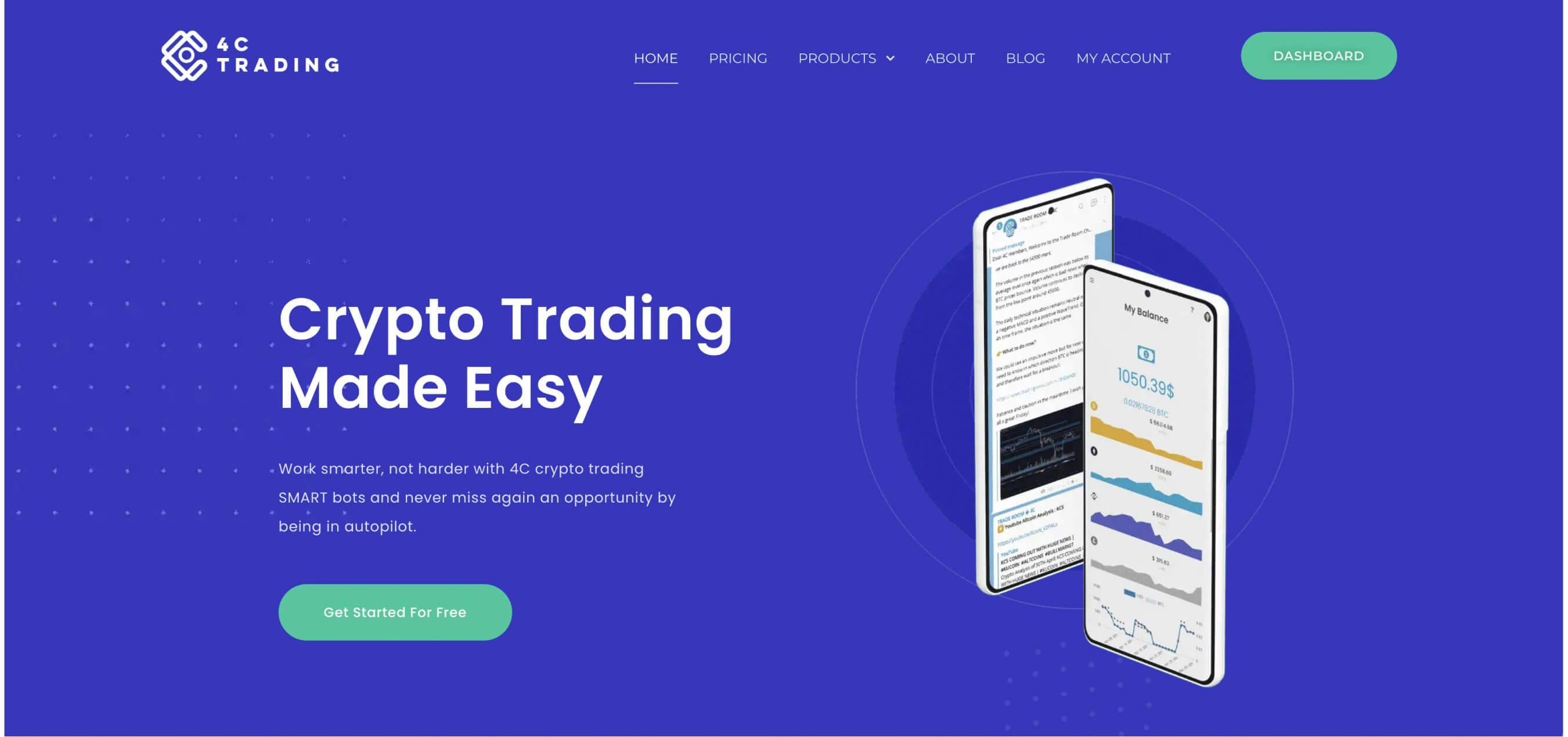 4C Trading Signal is a renowned signal provider founded in 2019, with seasoned analysts and cryptocurrency specialists providing crypto buy/sell signals.
Overall, 4C Trading provides customers with trading signals and a crypto education programme to help them become pros. Investors are also taught adequate risk management, a key difficulty for many traders.
7-day trial. 

Subscription-based bots that trade BTC, ETH, and LINK. 

Expert webinars. 

Suitable for beginners

Quick, secure installation. 

Customer service professionals. 

Program referral. 

Only Binance allows bots. 

Slow customer service.
CoinSignals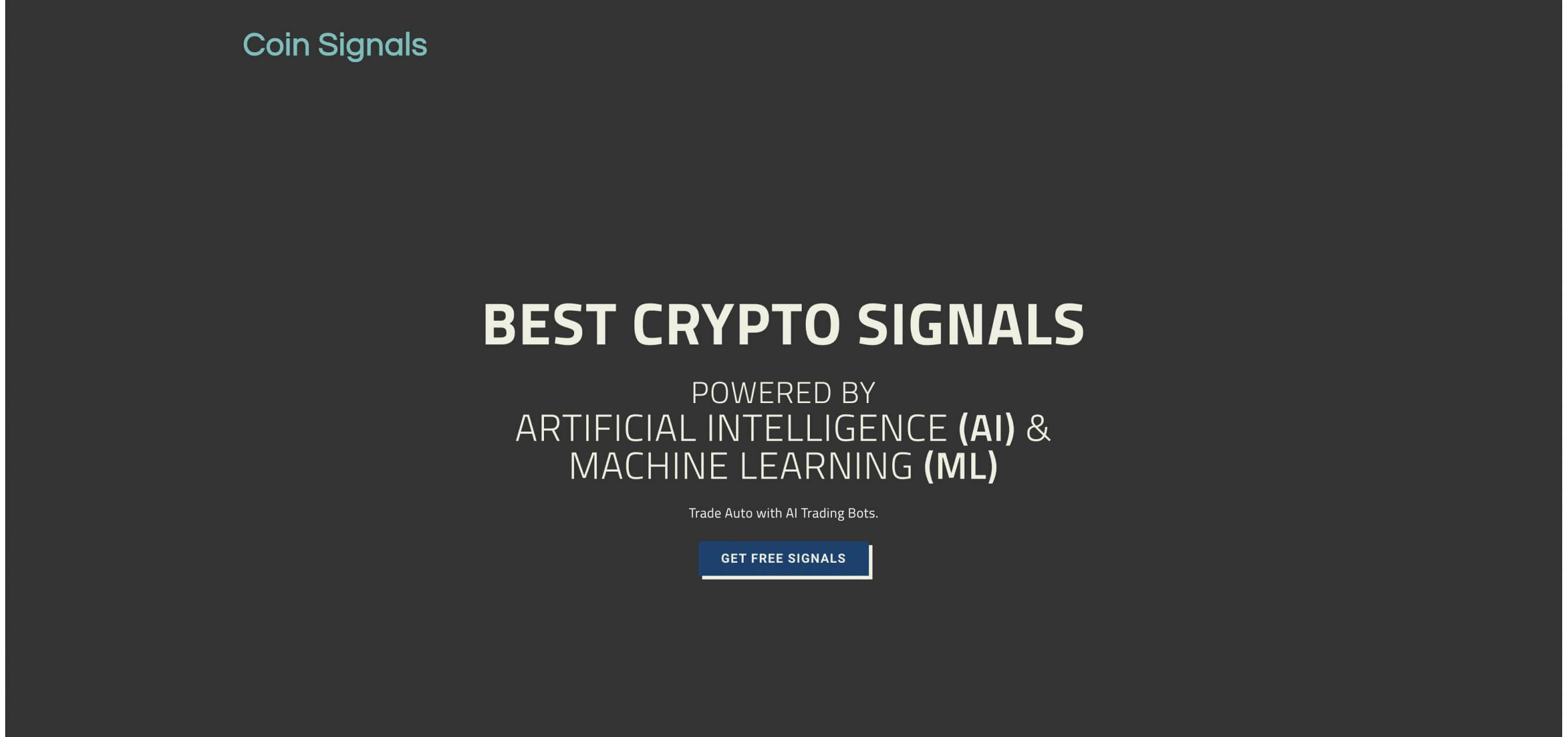 CoinSignals is a cryptosystem that uses sophisticated artificial intelligence to monitor several exchanges around the clock. This AI-powered trading bot delivers correct enters and exits, resulting in maximum earnings. Furthermore, we are informed that all transactions are devoid of prejudice and emotion, resulting in greater earnings. 
This firm offers multiple subscription tiers. The free plan delivers basic signals, market updates, news, and events without premium assistance. Furthermore, the 30-day premium plan costs 0.01 BTC. It has BTC updates, VIP TA, Binance, Bittrex, and USDT BOT signals. 24/7 assistance is offered.
Manual and algorithmic trading 

Does not give an established track record 

Security measures cannot be divulged 

Several exchanges alone are supported.
CryptoAlarm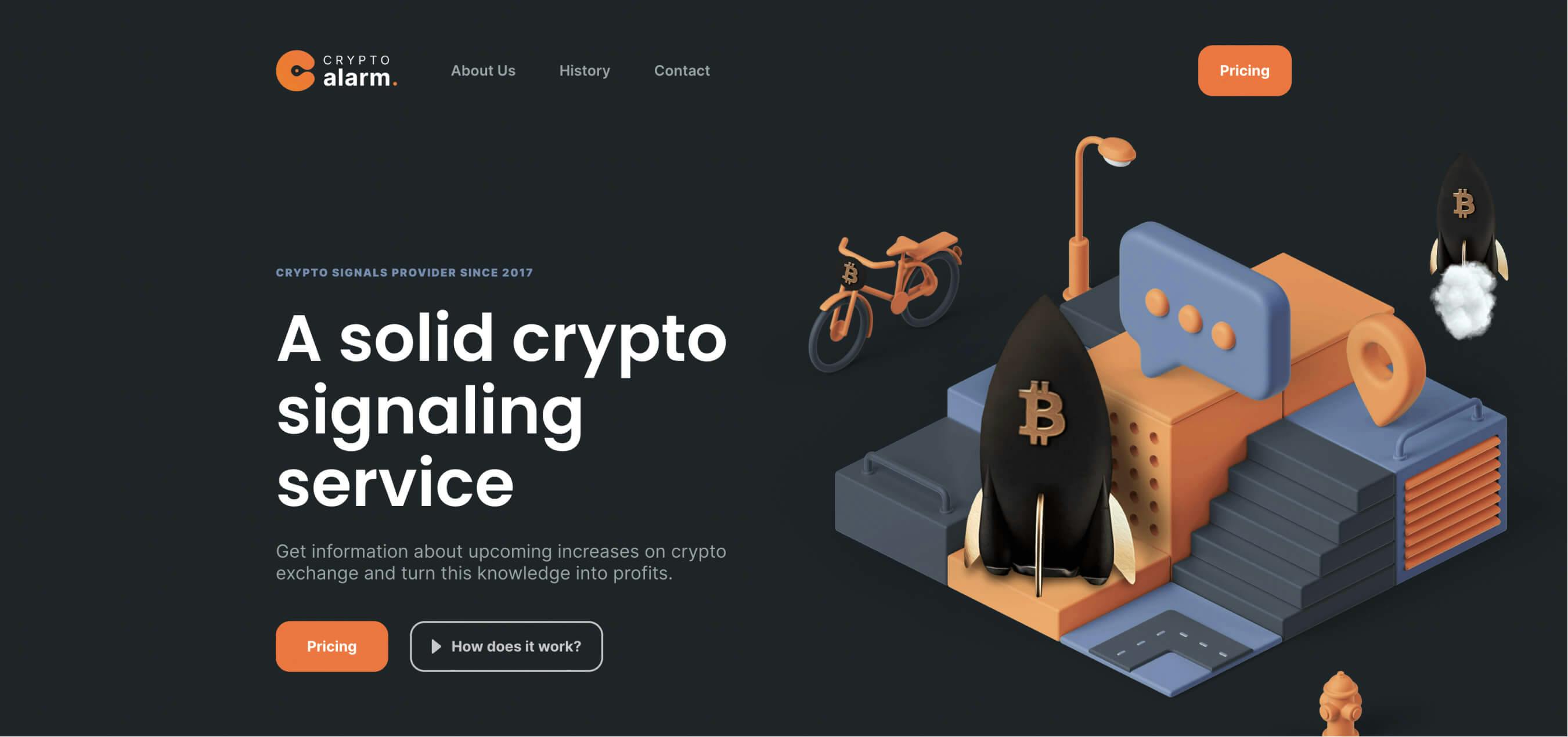 Crypto Alarm is a Telegram cryptocurrency signal-providing group that helps traders make enormous gains. Its 11 professionals study the market for a favourable entry and exit level for regular crypto-analysis. The support unit comprises experienced professionals who are accessible to answer questions and resolve concerns. 
Signals are examined. 

24/7 LiveChat/phone help 

Telegram Multi-support sends signals and updates.

Small merchants may find the cost of packages prohibitive.

No free trial
Learn2Trade

Learn2Trade provides trading signals for cryptocurrencies, forex, and equities, with experts having more than 15 years of financial market experience and providing over 70% monthly signal accuracy. 
Moreover, Learn2Trade provides a free Telegram bitcoin trading channel to check its correctness. The signals include over 80 FA-backed technical indications, and daily crypto news updates are offered for those who want to stay up to date with the latest developments
Email and phone assistance 24/7. 

Telegram group for cryptocurrency signals. 

Traders and experts offer signals. 

Daily alerts top 3.

No bots. 

The VIP group's prior appearances are not documented.
FatPigSignals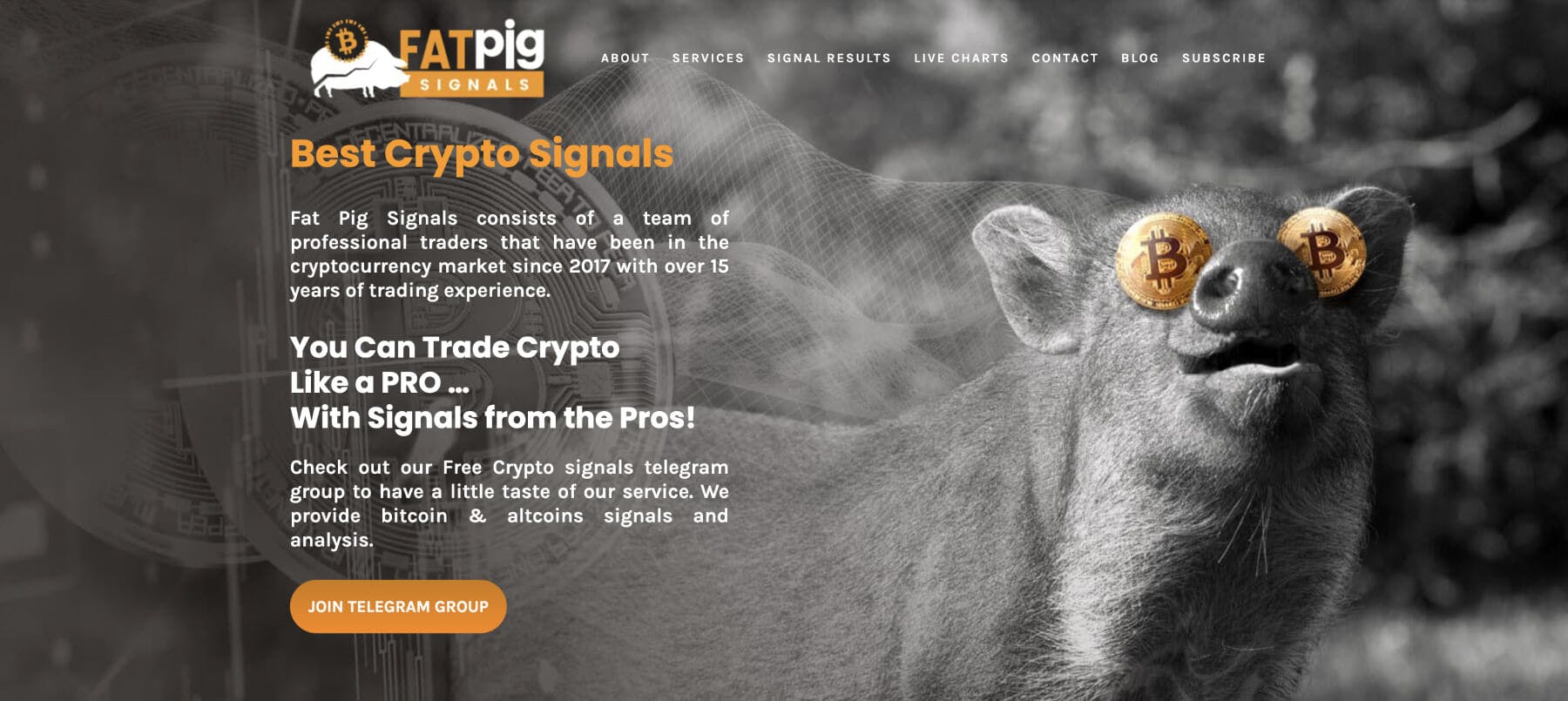 Fat Pig Signal delivers trade recommendations based on market data, book order analysis, short-term volume changes, news, and updates. Overall, Fat Pig Signals' trading signals are based only on in-depth analysis. They thoroughly research the bitcoin market and then provide information through Telegram. Traders/investors make trading choices based on the Telegram indications they get.
Afterwards, traders decide whether to invest. Its experienced analysts regularly look for trading possibilities, relieving traders of the load and hard work. Bitcoin, Ethereum, Litecoin (LTC), Cardano (ADA), and Dogecoin are covered (DOGE). In case of a market crisis, the team stresses the importance of portfolio diversification. It teaches users how to diversify their portfolios to reduce losses.
Over 75% monthly success rate. 

Subscribers are offered more personalised services like getting professional advice on how to diversify your portfolio. 

VIP has 8,000 members. 

Daily signals are issued. 

No teaching options for crypto beginners. 

Volatile payment methods cause unstable entry costs.
Crypto Signals Guru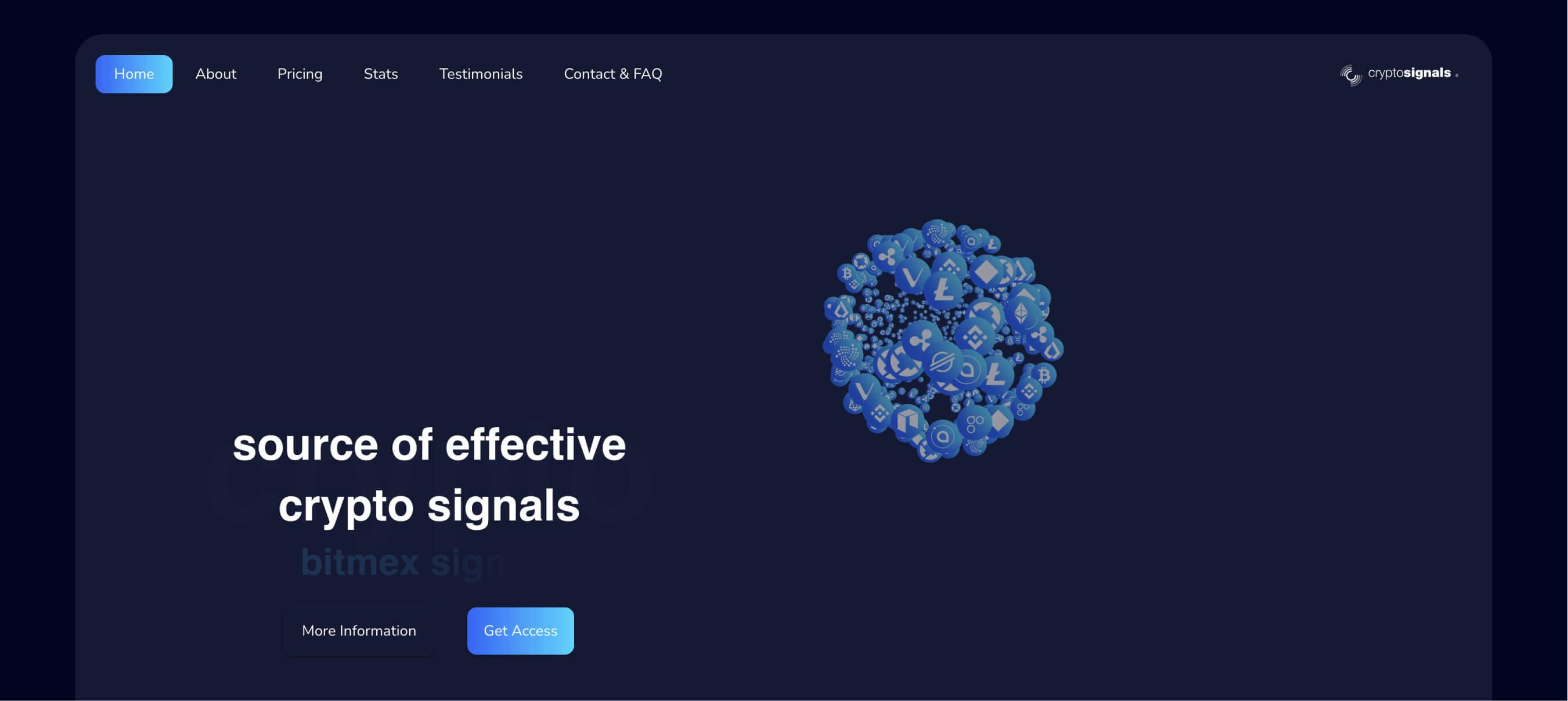 The Crypto Signals Guru analytical team searches the market for crypto offers. Some merchants collaborate with these specialists and assist with some of the more complex decision-making. 
This signal provider offers three programmes: Beginner, Superior, and Pro. The Beginner plan costs 198 Euros or 30 days and is designed for inexperienced traders. For experienced traders, there is the Superior plan with a 90-day validity term and a cost of 498 Euros. Long-term traders may choose the Pro plan, which costs 798 Euros for 180 days and costs 798 Euros. 
Overall, these plans are all rather costly, and the company does not provide a return policy. Furthermore, the individuals that manage Cryptosignals. gurus are likewise hesitant to reveal their CEO or team members.
Contact with insiders and advisors 

Professional outlook of the website

No transparency about the vendors

Missing advanced security 

High fees
2Moon

2Moon promises to provide a signal with the potential for enormous profits. The team of analysts are experts in their respective professions. Interesting is the fact that they have excellent social and professional contacts. 
Consequently, analysts often have a solid understanding of current market conditions and what to anticipate in the near future. This results in the team transmitting correct signals most of the time, ensuring revenues. 3 professionals have extensively evaluated 2Moon's high-converting signals since 2017. 
This team of professionals examines market data and crypto project launches, achieving over 80% accuracy. Furthermore, 2Moon provides crypto and altcoin signals and alerts consumers about ICOs days before launch. 
Supports mainly Binance

LiveChat pros 

Pump-and-dump projects are not assessed

80% success rate Long-term, mid-term, and shot signal

Interactive user interface

Support 24/7. 

No automated bot is available 

Zero crypto education
Zignaly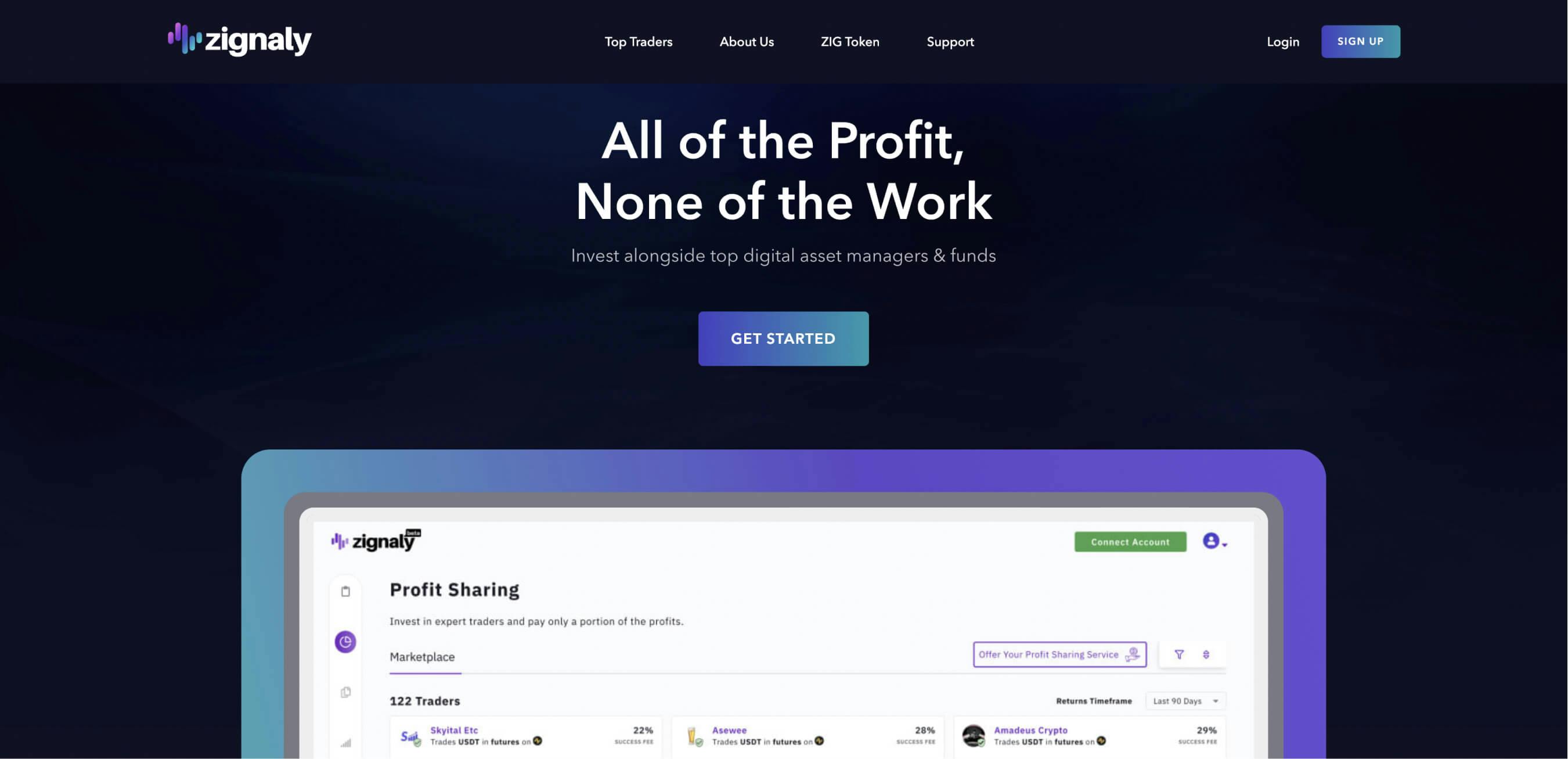 Zignaly operates an initiative where traders may follow expert analysts and mimic their trading recommendations. Zignaly offers unlimited crypto pairings and positions for a monthly charge, integrating Binance and KuCoin trading bots. 
Traders may choose a professional signal provider from Zignaly's pool of traders and reap the rewards without needing study or market expertise. Registration is completely free, however, payments may be required to interact with some experts and traders.
Reduced fraud by connecting signal providers and traders

Content-rich platform

Users may request a variety of services Everyone sees signal accuracy

Professional signal providers are available to traders

Works best with paid signal traders

Fees are not straightforward

Many traders demand membership fees

Irregular notification frequency
Universal Crypto Signals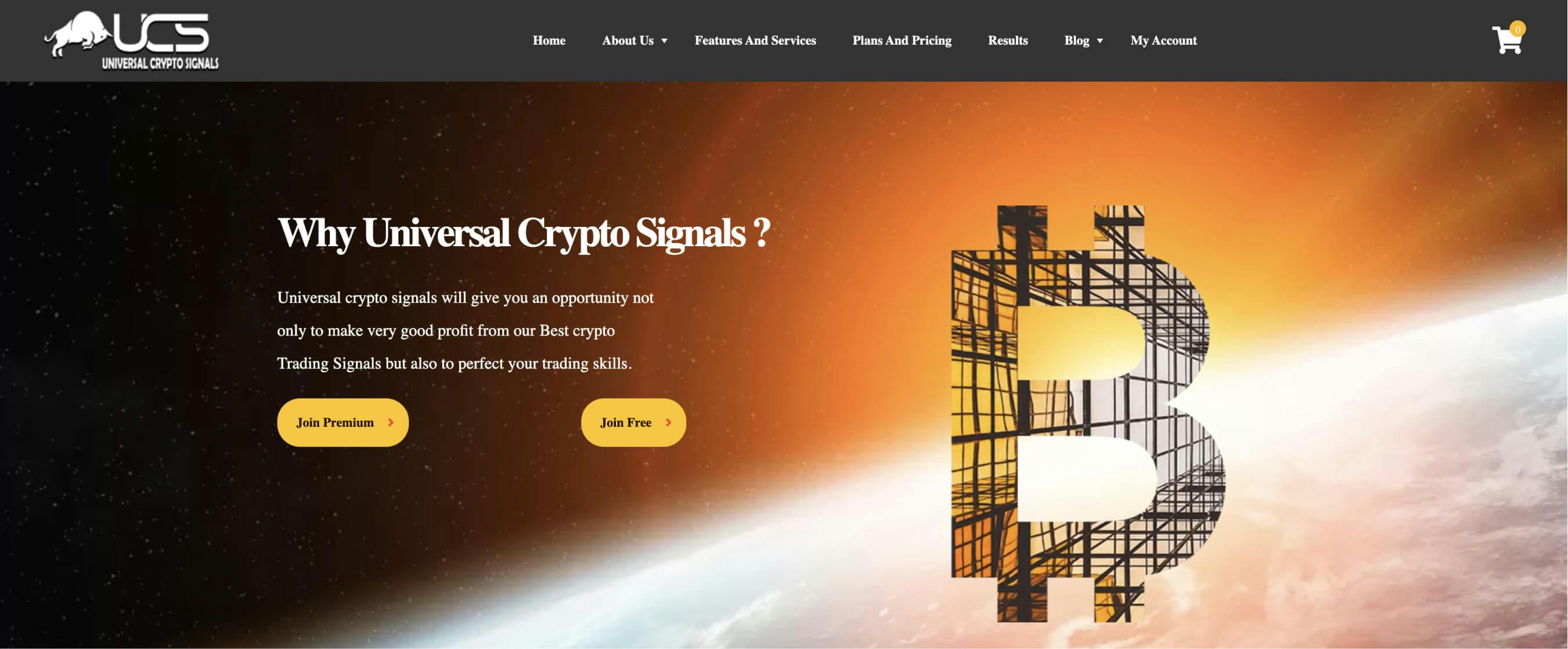 Since its inception in 2018, it has been one of the greatest signal suppliers. Universal Crypto Signals distributes its unique trading signals via free and paid Telegram channels. 
On this platform, subscribers get Altcoin Spot Premium Channel, Premium Toolbox, and Cornix assistance. Nonetheless, the signal provider charges extra for margin trading. Universal Crypto Signals has a dedicated premium channel for trading Altcoins as well as Margin/Leveraged trading, in addition to other leading cryptocurrencies. Besides, their subscription channel includes a premium TRollbox where investors and users may post and debate trading ideas and questions. 
Universal Crypto Signal's experts have their own trading technique, and their objective is to provide precise, accurate trading recommendations in all market circumstances. For many, Universal Crypto Signals is one of the leading crypto signal channels.
Assistance is available

Group gem calls occur sometimes

New services debut on a regular basis

Advises subscribers on risk management

No actual signal data 

The site lacks crypto education
Whaletank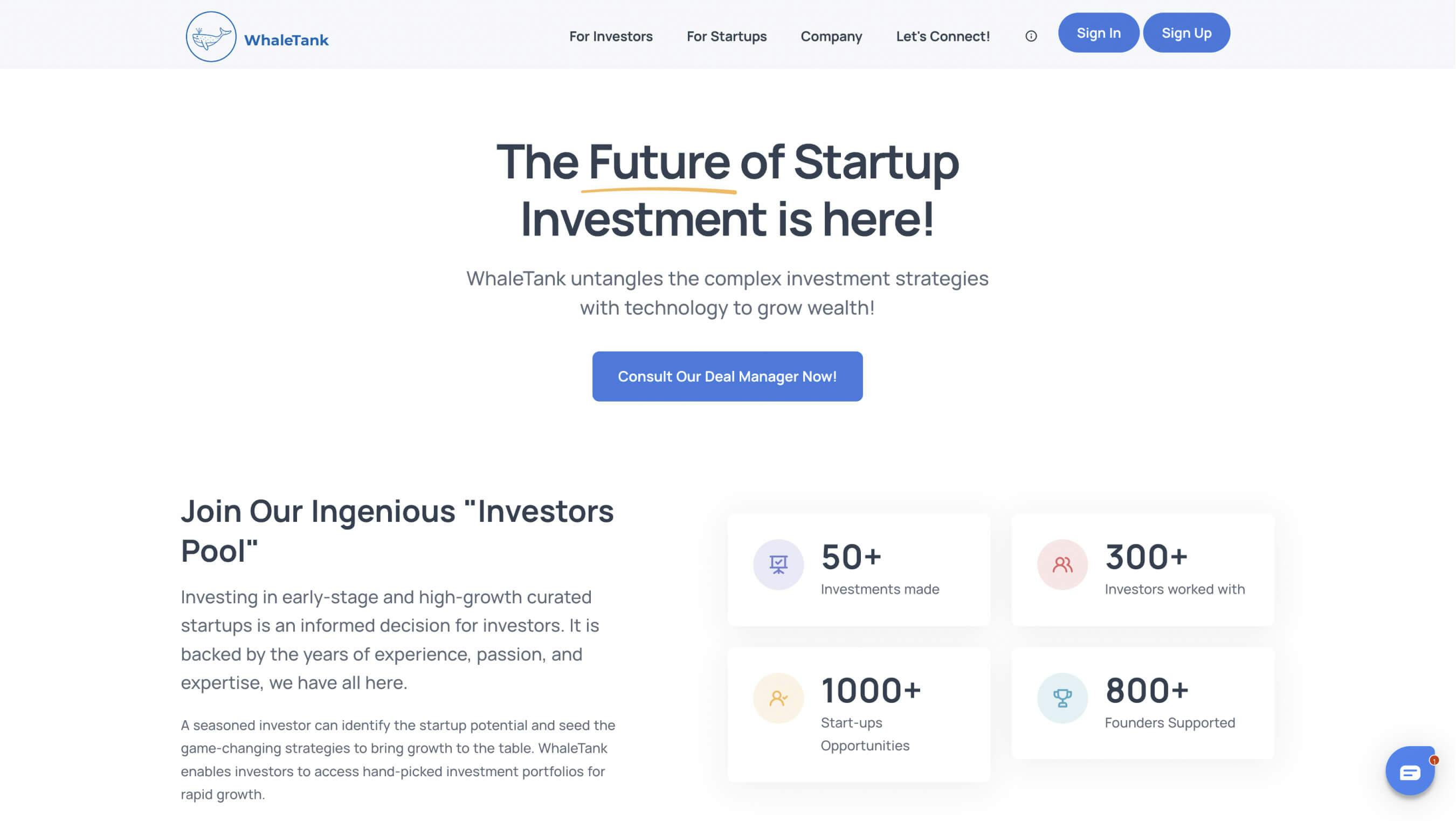 Whaletank offers stable, professional, and appropriate signals to assist customers in winning in the turbulent crypto market. Overall, Whaletank provides its consumers with sufficient crypto signals to aid in executing profitable trades on the turbulent market. Whaletank offers dependable crypto trading signals in addition to a trade management system. 
Here, traders are schooled on the fundamental trading dos and don'ts. Typically, Whaletank provides long-term crypto recommendations but also caters to traders seeking short- and medium-term trading ideas.
Crypto signal provider encourages long-term trades but also gives quick and medium-term trading ideas. Crypto education, a free telegram signal group to verify correctness, and a working online platform are among its offerings. 
Free crypto education

Accessible professionals 

Telegram Channel

Helps traders diversify their portfolios to minimise losses

Update traders on the industry

Accepts BTC exclusively. 

Fees depend on Bitcoin value.
MyCryptoParadise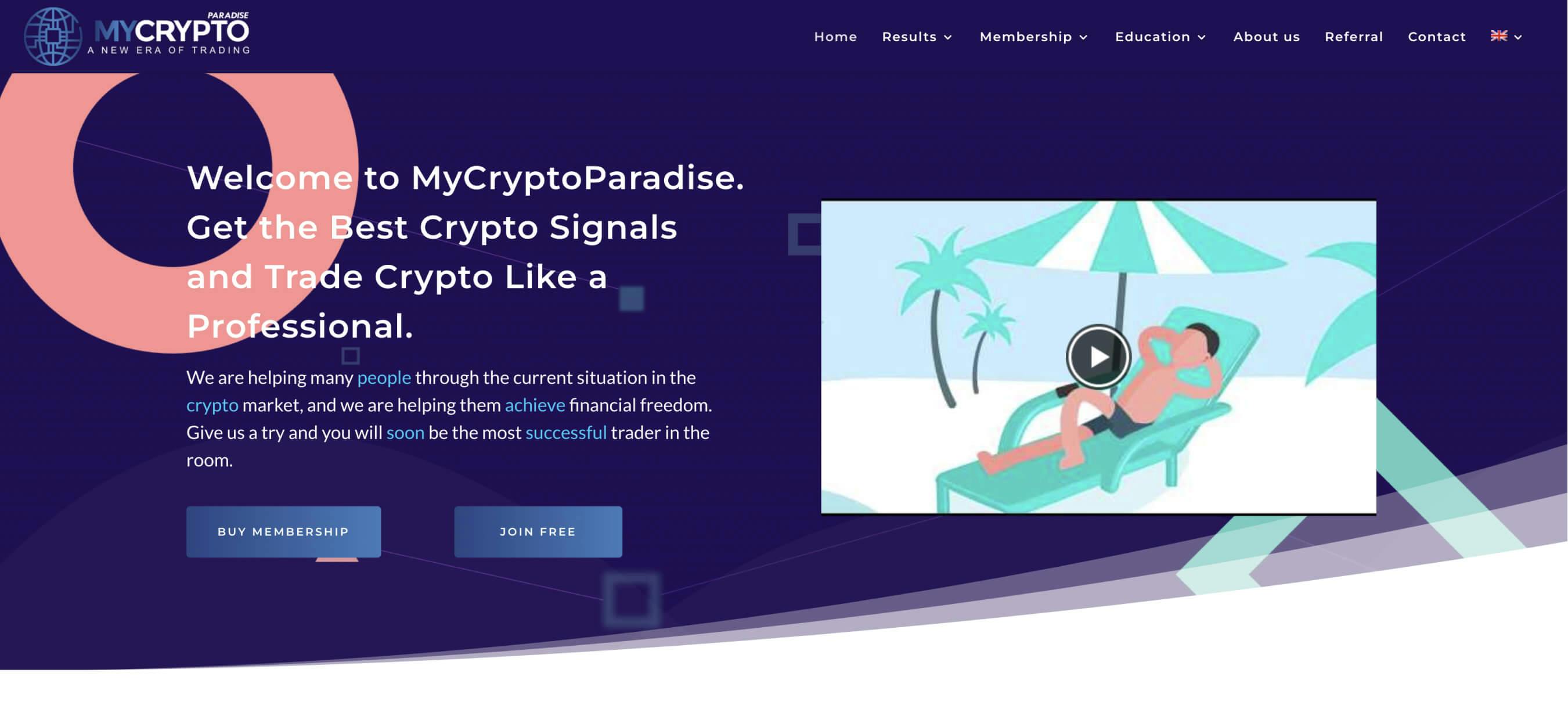 MyCryptoParadise is comprised of four accomplished traders with a focus on technical and fundamental analysis. Experience has provided them with a thorough comprehension of the Crypto Markets and profitable trading strategies. Consequently, their trading indications result in lucrative transactions. In addition to providing consistent signals, the team also offers individualised instruction. 
Their merchants are strategically positioned in various global regions. This enables them to monitor the live markets 24 hours a day. MyCryptoParadise is the premier trading community due to the precision of their calls, teaching, and trade techniques.
Risk Management Strategies

Comprehensive Blog Posts

Suitable for Newbies

Supports for major exchanges, including Binance, Kraken, ByBit

High fees
Crypto Signals & 3Commas
3Сommas offers highly functioning, personalised trading bots that help users select providers they deem appropriate via the marketplace. The signals are then integrated into the trading bots to trigger actions to either buy or sell cryptocurrencies. Once subscribed to a signals provider, users can devise bot settings suggested on the page of the signals provider. Upon completion, users simply click "deal starts conditions," and the bot will align itself with the signals in choosing whether to buy or sell.
When choosing a signals provider, consider the following:
Exchanges they support: Make sure that the exchange you are trading in is included in the supported exchanges of the Signals provider that you will use or eventually avail for a subscription.
Trading pairs they provide signals for: Same with the prior one, see if the signals channel covers your desired trading pair that you will choose.
Whether they send deal close signals to take profit or stop loss dynamically. This ensures that the signals they deliver can adapt to the sudden shifts and volatilities in the market. Being able to do so prevents acquiring large losses.
If you're interested in learning more about Crypto Signals, visit the signal provider list page here: https://3commas.io/crypto-signals, where all the highest quality, top-rated and reputable signal providers have been vetted. Use the filter search option to efficiently view the available signals suitable for your cryptocurrency exchanges, platforms, and altcoins.
Crypto Signals Ultimate 2023 Guide: Conclusion
In the ever-evolving world of cryptocurrency trading, staying ahead of the curve is crucial to success. The crypto market is known for its volatility, and making informed decisions can be the difference between significant gains and painful losses. Throughout this comprehensive guide to crypto signals in 2023, we have explored a plethora of tools, strategies, and considerations to help traders navigate this dynamic landscape.
As we conclude this journey through the crypto signals landscape, it's important to emphasize some key takeaways and overarching themes that are critical for any trader looking to harness the power of signals in the year 2023 and beyond.
Diversity is Key: The cryptocurrency market is a diverse ecosystem with thousands of coins and tokens. Embracing diversity in your trading portfolio can help mitigate risks. Don't put all your eggs in one basket; instead, explore different cryptocurrencies with unique use cases and potential for growth.
Signal Providers are Partners, Not Guarantees: Utilizing crypto signal providers can be a valuable part of your trading strategy, but remember that no signal is foolproof. Always conduct your research and due diligence before acting on any signal. Consider signal providers as partners in your trading journey, not guarantees of profit.
Risk Management is Paramount: The crypto market's volatility means that risk management should be at the forefront of your trading strategy. Use stop-loss orders, set limits on the amount you're willing to risk, and avoid emotional trading. A well-defined risk management strategy can protect your capital during turbulent times.
Stay Informed: The cryptocurrency market is influenced by a myriad of factors, including news, regulations, and technological developments. Staying informed about the latest developments is essential. Join crypto communities, follow reputable news sources, and engage with experts to deepen your understanding of the market.
Adaptability is a Virtue: The crypto market is ever-changing, and what works today may not work tomorrow. Be adaptable and open to adjusting your trading strategies as market conditions evolve. Flexibility can help you thrive in the face of uncertainty.
Patience and Discipline: Successful crypto trading requires patience and discipline. Avoid FOMO (Fear of Missing Out) and impulsive decisions. Stick to your trading plan, and don't let emotions drive your actions. Long-term success often requires the ability to withstand short-term fluctuations.
Education is Ongoing: Cryptocurrency is a complex and evolving field. Invest time in continuous learning and improvement. Understand the technology behind cryptocurrencies, learn about blockchain, and delve into the fundamentals of the projects you're interested in. The more you know, the better-equipped you'll be to make informed decisions.
Security is Non-Negotiable: Security should always be a top priority in the crypto world. Use reputable wallets and exchanges, enable two-factor authentication, and practice good cybersecurity hygiene. The loss of assets due to security breaches can be devastating.
Diversify Your Sources: Relying on a single source for crypto signals can be risky. Diversify your sources of information and signals to reduce the potential for bias or manipulation. Cross-reference signals from different providers and validate their accuracy.
Remember Your Goals: Finally, always keep your financial goals in mind. Are you trading for short-term gains, or are you in it for the long haul? Knowing your objectives will help you tailor your trading strategy to align with your aspirations.
In conclusion, the cryptocurrency market remains a realm of immense opportunity and challenge in 2023. It's a landscape where technological innovation meets financial speculation, and where fortunes can be made or lost in the blink of an eye. While crypto signals can provide valuable insights, they should be viewed as tools to assist in your decision-making, not as guarantees of success.
As you embark on your crypto trading journey in 2023, remember that knowledge, experience, and prudence are your best allies. Stay curious, adapt to change, and remain patient in the face of volatility. Whether you're a novice or an experienced trader, the crypto market offers something for everyone, but it also demands respect and careful consideration.
Ultimately, success in the world of crypto signals, as in any form of trading, hinges on your ability to navigate the complexities of the market with wisdom, discipline, and a commitment to continuous learning. May your crypto journey in 2023 be both rewarding and enlightening as you harness the power of signals to achieve your financial goals in this ever-evolving digital frontier.
FAQ
Based on trade fundamentals and technical research, crypto signals give you entry and exit instructions. Professional traders utilise advanced mathematics and technical indicators to forecast price fluctuations. These traders offer a reasonable fee to give you trading signals and the chance to generate profits while gaining market knowledge.

Overall, there are multiple crypto signal platforms. However, multiple sources cite Cryptosignals.org as one of the best crypto signal platforms.

A crypto trading signal represents an actionable trading suggestion based on the investigation of current and/or past market conditions, built using technical indicators and time and price relevance. They are based on an awareness of market patterns and are performed to forecast probable future market values to assist traders in trading an asset successfully or avoiding losses.

There are both paid and free crypto signal providers available on the market.

There are multiple Telegram groups for crypto trading signals, such as:

CryptoSignals.org
Verified Crypto Traders
Universal Crypto Signals
DeFi Million
AltSignals

Signals instruct you on how to put stop losses, set goals, and when to quit and join trades at the appropriate moments to maximise your gains. However, like with any trading activity, they have a significant risk.

While you may consider using crypto signals, you must also have a fundamental grasp of how trading works - at least to some extent. Furthermore, you should ensure that your transactions are well-managed and that sufficient processes for risk management are followed.

Mikhail Goryunov
A proven leader, successful at establishing operational excellence and building high-performance teams with a sharp focus on value creation and customer success.