Become a crypto master
Become a crypto master
Learn everything about crypto,
trading and bots
Learn everything about crypto, trading and bots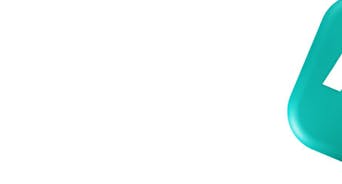 Shrimpy Review 2023: a Comprehensive Comparison – Shrimpy.io Trading Bot vs 3Commas
From

DATE PUBLISHED: DEC 30, 2020
DATE UPDATED: OCT 3, 2023
This is the updated Shrimpy review, including the latest features, add-ons, and improvements that happened with the Shrimpy bot. We also compare Shrimpy vs. 3Commas automated trading bot to understand which is better for you. Read on if you're looking for up-to-date and relevant information regarding pricing, trading bot, and more.
Start Trading on 3Commas Today
Get full access to all 3Commas trading tools with free trial period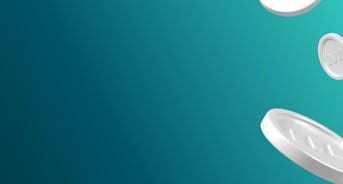 Shrimpy Trading Bot: About the Bot
Back in 2018, Michal McCarty and Matthew Wesly launched the Shrimpy crypto bot platform — It has fostered trading strategies and automated digital currency trading since then. The platform enables automated crypto portfolio rebalancing, index fund features, custom bots, and other automation tools. Shrimpy presently collaborates with 16 well-known crypto & Bitcoin exchanges. 
Shrimpy reviews are positive across the board, hence the article reviewing the portfolio management and automation features. Many users credit Shrimpy as being the best among competitors, as it streamlines trading for novice and seasoned traders alike. 
Shrimpy Trading Bot: A Quick Review
You may consider Shrimpy regardless of whether you're a novice trader or experienced trader. However, based on multiple Shrimpy reviews, the platform fits more experienced traders, as relatively high subscription fees repel newbies. The App building feature, custom strategies, and social trading programs hint at seasoned users being the preferred audience on Shrimpy. 
Shrimpy Bot Review: Pros and Cons
Test and automate trading features

Crypto portfolio management

You can build new apps with cryptocurrency APIs.

Social trading

Data aggregation

Crypto index funds for multiple crypto exchange accounts.

World-class API keys

No free plans 

No live customer support

Quite expensive

No trading terminal 

No mobile app

No built-in crypto signals
Shrimpy Trading Bot: How Does The Bot Work? 
Traders frequently search for a Shrimpy app review because the bot is doing a great job automating trading. The tool is well-known for its automatic portfolio rebalancing capabilities  — the process of realigning the weight of assets within a portfolio. It is accomplished by progressively purchasing and selling assets to preserve the targeted or original risk/asset allocation level. The website provided a simple trading experience for rookie and expert cryptocurrency investors.
Customers may also use Social Trading and Copy Trading to mimic renowned traders and their various tactics. The service is free and beneficial to new traders. It rewards experienced users because a replicated portfolio plan generates a small monthly payout. Holders get free access to Shrimpy. On the other hand, professionals must pay a bit more per month for an annual plan.
It makes collaborative investing easier with features like index automation. The platform's functionality readily compensates for the expense. That is why the gadget is preferred over every other popular option by the vast majority of qualified specialists.
Shrimpy Trading Bot: Features Reviewed
A bigger part of all Shrimpy reviews available on the web doesn't consider some of the features the platform provides. Let's break down the crucial ones to understand what you can get using the bot.
Shrimpy Trading Bot — Portfolio Rebalancing 
Portfolio rebalancing may appear to most traders as an insignificant phrase in their trading approach. However, rebalancing is a good trading strategy that decreases risk and increases profit margins.
Rebalancing is a trading method in which you construct a formula for distributing assets in response to market circumstances. Essentially, adjusting your portfolio to satisfy your threshold rebalance % requirements increases your chances of gaining from market moves.
Institutions in the stock market have used automatic portfolio rebalancing for decades, but Shrimpy has now integrated it into bitcoin trading. The software will automatically compute the transactions that must be completed to rebalance your portfolio, then place them on the exchange of your choice methodically to achieve your desired portfolio proportions.
Shrimpy provides two forms of portfolio rebalancing: time(periodic) and threshold rebalancing. Shrimpy will rebalance your asset portfolio over a specified period, such as daily, weekly, or monthly, to obtain the appropriate asset percentages (e.g., 60% BTC, 10% LTC, or 30% ETH-whichever percentages you pick).
Shrimpy rebalances your portfolio every time one of the assets deviates from the target proportion by a certain amount. Threshold rebalancing is more effective than time rebalancing since it incurs less trading expenses and rebalances your portfolio only when necessary.
Shrimpy Trading Bot — Indexing Tool
Many Shrimpy reviews skim on Indexing, but it's an important part of the functionality. Dealing with a diverse portfolio offers the benefit of lowering risk and increasing profit margins. Shrimpy's intelligent indexing tool makes it simple for traders to diversify their portfolios by allowing them to design their crypto index with various criteria and automated rebalancing.
Furthermore, Shrimpy automatically enables traders to weigh their bitcoin index funds utilizing the indexing tool. As we all know, a properly weighted index is essential for effective trading. Shrimpy provides the following indexing options:
Shrimpy Trading Bot — Market Cap Weighting
Market cap weighting is essentially weighting a cryptocurrency index by its market capitalization. The program will automatically identify the top ten cryptocurrencies by market capitalization for inclusion in your portfolio. If any selected coins fall out of the top 10, Shrimpy automatically replaces them with the currency with the highest market cap to climb to the top. Also, Shrimpy weights each asset according to its top ten positions so that assets with greater market capitalizations have a bigger portfolio and vice versa.
Shrimpy Trading Bot — Equal Weighting 
This simply means that the currencies you choose to include in your portfolio will be weighted equally (e.g., 20% BTC, 20% ETH, and 20% LTC). If the market cap of your portfolio changes, Shrimpy will adjust the portfolio to reflect equal percentages.
Shrimpy Trading Bot — Backtesting 
When you are constructing a bespoke trading strategy and want to see how it worked in the past, the backtesting tool comes in handy. Backtesting allows you to test any trading strategy or index against historical data to see how well it would have done in the past. You may use the program to backtest up to 5 years of extensive historical data acquired straight from each cryptocurrency exchange. Shrimpy exclusively uses precise bid-ask market data. Thus each deal is replicated correctly. 
Shrimpy Trading Bot — Social Trading 
Social trading appears to be the latest trend in bitcoin trading, with numerous platforms, like eToro, already offering it. Shrimpy also has a social trading function that allows users to 'copy trade' other traders' strategies if they want. Users who publish their trading techniques are rewarded per month for each individual who duplicates their trading strategies, ensuring a win-win situation. 
This groundbreaking feature is especially beneficial for inexperienced traders since it allows them to automate their trading without understanding all aspects of trading. Furthermore, traders with an efficient trading method might make passive money by sharing their strategy.
Shrimpy Trading Bot: Account Registration & Login Process 
Creating an account on Shrimpy is quick and straightforward. Customers only need to own a valid email address to complete the registration process. Here is how it can be done:
Shrimpy Trading Bot — Account Registration Process
Head over to Shrimpy.
Browse the [Get Started] option.
Fill out the form and submit a referral code if any
Accept all the terms
Complete the anti-bot CAPTCHA test
Tap on the "Sign Up" option and verify your email
Shrimpy Trading Bot — Account Login Process
Head over to Shrimpy
Spot the Login button at the upper left hand corner
Enter email and password
Complete the reCAPTCHA.
Login into your account
Shrimpy Bot Fees Reviewed
Shrimpy offers three types of accounts: HODLER, Professional, and Enterprise. HODLER is always free but has highly restricted functionality — only Portfolio Tracking components are available to these account users. Professional and Enterprise subscriptions provide far more possibilities but no free trial periods.
Premium Leader Fees 
Following a leader incurs additional expenses, known as premium leader fees. Each leader might charge these additional costs for following one of their portfolios. These other expenditures are not included in the Shrimpy subscription price. As a result, before opting to follow, the platform proposes thoroughly examining premium leaders. Shrimpy charges premium leader fees every month. "Flat Dollar Fees" and "Assets Under Management Fees" are two sorts of fees that leaders might levy.
Performance Fee 
Fees are based on the earnings made by users when social trading. Profits for the main trader increase as the number of followers increases. Significant earnings, as a rule, imply a greater motivation for the leader.
AUM Fees 
The overall value of the money handled by a leader is referred to as Assets Under Management. AUM is computed by adding the importance of each portfolio that adheres to the leader's strategy. The AUM fee in Shrimpy is payable monthly. If the leader has elected to charge a 1% AUM fee, the follower must pay the leader 1% of their portfolio value each month.
Due to market volatility, a single portfolio's value might vary dramatically over a month. Consequently, Shrimpy will continually track the value of each follower portfolio. Countless balance data points will be collected monthly to compute the effective AUM.
Flat Dollar Fees 
Flat dollar fees are a monthly membership payment for traders who follow a leader's portfolio. A monthly flat charge in Shrimpy might range from $1 to $1,000. These costs are prorated based on how long a trader follows a leader. The fees are also charged to each trader's portfolio to follow the leader. 
If a trader follows a leader who charges $5 per month and has two portfolios, they will be charged $5 per portfolio. Following both portfolios would essentially cost $10 every month. Such a model raises concern throughout the most popular Shrimpy reviews, creating a negative vibe for the platform. 
Shrimpy Crypto Trading APIs
Whether you're looking for portfolio automation or portfolio rebalance, API encryption is the feature to check on before furthering your experience. API technology is one of the best security measures any crypto exchange can implement for the esteemed security. Shrimpy security is among the best partly due to world-class encryption, but it also uses advanced Shrimpy sign techniques like 2FA and beyond. Let's break down what makes your trading safe.
Shrimpy Bot Review — Trading API 
Shrimpy's trading API enables developers to carry out trades across different exchanges. Market orders, intelligent order routing, and limit orders are all supported. To assist the developers, orders are issued with precision and speed. The APIs can produce a variety of outputs depending on the user's expertise.
Shrimpy Bot Review — Smart Order Routing 
Using intelligent orders, the API instantly streamlines trading operations. It helps developers describe the assets they wish to acquire or sell. The platform then analyses potential trade routes for the item. In a nutshell, it delivers the best market price for the asset.
Shrimpy Bot Review — Live Data API 
The API aids Shrimpy's market relevancy. No trader can make sound judgments without access to real-time data. As a result, the tool provides various endpoints for easy access to the most recent market data. REST API endpoints and WebSocket feeds are the two alternatives. The former is advantageous for mobile applications and sporadic trading. The latter, on the other hand, is helpful for high-frequency trading. It may be used for strategy rebalancing as well as threshold rebalancing.
Shrimpy Bot Review — Historical Data API 
Historical data can show many tendencies and patterns. Users can make a lot of money if they understand them correctly. Shrimpy's historical data API provides significant trading data dating back to 2012. Customers may use the API to develop an investing plan and conduct transactions to improve their overall portfolio.
Shrimpy Bot Review: How Easy Is Shrimpy to Use?
The simplicity of Shrimpy reviews across the web makes it appealing to beginning traders. Its trading bot has a simple and basic user interface. Even for beginners, the web-based tool is aesthetically appealing and straightforward. Users may easily set up the instrument and use features like spread and slippage. 
All the portfolio management automation software makes trading simpler, allowing you to manage your digital assets effortlessly. It also provides crypto trading bots to assist customers in developing a sound crypto trading strategy. Despite its obvious utility for beginner traders, Shrimpy is equally helpful for seasoned users.
Shrimpy Bot Review: Security 
According to multiple Shrimpy reviews, users get prestigious security procedures using the platform. It implements features such as two-factor authentication (2FA) and API encryption. The program encrypts all exchange API keys, eliminating the possibility of data leaks or interception. Shrimpy secures access through developer APIs to assist users in withdrawing payments. Its main website is secured by HTTPS (SSL), ensuring all users have a safe experience. Furthermore, it only keeps the capacity to conduct transactions and access data so that no one may take cash from the site.
Shrimpy Bot Review: Supported Exchanges 
As to Shrimpy reviews, the platform supports 16 crypto exchanges in total. Here's the list of exchanges you can connect to using Shrimpy. 
Binance
Gate.io
Gemini
Kraken
Bitfinex 
Bittrex
Huobi
Poloniex
OKx
KuCoin
HitBTC 
Coinbase Pro
CEX.io
Bitstamp
Bibox
Shrimpy Bot Review: Customer Support 
Taking hundreds of Shrimpy reviews into account, the platform's customer support is good overall, yet it causes concerns among the community members. Users repeatedly address issues related to reply quality and speed. Shrimpy doesn't have a live support chat, which is why users send over their questions at email support.
Shrimpy Bot Review: Comparison vs 3Commas: Which Automated Trading Platform is Better? 
A host of controversial Shrimpy reviews across the web doesn't make the evaluation any easier, but the head-to-head comparison does. Let's break down points crucial for any bot and compare the results for Shrimpy and 3Commas. 
Shrimpy vs 3Commas: Pricing Winner
Shrimpy has three account types: Starter, Professional, Enterprise, and a free version. Starter, Professional, and Enterprise Plans offer far more options than free users' limited toolset. The lack of a free trial makes Shrimpy less attractive for newbies. However, you can try out some functions in demo mode.
Shrimpy Pricing Plans
No free plan for new traders.
Starter plan is $19 per month and limits users to connecting 5 exchange accounts.
Professional plan is $79 per month and includes 5 portfolios per exchange account, 10 exchange accounts, and access to the API.
Enterprise plan is $299 per month and features priority support, 10 portfolios per exchange account, and 25 exchange accounts overall.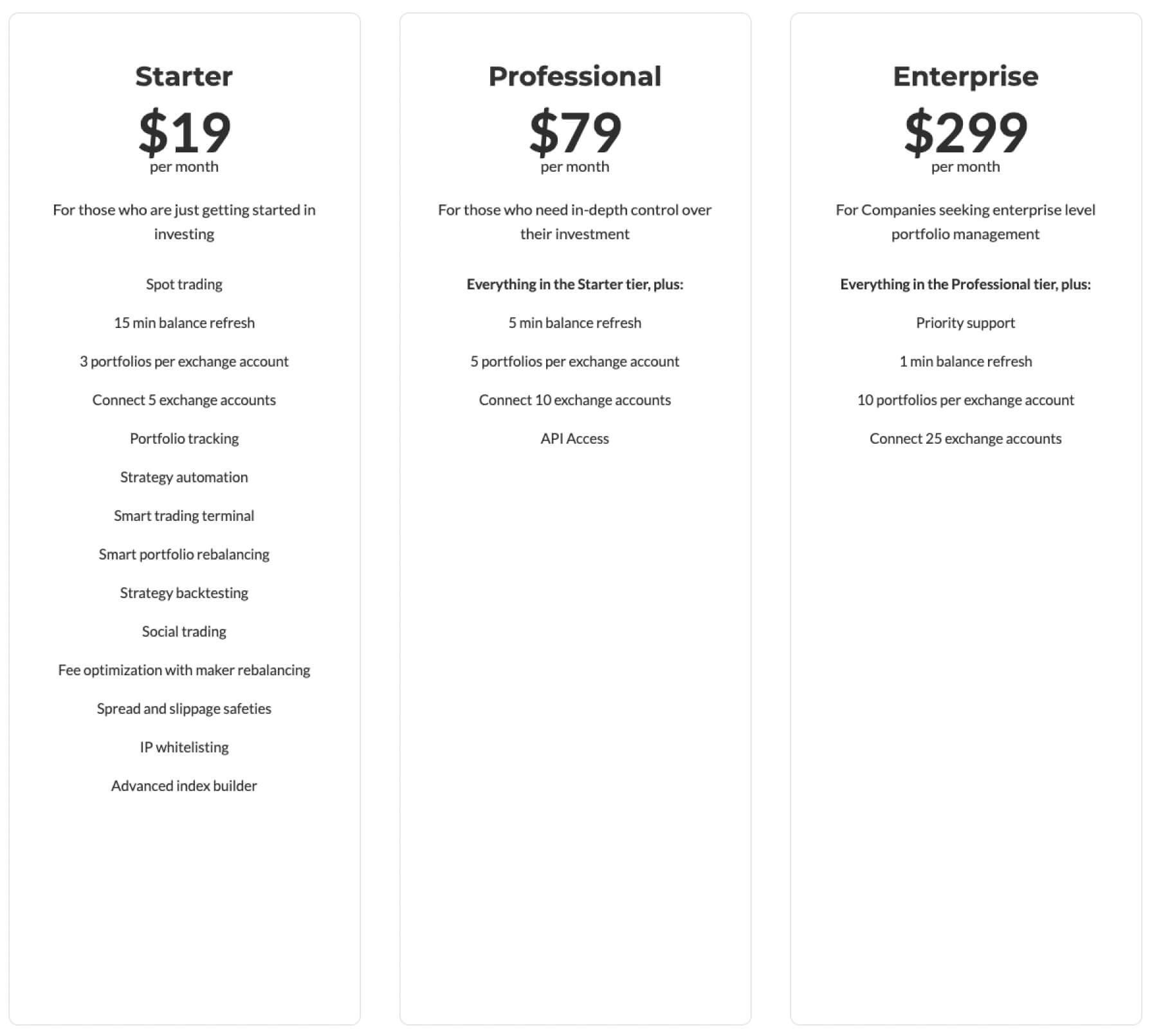 3Commas Pricing Plans
3Commas has four account types: Free, Starter, Pro, and Advanced. Prices for the plans vary, depending on whether you pay per month or per year.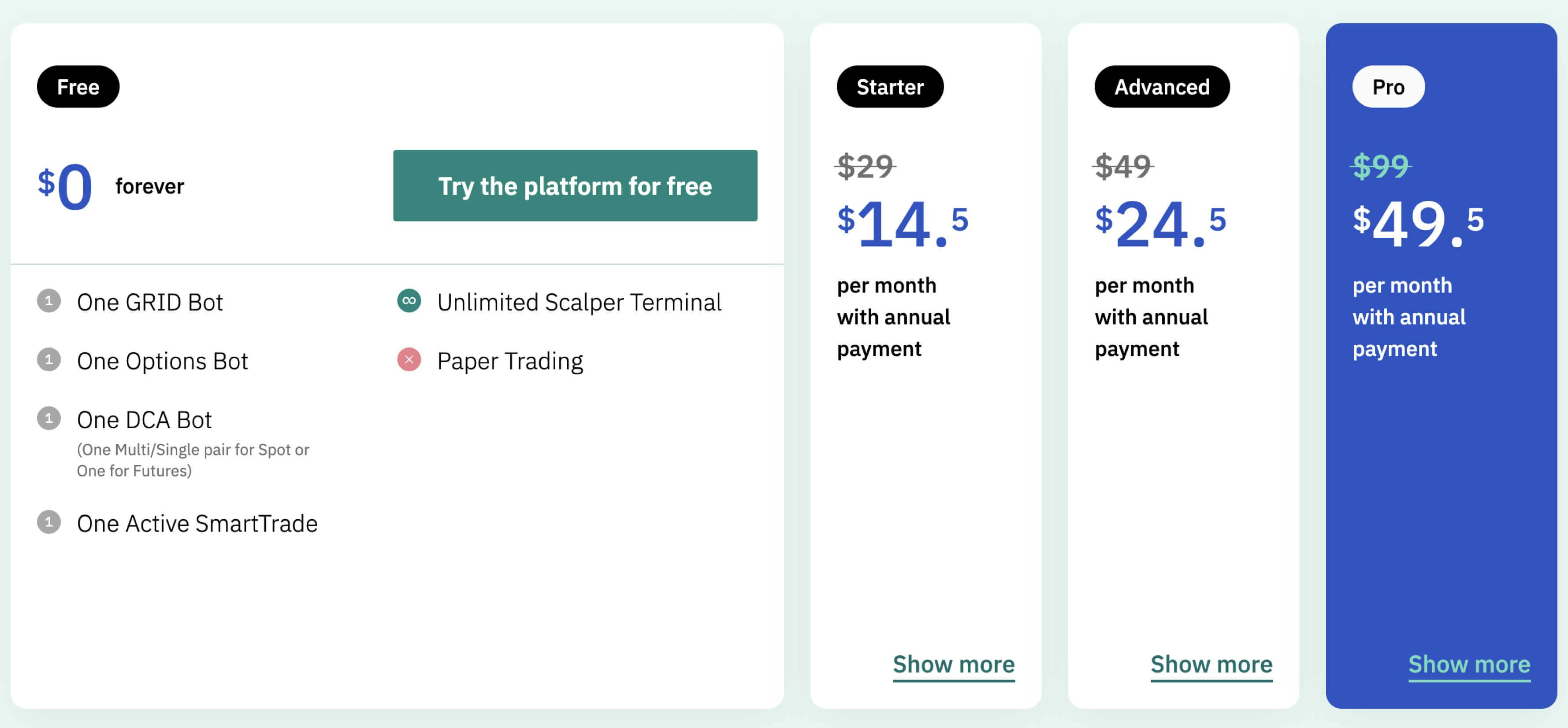 A free account gives users one DCA bot for multi/single pairs, one grid bot, one SmartTrade, one options bot, one futures bot, simple buy/sell functions, the ability to convert USDT to BTC, and an unlimited number of exchanges to track.
With a Starter account, you get access to the SmartTrade terminal, you have the option to place Stop Loss and Take Profit, and you may utilize short and long algorithms.
With an Advanced account, you also unlock custom signals from TradingView, a single pair DCA bot, and view and copy bots.
The Pro account includes all of the aforementioned features, in addition to a multi/single pair DCA bot, composite bots, a bot that works with ByBit, a GRID bot, and an Options bot. PRO users get a 3-day, fully-featured free trial.
3Commas per month prices: The Starter plan is $29/month, Advanced is $49/month, and the Pro is $99/month.
3Commas per year prices: When you pay per year, you get a hefty discount! The Starter's monthly cost (with an annual payment) is $8.70, while Advanced is $14.70, and Pro accounts are $29.70.
Shrimpy Bot Review Pricing Winner
While Shrimpy has a free account option, its functions are limited. Shrimpy's other two account options do not have free trials, making it difficult for potential users to determine whether they like the services before signing up for a subscription.
Shrimpy vs 3Commas: Reliability Winner
Timely customer service support if issues arise

Not as much web exposure

Less transparent pricing, decreasing the reputability

Plenty of available reviews on the web

Transparent pricing and accessible tutorials that increase its reputability

Occasionally goes offline
Shrimpy Bot ReviewReliability Winner
If you are looking for a service that has established its reliability, 3Commas is the better one to go with.
Shrimpy vs 3Commas: Ease of Use Winner
Well-laid-out design

Comprehensive dashboard

No mobile app

Sleek, simple design

Excellent reference section

Beginner traders may be overwhelmed by the number of features
3Commas makes it easy to manage your trading strategies and portfolio on-the-go. Shrimpy doesn't have a mobile app, so 3Commas is the winner.
Shrimpy vs 3Commas: Exchange Platforms
Wide enough range of platforms for beginners

Experienced traders may lack supported exchanges

Very wide range of platforms

More platforms than many competitors
Shrimpy Bot Review Exchange Support Winner
The list of exchanges on 3Commas is broader, which gives traders more choice and flexibility. 3Commas takes the round.
Shrimpy vs 3Commas: Profitability Winner
Fee optimization

Good for long-term return on investments

Occasional losses

Profits could potentially rise as high as 10%

Excellent trade opportunities are frequently available

Occasional losses
Shrimpy Bot Review Profitability Winner
Both services come with a host of success stories.
Shrimpy vs 3Commas: Strategies Winner
You can copy top traders or build a portfolio strategy

Very little information is given about trading strategies on the website

You can copy top traders or make your own strategy

Plenty of configurable strategy settings

The website gives lots of details about trading strategies

Room for error when setting up a strategy
Shrimpy Bot Review Trading Strategies Winner
You get a great variety of strategies in either case, but 3Commas strategies vary more compared to those of Shrimpy.
Shrimpy vs 3Commas: Operating systems
Any OS can access the web browser platform

No mobile app

Well-designed app with thousands of satisfied reviews

Platform is also available via a web browser
Shrimpy Bot Review OS Winner
In terms of apps and operating system requirements, you will be fully satisfied with either service. 3Commas has a mobile application, though.
Shrimpy vs 3Commas: Privacy & Security Winner
Each API key is encrypted and stored with FIPS 140-2 security modules to protect users of Shrimpy, their integrity and confidentiality. Furthermore, Shrimpy encourages its users to enable 2-Factor Authentication.
Good explanation of how API is encrypted

Security page could be more fleshed out

Excellent tutorial on 2FA

Detailed privacy policy

Little information about specific encryption measures
Shrimpy Bot Review Privacy and Security Winner
Both platforms have excellent protection
Shrimpy vs 3Commas: Updates
Some updates are discussed on their social media channels

News section does not work

Dedicated Updates and Announcement sections

Adding links for these sections to the page's footer would be helpful
Shrimpy Bot Review Updates Feature Winner
3Commas is the definite winner. It has a dedicated updates section, whereas Shrimpy's News page does not work.
Shrimpy vs 3Commas: Help and Support
Live chat is available

Inactive customer support during business hours

No contact form, phone, or anything else. You can only email your support query.

Email, contact form, and live chat are all available

Live chat has a blazingly fast response time

The Contacts page name could be confusing. If it was named Help, the page's purpose could be more obvious to users.
3Commas customer support team has a dedicated work time, while Shrimpy seem disorganized.
Shrimpy vs 3Commas: Communities
When you visit Shrimpy's Community page it provides links to their Reddit page, their Discord server, and their Telegram channel. However, each of these venues has little activity and interaction between users. It is mostly treated as a way for Shrimpy to publish news and occasionally answer questions from users.
With 3Commas there is a huge Community forum that is not just for learning but also for sharing experiences and trading ideas. There are also separate sections for each topic (bugs, ideas, education, features, announcements, etc.), making it easily navigable.
Telegram, Discord, and Reddit groups are available

The Community options could be better organized

Not much helpful info in the Community groups

Fantastic community forums

Plenty of interaction among users

No live chat with other users
Shrimpy Bot Review Communities winner
3Commas wins the round due to better engagement and clearer communication among the community members.
Shrimpy vs 3Commas: Features
With Shrimpy you have to do lots of digging into their site and read user reviews to see what your options would even be. There are too many features to get into, but we'll take a look at some crucial ones.
Shrimpy Bot Review — Backtesting Compared
Both platforms allow backtesting to allow you to evaluate your strategy. Shrimpy however, has made their Backtesting tool public for all to use. 3Commas lets account holders enable the backtesting option within their bot strategy settings.
Shrimpy Bot Review — Social Trading Compared
Shrimpy lets you copy top crypto traders – however, their site doesn't give much information on the process. 3Commas also lets you view and copy the bots of the platform's most successful traders, and it gives tutorials on the process.
Shrimpy Bot Review — Trade Automation Compared
Once more, Shrimpy's vagueness is out to get them. Their features page says that strategy automation is possible, but there are no details given beyond that. With 3Commas there are plenty of blog posts and Knowledge Base articles detailing your options.
Shrimpy Bot Review Features Winner: Both services have very similar features, yet 3Commas features seem a bit more refined. 3Commas narrowly wins due to a smoother learning curve and feature delivery work.
Shrimpy VS 3Commas: The Bottom Line
We've compared Shrimpy vs. 3Commas to understand which one is better as a go-to trading solution. 3Commas bots beat Shrimpy in many aspects mentioned. Let's finalize the comparison in a table. 
| | |
| --- | --- |
| | 3Commas Crypto Trading Bot |
| | |
| | 3Commas Crypto Trading Bot |
| | 3Commas Crypto Trading Bot |
| | |
| | |
| | 3Commas Crypto Trading Bot |
| | |
| | 3Commas Crypto Trading Bot |
| | 3Commas Crypto Trading Bot |
| | |
| | 3Commas Crypto Trading Bot |
Shrimpy and 3Commas both offer excellent trading automation opportunities. As we mentioned before, they offer nearly identical automation and strategy features. However, we find that 3Commas offers better quality-of-life features. The mobile app and dedicated knowledge base, as well as the heightened availability of the customer support team, is what really makes 3Commas stand out
Conclusion: Shrimpy Review
Based on the most recent and up-to-date evaluations available in 2023, it can be deduced that the Shrimpy bot is particularly well-suited for long-term traders who prefer a more stable and less experimental trading approach. It offers a straightforward interface and functionality, tailored mainly to those who do not venture too much into varied trading strategies. However, for those in pursuit of a broader spectrum of trading techniques, increased arbitrage possibilities, and superior automation capabilities, the 3Commas platform stands out as a more comprehensive and fitting choice.
FAQ
Shrimpy trading bot is 100% legit and time-tested. You can trust the software provider completely. However, you might still want to check the reviews before trading real money

Shrimpy supports 16 major exchanges, including Binance, Gate.io, Gemini, Kraken, Bitfinex, Bittrex, Huobi, Poloniex, OKx, KuCoin, HitBTC, Coinbase Pro, CEX.io, Bitstamp, and Bibox.

The Shrimpy bot works just like any other trading software. You have to connect a bot to any supported exchange via API. Once you connect a bot, you can automate your crypto trading. Whether you're looking for a demo account and tutorials as a new trader or custom trading, a wide range of trading tools, and advanced market datum as an experienced user, Shrimpy might be a good fit.

Shrimpy API is a programming interface to connect your Shrimpy bot to any supported exchange. API allows communication between bots and exchanges, resulting in various operations you see on the screen.
Get your FREE 3 day full access on 3Commas
The contents of this article are not intended to be financial advice and should not be treated as such. 3commas and its authors do not take any responsibility for your profits or losses after you read this article. The info contained herein is based on data that was gathered from a variety of sources. This should not be used as a parameter for investing. The user must do their own independent research to make informed decisions regarding their crypto investments.

Mikhail Goryunov
A proven leader, successful at establishing operational excellence and building high-performance teams with a sharp focus on value creation and customer success.