Become a crypto master
Become a crypto master
Learn everything about crypto,
trading and bots
Learn everything about crypto, trading and bots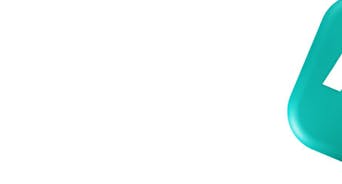 Automated Trading Bots for Poloniex
From

DATE PUBLISHED: SEP 8, 2022
DATE UPDATED: JUN 19, 2023
Poloniex is one of the oldest crypto exchanges and it supports automated trading. However, the exchange lacks instructions on how users can bootstrap their trading via cryptocurrency trading bots. This concise guide will fill you in on using a Poloniex trading bot.
Start Trading on 3Commas Today
Get full access to all 3Commas trading tools with free trial period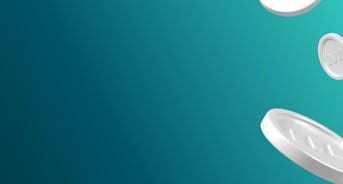 What is Poloniex Trading Bot?
A Poloniex trading bot is special software that buys and sells crypto based on your settings on the Poloniex exchange. These bots are automated programs to outperform manual traders over the long haul if the tasks are repetitive. According to statistics, at least 80% of all crypto trades account for automated trading. 
Crypto trading bots on Poloniex can help you to maximize your trading capacity, improve the success rate and significantly increase the number of trades. Whether you want to buy into prominent cryptocurrencies or add some crypto gems to your portfolio on Poloniex, you can leverage crypto bots to automate your trading routine — buy, sell or hold any assets in the blink of an eye.
How does Poloniex Trading Bot Work?
Poloniex trading bots operate based on trading logic derived from patterns and technical analysis. Bots track historical data and spot relationships among various events. Then the hypothetical strategy is tested on the same historical data. The algorithm evaluates potential losses and profits to understand whether the hypothesis is viable. If the results are satisfactory, these trading rules become the backbone of a trading bot. 
Some bots use indicators to analyze the current market state; others operate only using triggers such as a price drop or rally. The bot's trading strategy can be quite simple or complicated. Some simple strategies include the price decrease trigger [buy if low], the rally trigger [sell if high], or a combination of both. The algorithm can also take recent data, indicators, and signals into account. 
High-quality bots analyze hundreds of parameters before placing an order by default, while some developers allow you to add your own criteria. This option is suitable for experienced traders who have a distinctive trading style.
Best Poloniex Trade Bots
Let's break down the best-automated software providers, so you understand which bots may fit your trading on the Poloniex exchange.
3Commas — Best Trading Bot Overall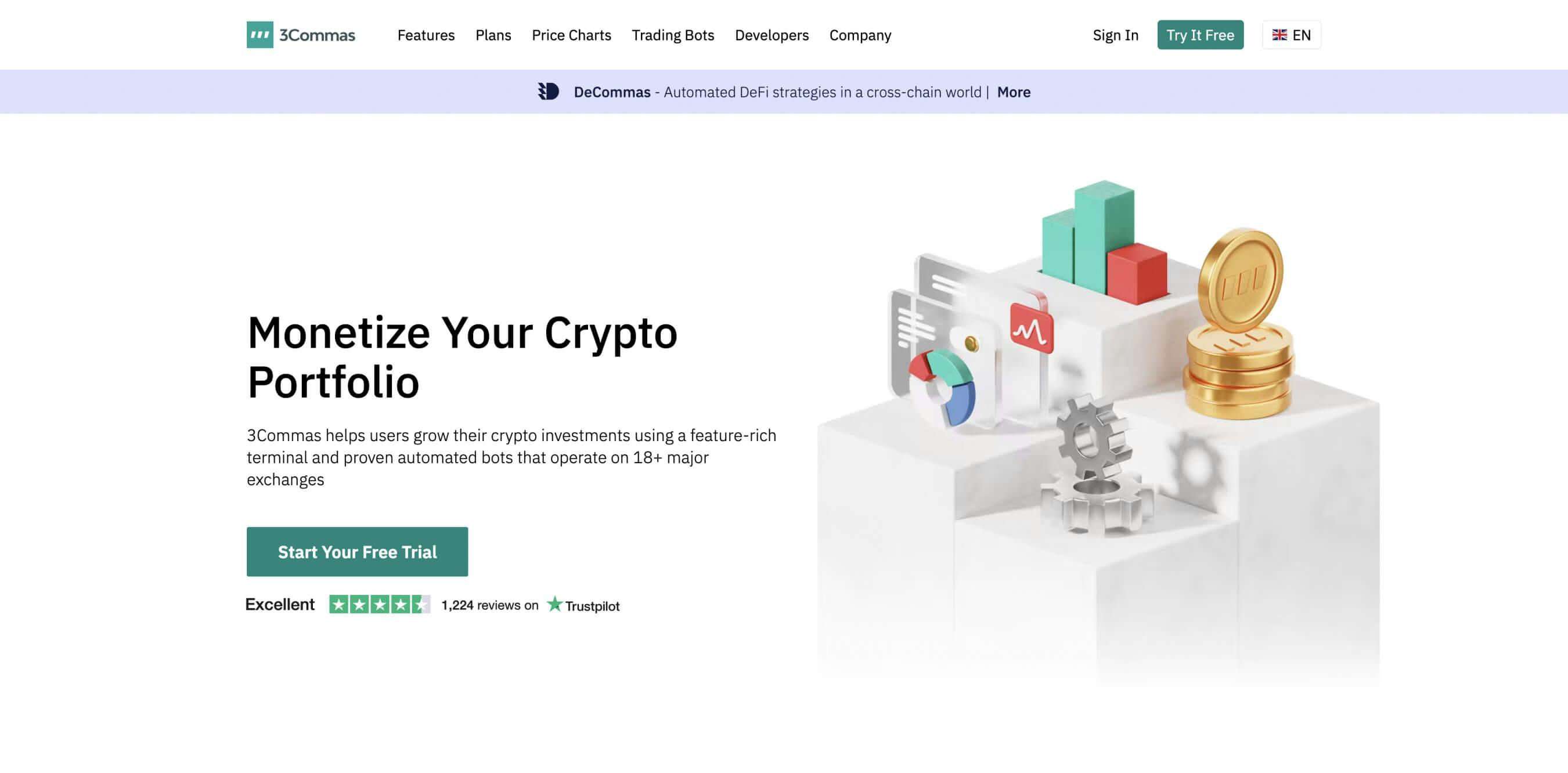 3Commas simplifies the process of integrating the bots into the Poloniex. With its buy/sell bot coupled with various smart trading tools, you can make reasonably high profits. The core benefits include affordable pricing, safety, and efficiency. 
The 3Commas trading terminal provides users with quite affordable yet valuable plans. Moreover, you don't have to get a subscription to start. Each user can start off with a trial plan and test out core features for free! 
You can test the core features for free and check whether 3Commas is the best fit for you. The free trial provides you with a wide range of trading tools. You can monitor and manage your portfolio, launch your first bots, and access some of the best analytical tools the 3Commas terminal has.
Endless Features
You can access features like grid bots, options & DCA bots, active smart trading and unlimited scalping terminal free of charge. This way you can increase your profits with no strings attached, also providing a room for upgrades if you feel like it.
If you're looking for advanced features, the 3Commas platform provides three plans to choose from, depending on your specific needs. You're quite flexible in terms of pricing, as there are multiple duration options, including 1,3,6 and 12-month long plans. 
A year plan comes with a solid discount of up to 25%. To save even more, you can refer friends and get an additional 25% off the price, resulting in a 50% discount for year-round support & powerful features. 
Flexible Plans
The plans range from $14.5 to $49.5 per month with annual payment, and $29 to $99 with monthly payment, depending on the features you want. In other words, you can save a lot if you subscribe upfront.
However, you can stay free as long as you want, still enjoying some of the functions 3Commas provides. You can find more information on plans here. 
You can integrate Poloniex with 3Commas via API keys, allowing easy connection between these two platforms. In addition, you have complete control of your bot, and all your passwords are protected & encoded through the API keys.
One click to copy the most successful traders and capitalize on their experience

Outstanding security and reliability, bots are up 99.9% of time

User-friendly interface and responsive customer support

A wide range of automated bots

Extensive list of features for free

The trading terminal might seem a bit overwhelming at first
HaasBot — Best Bot for Analytical Trading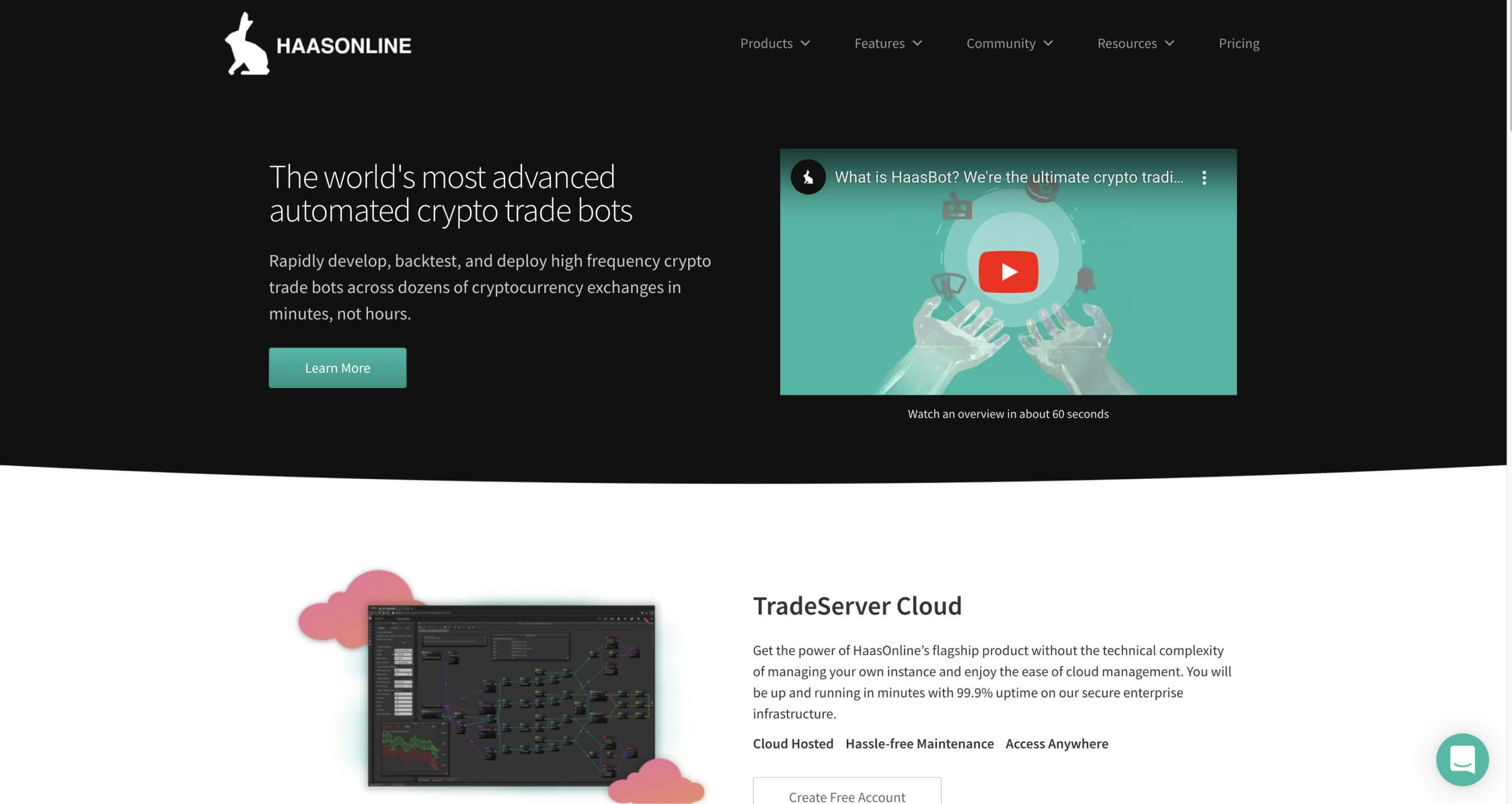 Like any other trading bot, Haasbot analyzes market information on your behalf and helps to automate your trading. The platform features Accumulation Bot, Advanced Index, Crypto Index, Flash Crash, Mad Hatter, Market Making, Ping Pong, Scalper, Trend Lines, MACF, a Zone Recovery Bot, and more.
HaasOnline supports as many as 21 major crypto exchanges, including Poloniex, Binance, Bitfinex, Coinbase Pro, Bitstamp, Bittrex, and more.
Another important note about the bot is its security — HaasOnline runs on a private server and educates traders to keep their APIs safe. This way, the team cares about your safety and reduces the chances of any data breach that may potentially occur. 
Overall, HaasOnline is best suited for seasoned traders as it offers advanced trading tools. A bright example would be the Haascript feature allowing experts to code and build their trading strategy from scratch. Beginners can choose from hundreds of presets.
A wide range of crypto assets and trading indicators 

Multiple exchanges & trading bots are available

A free trial available

No trading volume limits

Interface is not intuitive 

Expensive compared to other bots
Quadency — Best Bot for Intraday Trading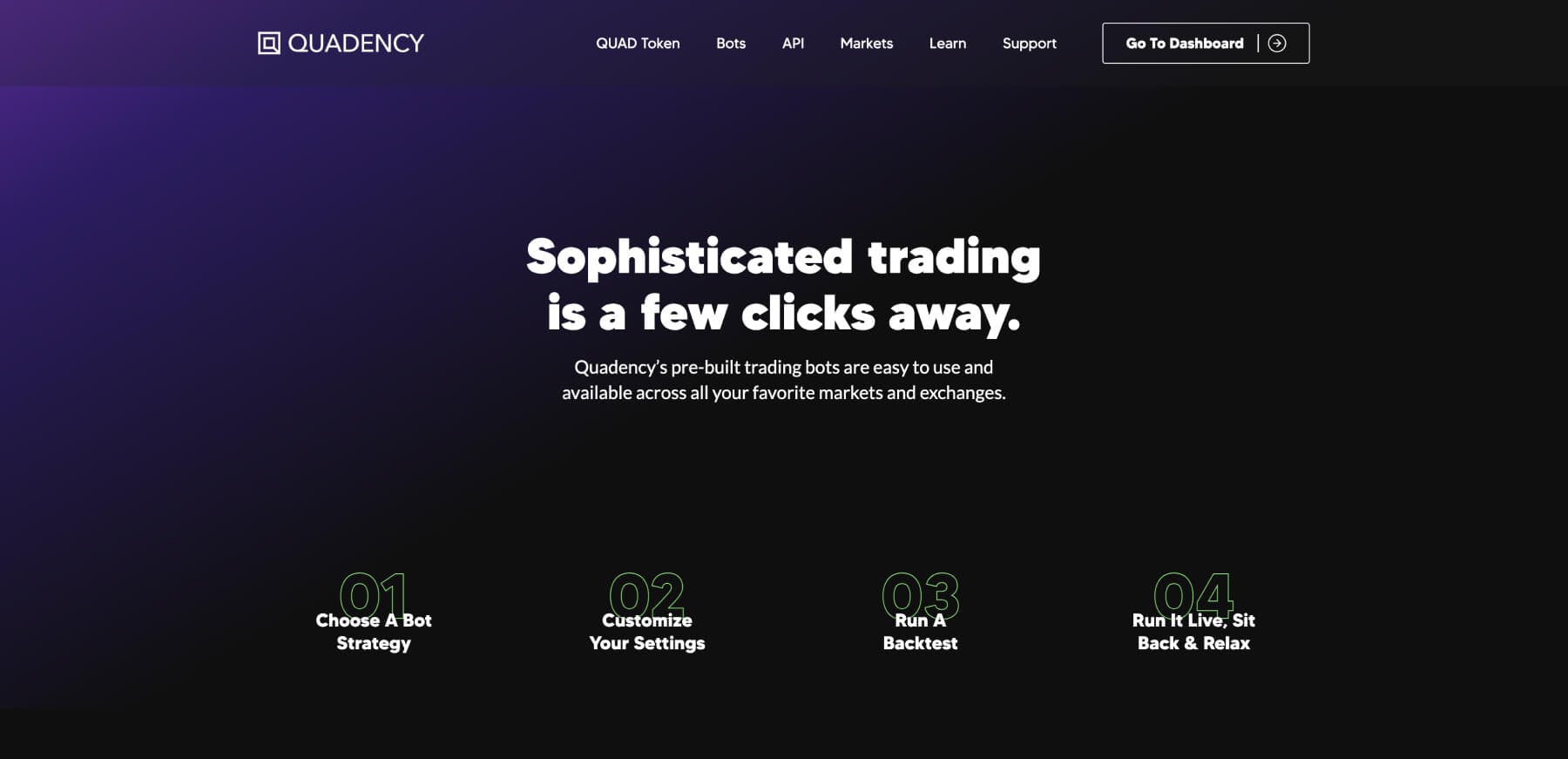 Quadency bot can help you to manage your digital assets more effectively in an automated way. The platform incorporates a toolset to streamline your analytical needs for a reasonable price — you can choose across a wide range of flexible pricing plans. The average score of 4.2 stars on Trustpilot reflects the overall trust users have.
Some reviews note intraday trading particularly, as the platform has an easy-to-navigate trading terminal which simplifies scalping significantly. 
Professional tools for all traders

Intuitive design and extensive FAQ section for newbies

Doesn't support mobile platforms. No app.

No margin trading
TradeSanta — Best Trading Bot for Arbitrage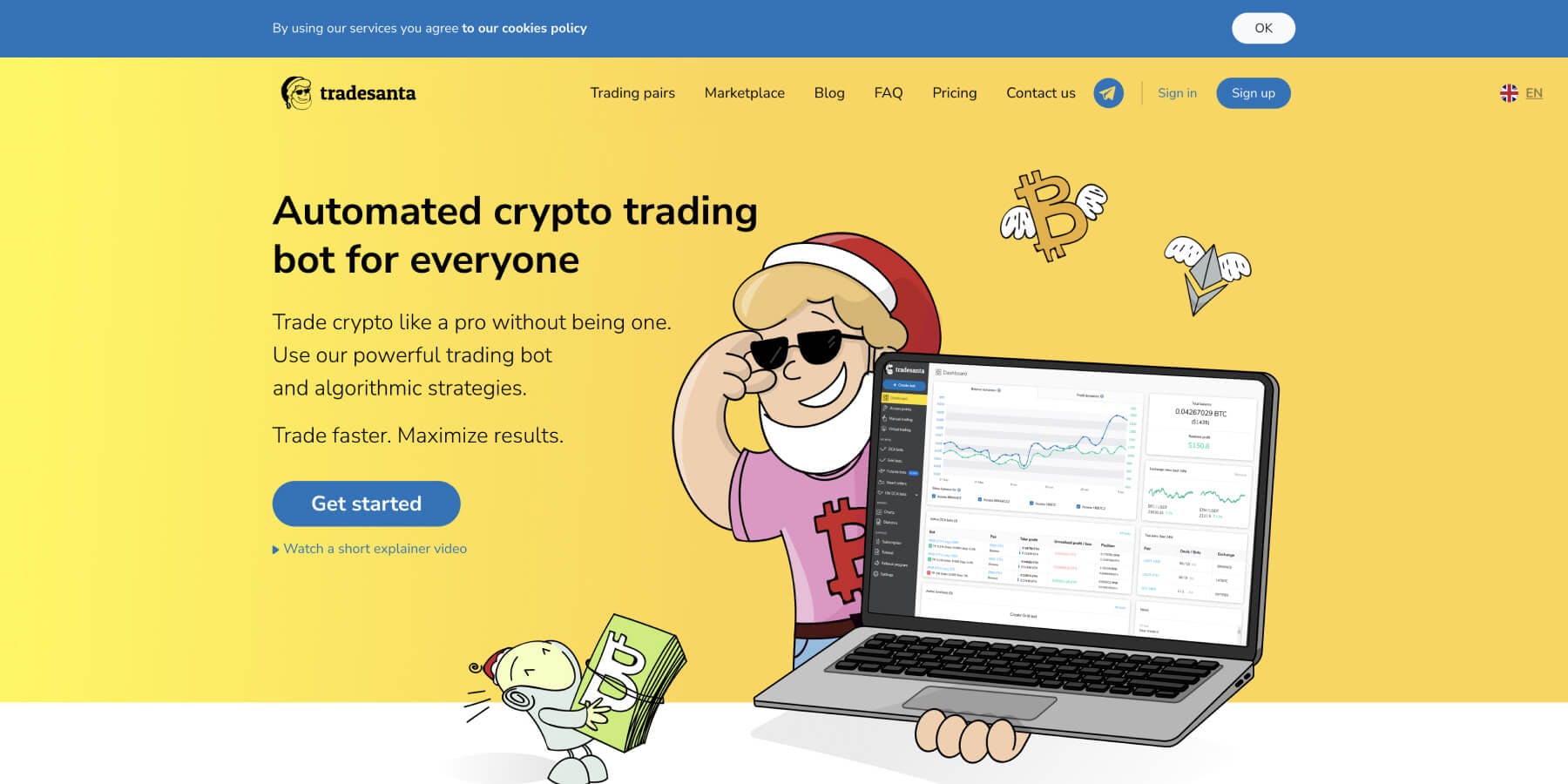 TradeSanta is a solid crypto bot with Binance trading support. The bot shows amazing performance and provides an intuitive dashboard for newbies.
Add to this proper safety measures, a dedicated community, and a tangible effort to maintain a rock-solid reputation and you get software that doesn't stand a chance to many others. TradeSanta is fairly easy to use and has many features to offer.
Open channels with major exchanges might make much more than any technical innovation, as they unlock vital liquidity and pave the way for mass trading. In other words, partnerships are crucial for every crypto trading bot. TradeSanta has amassed quite a company, including Binance, Bitfinex, Bittrex, HitBTC, UPbit, Huobi, OKEx, and Coinbase, to become the niche bot in arbitrage trading. At least, that is what many customers discuss across the web. More exchanges will be added shortly, as the bot seems like conquering arbitrage trading further.
A free trial

User-friendly app for mobile devices

Helpful dashboard for newbies

The average rate of 4.1 on Trustpilot

Built-in presets to build bots from zero

Marketplace to capitalize on bot sales

Few active members 

Customer support lacks responsiveness
Coinrule — Best Bot for Technical Traders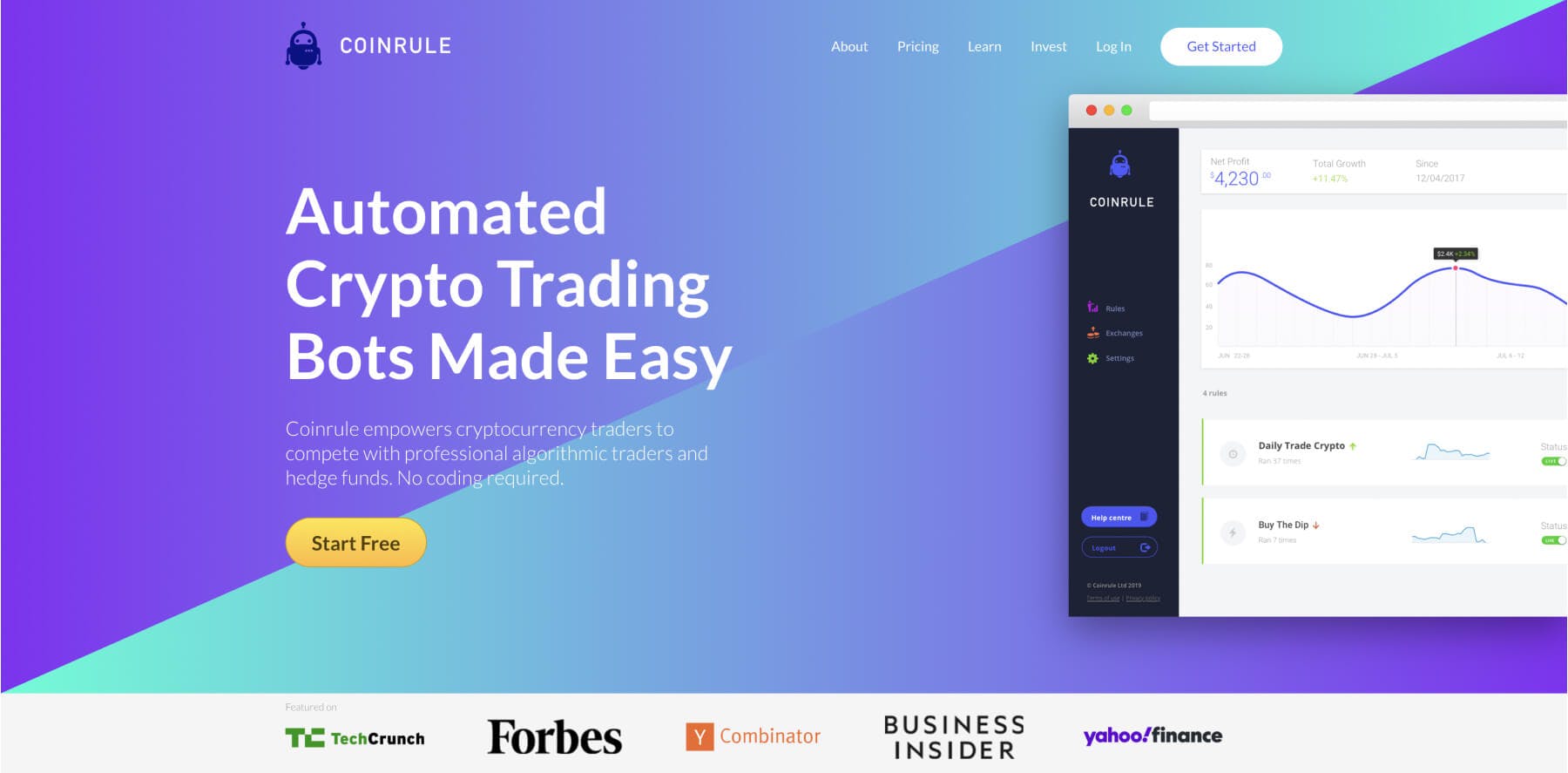 Coinrule offers a smart assistant to bootstrap your trading experience. The feature is beneficial for complete newbies launching a trading terminal for the first time. The extensive FAQ section and support team can also make your trading life a bit easier. 
An intuitive interface, crypto trading templates, an extensive exchange list, and security get the job done and attract new and seasoned traders alike.
Highly customizable

Lots of trading presets

Free trial plan 

No fees

Expensive Pro plan

Lack of supported exchanges

No mobile app
Trality — Best Trading Bot for Advanced Users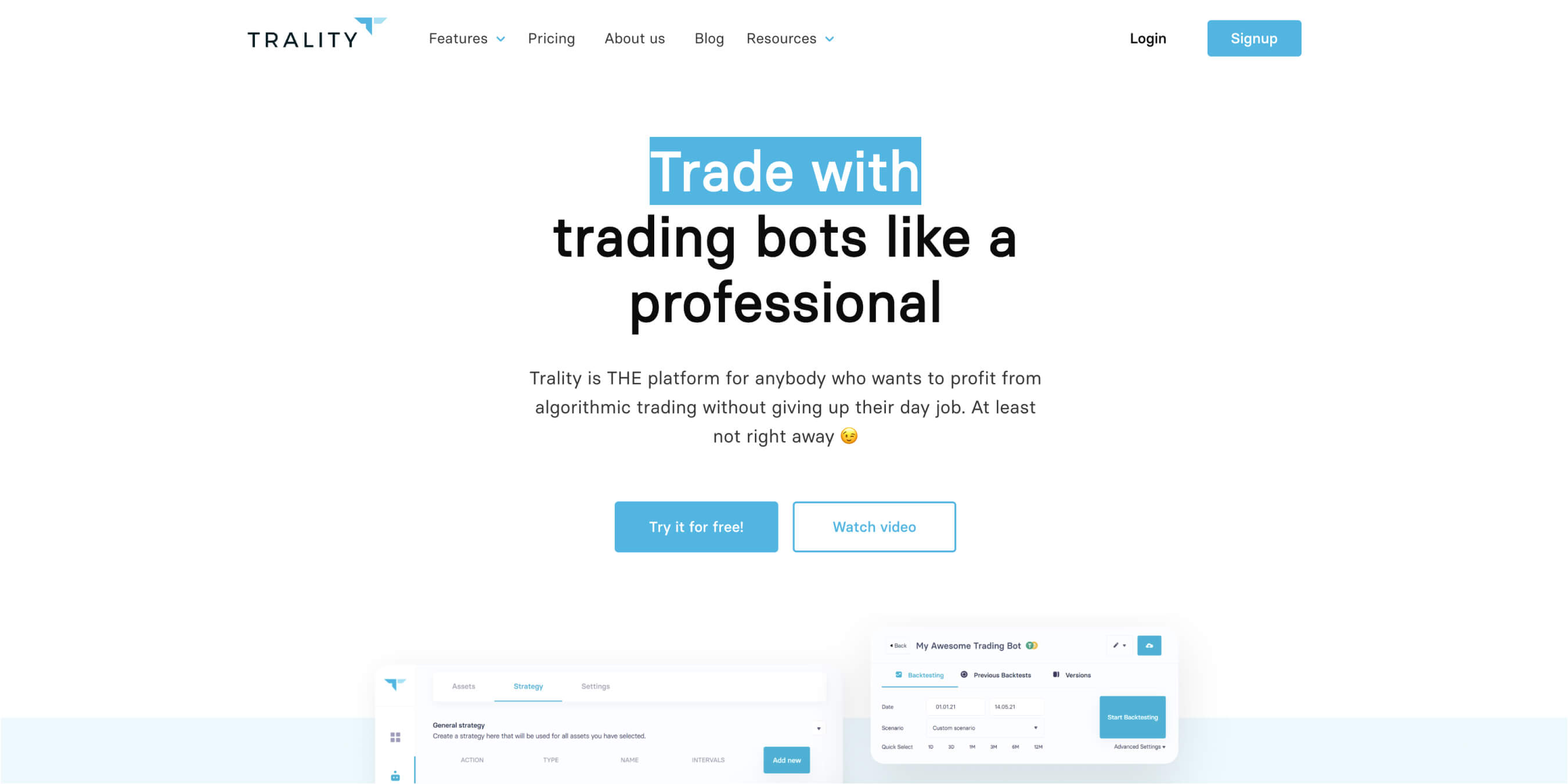 Trality is quite a new software provider launched back in 2021. Their core tagline is availability, as Trality is the platform for anybody who wants to profit from algorithmic trading without giving up their day job. 
The platform provides users with multiple trading tools for building their own distinct trading bots — both from scratch, using presets, or ready-to-go trading solutions. Trality also allows you to backtest and live-trade with their built custom strategies.
The best feature they can offer is their unique Code Editor, the first viable Python Bot Code Editor available in your browser. You can use their code editor to create your advanced strategy if you're an advanced trader with coding experience in Python. 
The platform also has some cons, including the lack of a mobile application and quite a few crypto exchanges supported. This bot might not be a good fit if you're trading outside of the biggest exchanges.
In-browser code editor for developers

Drag-and-drop builder interface

You can build your own bot

Allows fiat [bank] operations

You can rent bots

Limited exchange support

No mobile app
Bitsgap — Best Trading Bot for Sideways Markets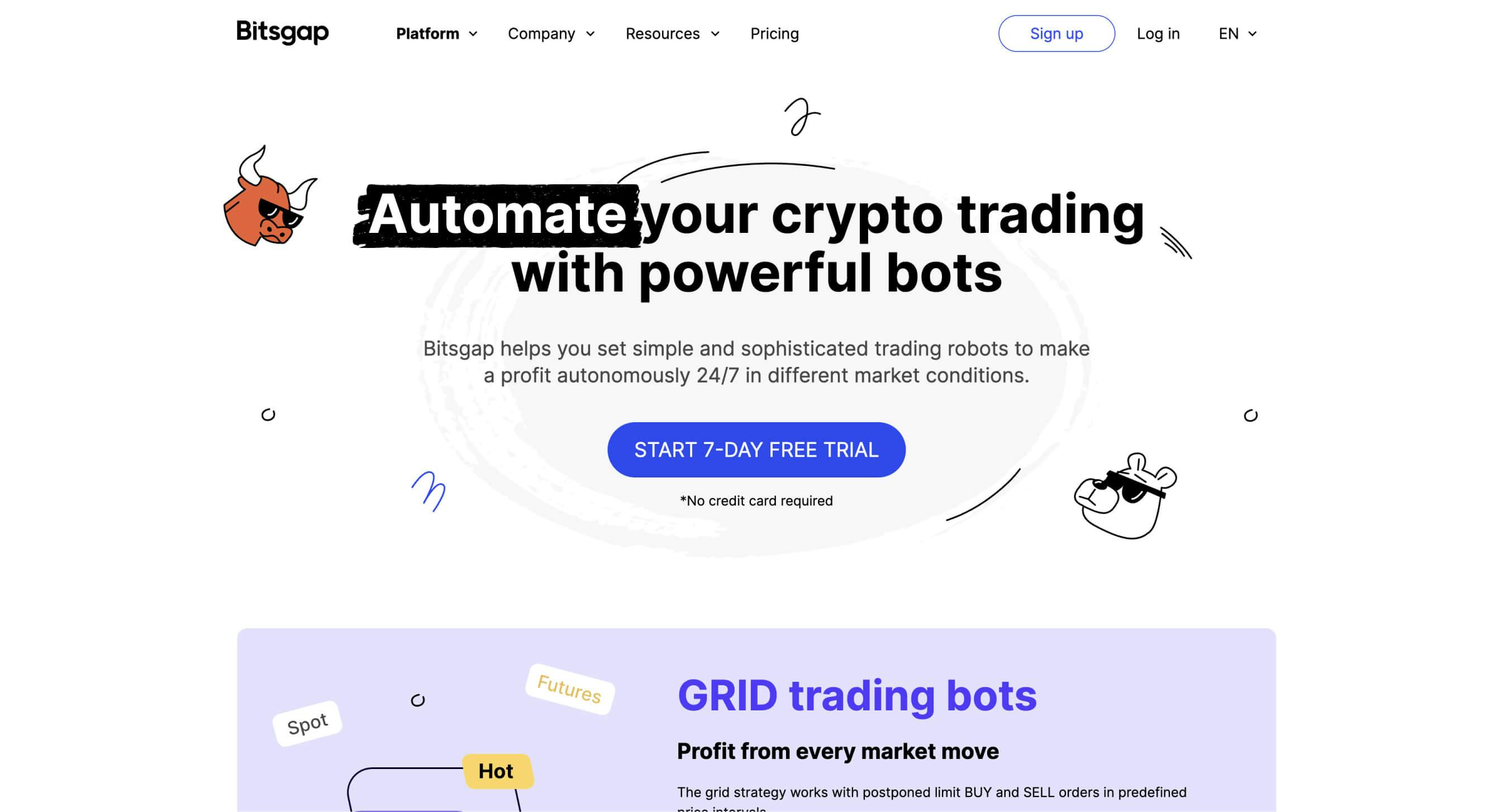 Even though the Bitsgap bot has faced controversial reviews across the web, many traders claim its features are beyond competition. It's an excellent automated trading software provider best known for grid trading and several other features the team supplies.
Their bots focus on grid trading, which might be a perfect way to automate your trading on the sideways market. A bot distributes your deposit proportionally within a specific trading range for profits. 
A simplistic website layout, FAQ section, and an intuitive mobile app available both for Android and IOS get the job done and drive many retail traders into automated trading. Overall, this bot provides a smooth crypto trading experience.
Over 600 crypto pairs

Flexible pricing structure

No trading, deposit and withdrawal fees

Supports multiple exchanges

A free trial 

TradingView tools available

No leverage trading

No license

No support
More Poloniex Trading Bots
These bots didn't make it to the main list, yet you can find some of the features they offer quite beneficial for your automated trading strategies.
Holderlab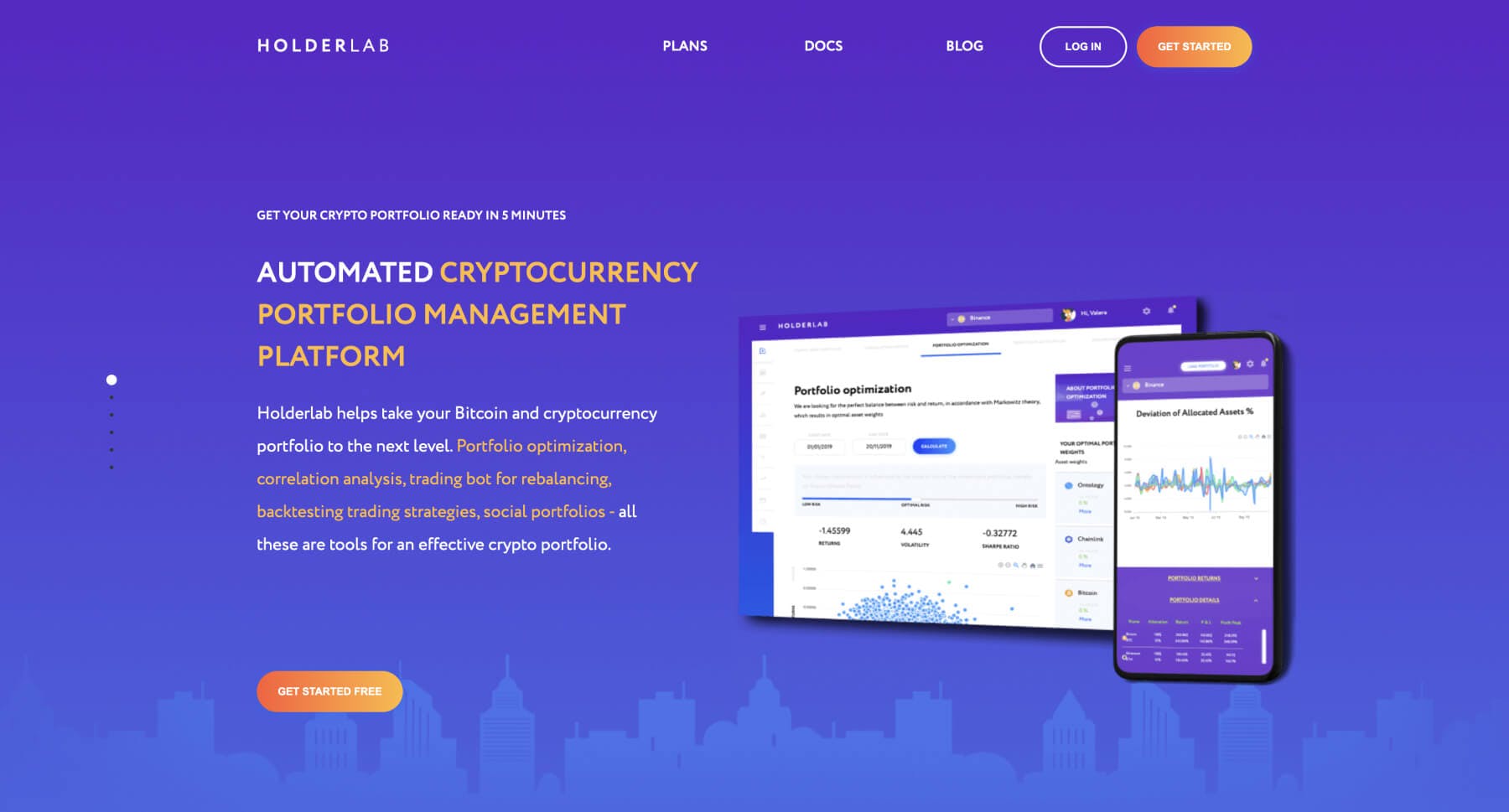 Holderlab is a crypto portfolio management automation software. It will help you to analyze your portfolio using cutting-edge tools like correlation matrix and the optimization method. The best part of using Holderlab is your portfolio's safety. In other words, this platform aims to find the optimal portfolio to fit your risk/reward ratio. You can also test your current strategies and rebalance your portfolio through a simplistic dashboard.
TrailingCrypto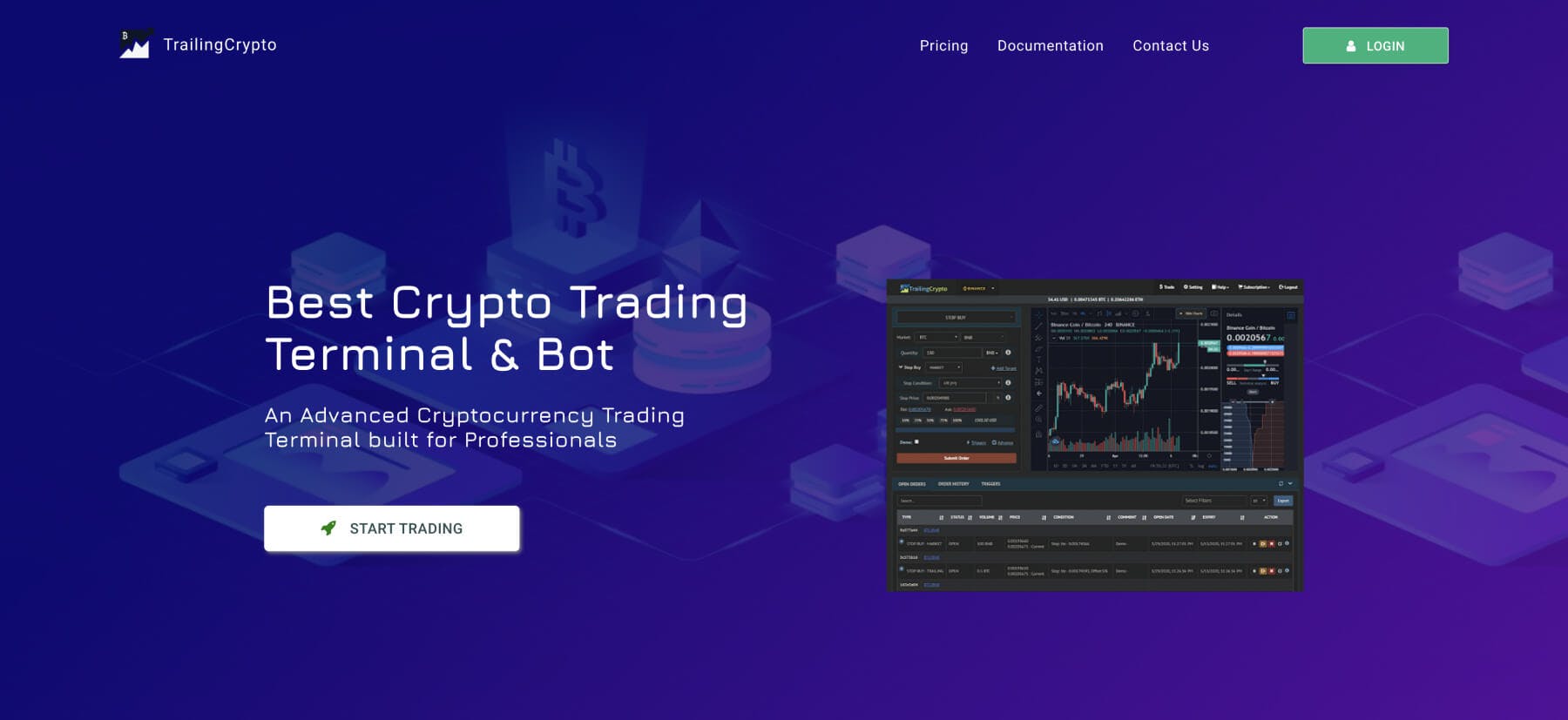 TrailingCrypto bot harnesses powerful algorithms to get your edge and trade automatically. You can start for free with no strings attached nor credit card info required. 
Some benefits you can get your hands on include automated & custom strategies, the marketplace, real-time data access [150+ sources], simulating, and a wide range of exchanges available. 
The bot has an average score of 4.3 stars on Trustpilot. However, the score merely reflects the platform's credibility, as it's based on 40 votes only.
BitUniverse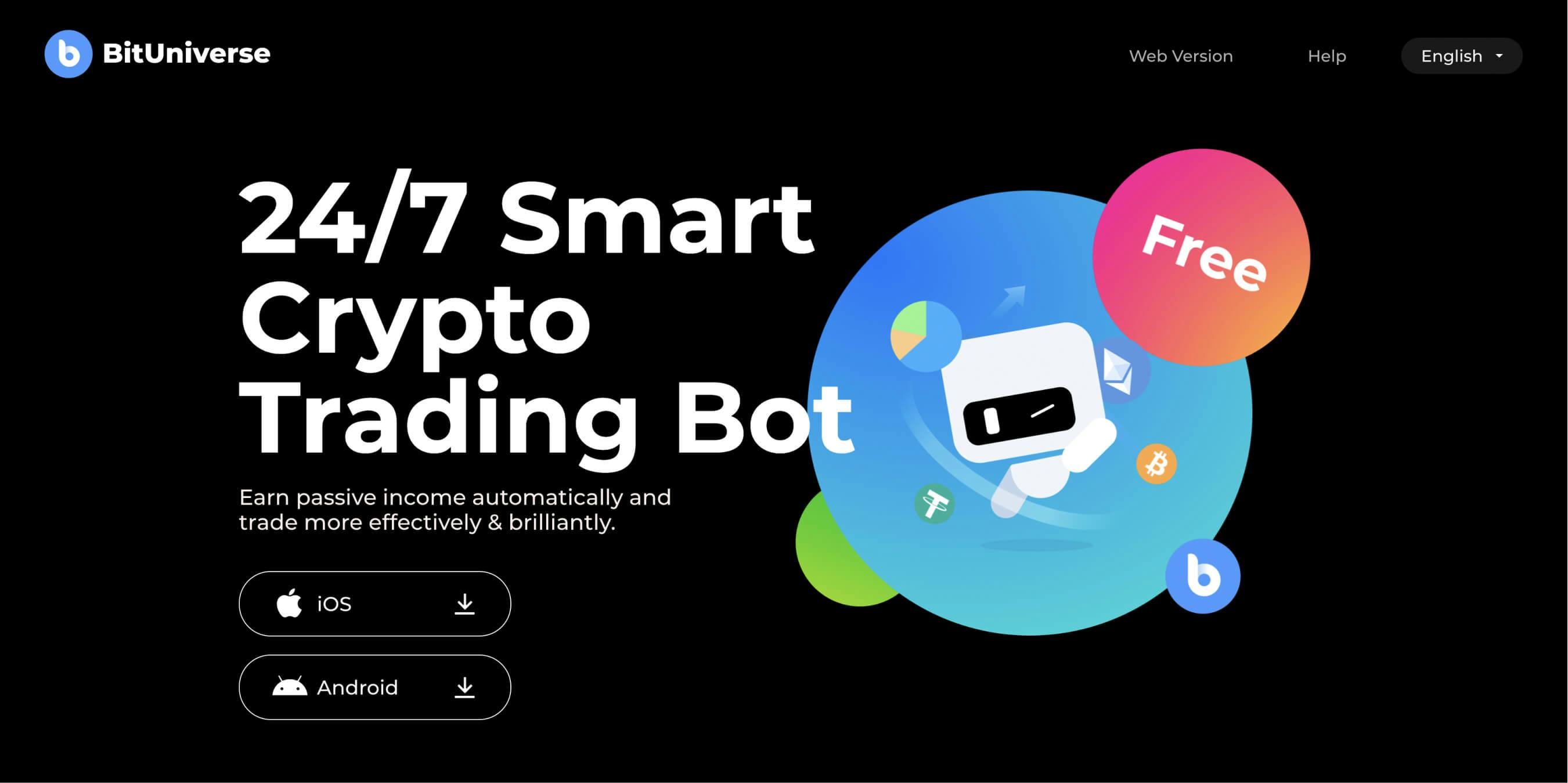 The BitUniverse team represents among the highest levels of customer service  — the information is accurate, and responses to queries are turned around blazingly fast. This way, you can kick off your trading in no time while being as efficient as possible. 
The platform's tagline is sky-high APR reaching over 100% [on average]. Yet another great news is that BitUniverse offers some automated trading solutions for free. 
LiveTrader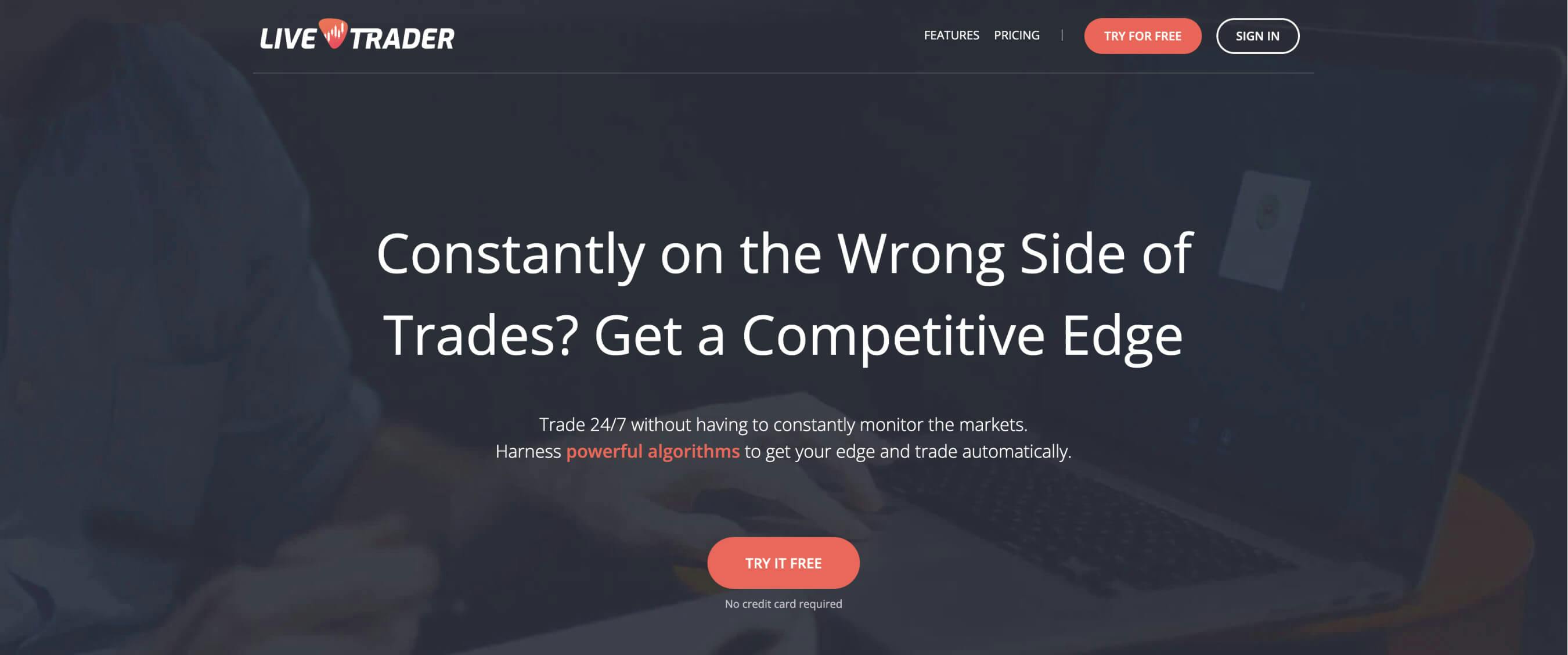 If you're looking for a platform to get started crypto trading in an automated way, LiveTrader might be your pick. Customer support responses are prompt and professional, meaning they might be helpful in solving your issues related to the platform. 
LiveTrader processes & analyzes data from multiple sources so that you can stay informed and trade consciously. Once you have all the info, you can evaluate your strategies by running them across historical data to see how they perform under various market conditions.
With a strategy ready and tested, you can automatically trade on all exchanges from a single account. 
Pionex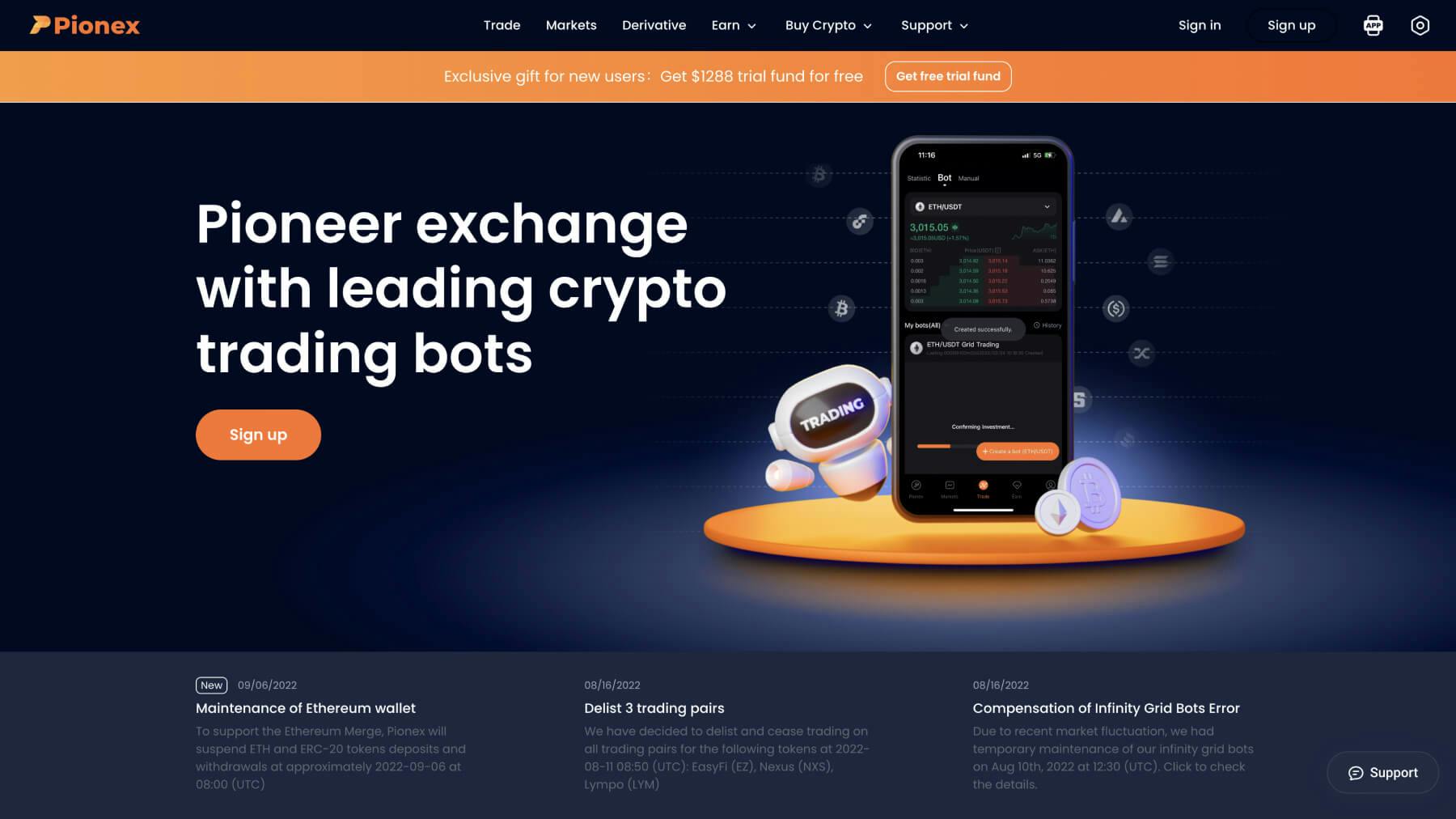 Pionex is one of the free trading bots supporting crypto trades - you can capitalize on over 120+ cryptocurrencies using 16 built-in trading bots. The trading terminal is simplistic and doesn't have excessive buttons, which is an obvious all-in for complete newbies.
The platform's live chat and low fees can level up your trading experience, especially if you have just entered the market. However, Pionex doesn't provide you with access to a demo account. So you can't practice trading unless your budget is at stake.
Free Poloniex Trade Bots
Some of the providers mentioned above allow you to get started for free to test the features and decide whether you want to proceed using their services via the subscription plan. 
3Commas is one of the best automated trading providers featuring powerful access at no extra cost. Other bots from the list also provide some features you can access for free. Software providers like TrailingCrypto, LiveTrader, BitUniverse can be a good alternative.
Is Poloniex Bot Trading Safe?
One can approach safety differently. Let's define two common ways and explain whether Poloniex bots are safe. 
Safety is a technical term, implying that your trading is protected and only you have access to your funds. Most bots are safe from this perspective, as they don't have direct access to your funds [unless you provide this access voluntarily].
Poloniex is an established exchange, making a data breach or any other exploit quite unlikely. Which means your trading safety relies on the bot developing team. If the team behind your bot is reliable and tested, you can use any Poloniex bot with peace of mind. 
Another approach to treat safety is your bot's efficiency. How much money can you make/lose using a bot? Less reliable bots can use poorly-designed logic sets, resulting in losses. These bots are not safe. Other bots make use of the industry leading algorithms and yield tangible returns — these are safe bots. 
Whether your bot is safe or not depends on the team developing and tuning this bot over time. That is why you might want to pick a team with extensive analytical, testing and technical skill to deliver a reliable crypto trading bot. A stunning example of such a team would be the 3Commas trading platform.
How to select a Poloniex Trading Software?
If you're looking for a Poloniex trading bot, you might want to pay extra attention to some specific criteria that set apart a good trading bot.
Settings & Flexibility
Some bots may provide you with a range of trading tools and related settings, others won't. Ideally, you need the widest settings pool possible to stay as flexible as possible and win no matter the market.
Complexity
You might want to avoid overly complicated bots, as they minimize your time efficiency in most cases. However, some pros might benefit from additional buttons within the interface.
Strategies
Support for specific technical indicators might play a big role in your upcoming profits. So does the relevant market data feed and suggestions related to trading strategies provided. The more strategies you have, the better.
Pricing
A trustworthy bot provider stays flexible in terms of pricing to drive more value your way. If a provider limits you significantly or pushes toward the most expensive plan by default without asking anything, that's a red flag for sure.
Supported Exchanges
All major bots should be compatible with major exchanges. More exchanges mean more liquidity and more trading opportunities consequently.
Reliability
Is your bot provider an established company with data feed to track? You might want to check reviews across the web to be sure.
Other Factors When Choosing Poloniex Trading Bot
Data & Profits 
Can you check the data behind the risks and rewards your bot provides? What about the bot's success rate? Are the profits claimed the same as the data shows? Check the numbers to make the decision if you don't trust the developer. 
Safety
Can you check the team? Transparency is a good sign for reliable teams set for a long sail. What do the developers say about the security measures they have taken? You might also want to know whether your potential software provider has ever been hacked. 
Mobile App
An application is crucial if you spend lots of time using mobile gadgets like a phone or tablet.
How to Set a Bot on Poloniex [Example]
If you feel like starting trading using Poloniex robots, you can kickstart your automated trading on 3Commas and launch your first trading bot following the next steps.
Step 1: Create an Account
Reach out to the 3Commas website and click on Try It Free to get started. 
Fill out all the fields required to create an account from scratch. Alternatively, you can use your Apple/Facebook account to pace up and keep going faster. 
Step 2: Set Your 3Commas Account
If you're willing to start off using 3Commas Bot functions directly, you have to connect your exchange account with an API. Read more about connecting an exchange using an API key. 
Otherwise, if you want to practice first, you can use a demo account also known as a paper trading account. Read more about enabling demo mode. Please note that paper trading is only available for subscribers. In other words, 3Commas free doesn't provide a demo account by default. 
Step 3: Pick a Poloniex Bot
Once you sign in, you'll see the dashboard by default and the side menu left-hand. Click on the trading bots tab to expand the list of available trading bots 3Commas provides.
Arbitrage bots examine prices across exchanges and execute your Poloniex trades accordingly 
Grid bots are used to set buy and sell levels for multiple Poloniex trades
DCA bots are used to open various buy/sell orders offering a lower buy-in or higher sell-out average position
For example, GRID bots work perfectly on fluctuating sideways markets. You can read more about AI GRID bots here.
Step 4: Set the 3Commas Bot
Once you pick a bot type, proceed to its page and set trading criteria as limit prices, profits, and available amount. You can also set your bot manually by clicking on a Manual strategy tab instead of the default AI strategy menu appearing.
Click on the Create button to finalize a bot creation. The process is pretty much the same for any kind of Poloniex bot. You can learn more about 3Commas bots here.
Conclusion
If you're preparing for a market rebound soon, automated trading might be the best option to capitalize on the long-awaited crypto rally. Poloniex trading bots might help you not to miss out on opportunities, as they execute without emotions and can yield you profits regardless of your trading style, the platform, or the current market state. 
FAQs
Poloniex is a cryptocurrency exchange that offers users access to buy and sell crypto assets like Bitcoin, Ethereum, Cardano, and more. This crypto exchange is one of the oldest platforms out on the market. Multiple whales and retail traders use Poloniex daily.

Poloniex exchange works just fine as of writing [August 2022]. Some shutdown announcements are only applicable to margin and lending products.

You can use the exchange as long as Poloniex works in your country and you're above 18 years old. The exchange currently supports most European countries, Australia, Canada, Israel, New Zealand, and the United Kingdom. You can find a full list here.

Crypto trading bots are authorized and accepted legally in almost all major countries. As a result, you can lawfully automate your trading experience and maximize your efficiency across various markets, including crypto.

Crypto trading bots use logic sets to buy, hold, or sell assets. These logic sets follow specific trading strategies, defining trading bot types — from grid trading to DCA bots to options bots [exclusively by 3Commas].

The efficiency of your bot directly depends on your automation software provider, as the team behind your bot defines the decision-making process. The latter affects how profitable your trading is going to be. That is why you might want to pick your bot provider and choose only trustworthy teams like 3Commas.

Mikhail Goryunov
A proven leader, successful at establishing operational excellence and building high-performance teams with a sharp focus on value creation and customer success.