Become a crypto master
Become a crypto master
Learn everything about crypto,
trading and bots
Learn everything about crypto, trading and bots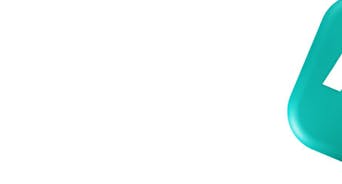 Bitsgap Review 2022: A Comprehensive Comparison – Bitsgap Trading Bot vs 3Commas
From

DATE PUBLISHED: FEB 24, 2021
DATE UPDATED: OCT 28, 2022
Bitsgap is a cryptocurrency trading bot you can use to automate your trading. This article describes whether Bitsgap is a good all-in-one trading platform, and compares it to the industry leader 3Commas. Let's briefly describe Bistgap and dive into its features first.
Start Trading on 3Commas Today
Get full access to all 3Commas trading tools with free trial period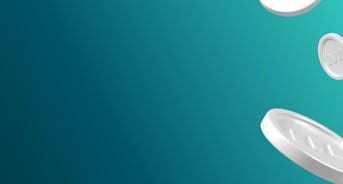 Bitsgap Bot Review at a Glance 
Bitsgap is a world-class automated crypto trading bot allowing users to copy trade, backtest, and modify their trading strategies. For new traders, this web-based platform provides various trading strategies and templates to pick from. 
Users can set up the bot to trade automatically 24/7 while making use of the algorithmic and social trading simultaneously. However, the pricing options are quite expensive compared to the market's average.
Supports 15 exchanges

Intuitive interface

Free trial option

Advanced dashboard providing market signals

Fairly easy to start grid trading

Not quite affordable, as the Pro plan costs $149 monthly

Bots are limited in functions

Lack of optimized Bitsgap app on Android and IOS platforms.
Bitsgap Bot Review: What can you do With Bitsgap? 
Bitsgap helps you to automate trading and investment through various tools. Let's break down what you can do using the bot.
Bitsgap Bot Review: Bot Trading
Connect Bitsgap to any supported crypto exchange via API and automate your trading in no time. If you're tired of trading terminals, this bot can be helpful. Once you set the triggers, indicators, and strategies, you can stay away from your device for a while. The bot will trade on your behalf based on your specific settings. 
Bitsgap Bot Review: Cryptocurrency Trading Bot 
Crypto trading may be highly volatile, leading to losses if acting at random. Grid bots by Bitsgap are designed to structure your trading, build a sustainable system upon triggers, technical analysis indicators, and advanced trading strategies. Imagine if you could make profits regardless of the market condition — grid bots allow tangible profits despite even the steepest downfalls, especially over the long haul. 
Bitsgap Bot Review: Signals 
Trading made easy is what the signals are all about. Bitsgap provides trading signals you can follow for profits. Instead of analyzing the market day and night, you can follow the trading patterns of more experienced and dedicated traders. 
Bitsgap Bot Review: Crypto Arbitrage 
Crypto quotes change frequently, creating massive opportunities for arbitrage. Bitsgap supports 15 crypto exchanges with the highest liquidity, so any trader can access arbitrage deals and make solid profits with lower risks. 
Bitsgap Bot Review: Portfolio 
The Bitsgap bot provides a range of tools to manage your crypto portfolio. Diversified and reliable crypto portfolio has never been easier to build and maintain. 
Bitsgap Bot Review: Demo Account 
Once you've set up the strategies, bots, and portfolio, you might want to try them out first. A demo account allows you to test anything in a safe environment with zero risk for your funds. Such a standard feature significantly reduces your chances of losing money at random.
Bitsgap Bot Review — Different tools and strategies
Demo account is a perfect tool to discover new trading strategies as you develop. For safety purposes, you suggest testing any trading strategy several times before applying it onto your real money. This way you can experiment with instruments and advanced trading tools in a risk-free sandbox.
Bitsgap Bot Review — Going Live On market
Imagine you could trade in real-time with no risks. A demo account by Bitsgap generates a sandbox emulated real conditions so that you can get the full experience at no extra cost. Bitsgap demo account may autonomously execute your orders, showing your actual trading results. 
Bitsgap Bot Review: How Bitsgap Ensures Security 
Bitsgap trading platform ensures your funds are safe & sound via the API key technology. Instead of login attempts, email ID, or anyhow gaining access directly, the platform connects through the API key, keeping your data private. No unauthorized persons get access to your Bitsgap account. 
Let's clarify what stands Bitsgap out among different exchanges regarding security.
Bitsgap Bot Review — Account Access 
All login attempts are secure. If someone is attempting to connect from an unexpected device or location, you will receive an email requesting authorization right away.
Failed login attempts result in a temporary lockout of both the account and the API, providing protection from password attacks.
Two-factor authentication entails using a one-time use token to get access to your account. Bitsgap suggests using 2FA as an extra layer of security.
Bitsgap Bot Review — API Keys 
You have limited access to your API key since you control all of its settings. Bitsgap simply needs access to your trade history, balance view, and trading to fully leverage the platform's features.
No withdrawal permitted in settings — as an added security step, once you enter your API key, Bitsgap always checks to see whether you have limited the ability to withdraw cash. If you activate this option, the API key will not be accepted.
API keys are always concealed in an encrypted manner — your password and API keys are always encrypted, and no one has access to them but you and your exchange.
Bitsgap Bot Review — Employee Security 
Secure network structure — all user information is stored on a secure network that is protected by a powerful firewall and is not accessible to anybody outside of the platform.
Employees are limited to their area of expertise — to eliminate human errors and safeguard the users from within; each Bitsgap member has limited rights and access to the system depending on their work assignments.
Bitsgap never shares, sends, or displays sensitive or account information outside of the network.
2FA authorisation and internal security audit — to access the Bitsgap network, all workers must use a strong password and two-factor authorization.
Bitsgap Bot Review — System and Server 
The most basic explanation for RSA 2048 encryption is that the majority of banks worldwide employ 1024-bit encryption. That effectively makes Bitsgap twice as safe as the online bank you use (To put it in numbers, if a person chooses to "crack" your API key, it will take them over a hundred lifetimes to go through every possible combination).
When you add an API key to Bitsgap, the browser commences an encryption procedure on your behalf and securely transfers your API to our server.
Bitsgap Bot Review: Pricing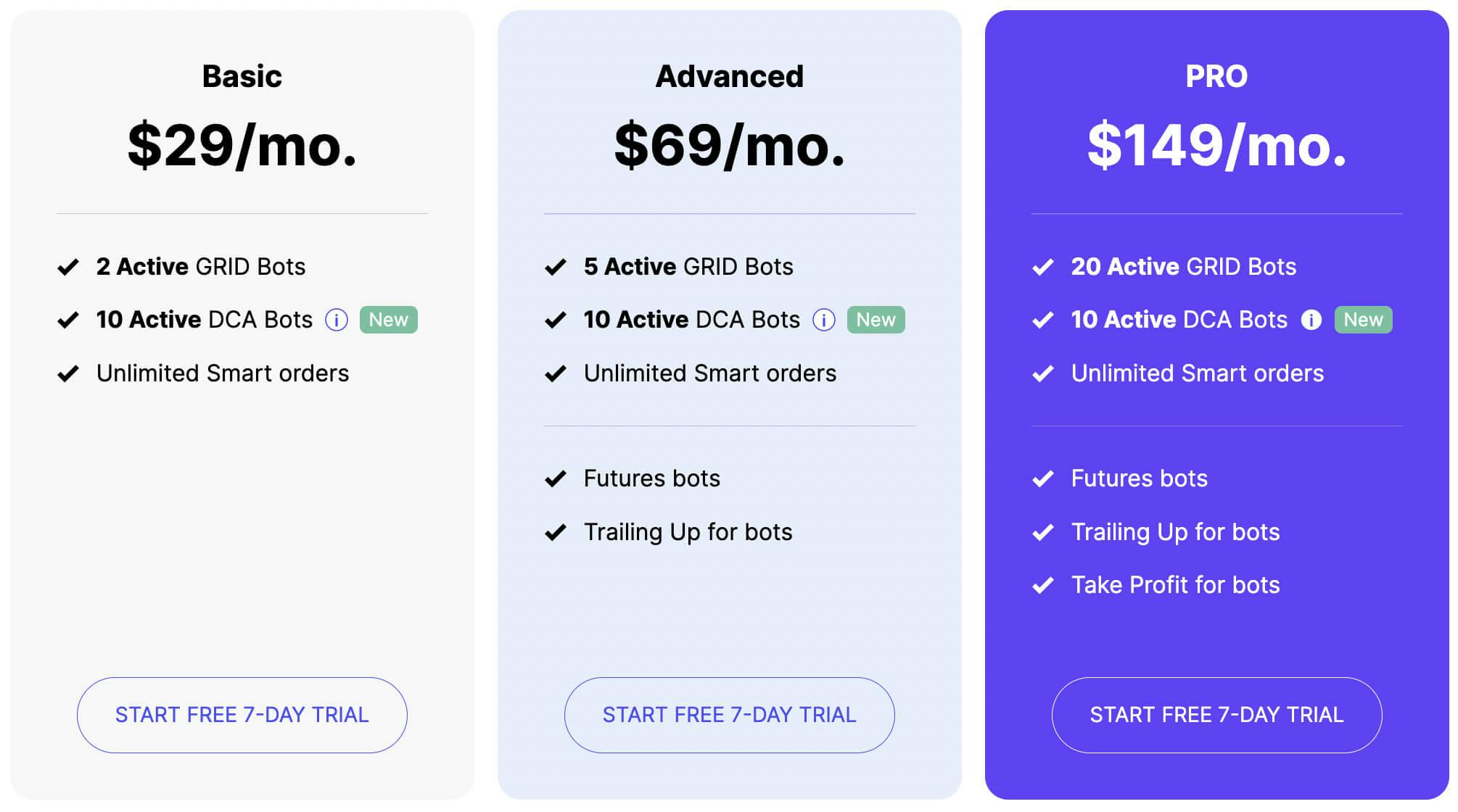 Bitsgap offers 3 options to pick by default, each with a different price and features.
Basic — $29/month — 2 active trading bots
Advanced — $69/month — up to 5 active trading bots
Pro — $149/month — up to 20 active trading bots
After signing up, you will get a 7-day trial on the lowest package [Basic]. You can practice with Demo funds or connect exchanges to trade in LIVE mode. Once your trial is finished, you will be offered to pick one of the paid plans to keep trading. If you don't pick a plan, you'll be downgraded to a Free plan and lose most of the features.
Three options to choose from. You can pick a Basic, Advanced, and Pro plan

All plans include a 7-day free trial

Bitsgap has a free plan with some features once your trial ends

Trading limits on most plans

Expensive compared to other automated trading software providers

Free plan lacks functionality
Let's describe each plan briefly.
Bitsgap Bot Review: Free Plan at $0 
You can select a free plan ($0/month) with a $1000 monthly trading limit. It will allow you to have limited access to some of Bitsgap's features. 
Bitsgap Bot Review: Basic Plan at $29 a Month 
This plan unlocks more features and increases your trading limit. With a $19 Bitsgap plan you can trade up to $25,000 each month, while having access to a pair of trading bots. You won't have priority support and arbitrage opportunities than high-tier plans have. 
Bitsgap Bot Review: Advanced Plan at $69 a Month 
The plan level-up the limit 4 times, up to $100,000 trading per month. You can also access arbitrage, trading signals, portfolio management tools, extended order types, and virtual funds experience [demo trading].
Learn more about extensive portfolio management in our top 5 portfolio trackers deep dive
Bitsgap Bot Review: Pro Plan at $149 a Month 
Bitsgap Pro plan doesn't limit you in terms of trading volume. You have all the features included in previous plans, priority support, and up to 20 active trading bots allowed.
How to Start Using Bitsgap?
Getting onboard with Bitswap is as easy as with any other platforms. You don't have to download anything — just enter the website, pick your plan, and follow the instructions. 
Once you follow the tips, it should be fairly easy to set up your first DCA or GRID bot. In case you have any questions, you may always address the customer support for clarification. Bitsgap has one of the most responsive support members within the industry. 
Bitsgap Bot Review: Is Bitsgap Worth Using? 
Bistgap may be a good trading automation tool, but all users' final results vary significantly. Before buying into a plan, we recommend you test all the features during a 7-day trial plan for free. Once you run out of time, you'll lose some of the best features. That doesn't mean you can't trade for free, though.
You might want to consider paid plans and other automated trading software providers for large trading volumes and tangible results. 
Bitsgap Bot Review: Pros Reviewed
Let's address some of the advantages you can gain via Bitsgap bot. 
Ease Of Use 
The bot is fairly easy to use, as it has an intuitive layout and onboarding process alike. Newbies can easily get started with the bot. The support team is quite responsive and ready to solve all the emerging questions. 
Reputation & Privacy
Despite the competitiveness of the automated trading niche, Bitsgap turned into a towering figure some other providers tend to follow. The fact speaks loud about Bitsgap reputation, user trust, and the overall expertise the team broadcasts.
All Bitsgap connections are encrypted using HTTPS using state of the art RSA 2048-bit encryption. More importantly, Bitsgap doesn't have any access to your funds, and all your crypto assets always remain directly on your exchanges. Please see our security page for more information.
Fees 
Bitsgap doesn't charge any trading fees. The only payment you make is a a monthly subscription fee for using the platform, its features, and the community resources to level up your trading. 
Customer Support 
Bitsgap has a powerful customer support service always willing to help. The team helps newbies and seasoned traders alike, answering all questions related to trading. Quick turnaround time and informative reply make the Bitsgap support extremely helpful. 
Payment Methods 
The platform supports Visa, Mastercard, Paypal, and crypto. You can use BTC, ETH, BNB, and more to cover your subscription costs upfront. For regular payments, you can use traditional payment methods like Visa, Mastercard, and PayPal. All transactions and personal information are encrypted, meaning your funds are 100% safe. 
Bitsgap Bot Review: Cons Reviewed
As of writing, Bitsgap supports just 15 crypto integration with exchanges fully-automated trading, which is not as many as it could be. If you're trading outside of the top 20 exchanges, you may struggle using the bot. The number of exchanges also directly affects crypto arbitrage traders by limiting arbitrage opportunities right away. The limited number of exchanges puts pressure on such opportunities, effectively shrieking your arbitrage profits. 
Frequent bugs and interface flaws are among the most noted cons Bitsgap has. They cause many complaints and affect user experience but rarely affect your trading directly. 
Bitsgap vs 3Commas Reviewed: Which Automated Trading Platform is Better? 
Let's break down points crucial for any bot and compare the results for Bitsgap and 3Commas 
| | |
| --- | --- |
| Free, Basic, Advanced, and Pro plans | 4 subscription options with set price |
| All plans include a 14-day free trial | Lower prices and value offers when paid for yearly |
| Trading limits on most plans | A free 3-day trial only for Pro |
| | A short trial period on other plans |
Although both services offer a selection of 4 subscription plans, 3Commas has all the necessary autotrading functions available at cheaper prices.
Bitsgap vs 3Commas Reviewed: Reliability Winner
| | |
| --- | --- |
| Delivers innovative services with impeccable reputation | No cases of security breaches or data leakage |
| Prohibits access from the API until the withdrawal feature from the wallet is switched off | Impeccable reputation, a large number of positive reviews, and 2FA account protection |
| Prohibits access from the API until the withdrawal feature from the wallet is switched off | Low risk of financial losses |
| | |
3Commas seems to be working with fewer unwanted incidents.
Bitsgap vs 3Commas Reviewed: Ease of Use Winner
| | |
| --- | --- |
| A minimalistic chart screen layout | Manual & automated settings |
| Lacks automation features | Automated bots for both novice and experienced users |
| | |
3Commas has received a plethora of positive feedback, especially for the mobile app availability that makes the platform easy to use wherever the trader is: at home or on-the-go. Bitsgap app has been under development for a while, and it's still not known when users will be able to use the fully-fledged bitsgap app.
Bitsgap vs 3Commas Reviewed: Exchange Platforms
| | |
| --- | --- |
| Possible to connect to all exchanges at one place | 18 major exchanges with hundreds trading pairs supported as of writing |
| 15 fully supported digital currency exchange platforms | |
| Demo Bitcoins across most popular crypto exchanges | Built-in trading bots to match user goals |
As of now, 3Commas is leading when it comes to the variety of exchange platforms available, with over 18 featured exchanges supported vs. 15 supported by Bitsgap.
Bitsgap vs 3Commas Reviewed: Profitability Winner
| | |
| --- | --- |
| | Fosters profits while minimizing the risks |
| Calculations of potential profits are based on previous transactions | No trader is 100% insured against losses |
| Different tools are available depending on user strategies | A high volume of profitable trading opportunities are available |
Despite the provider's reliability, Bitsgap cannot guarantee profits. However, the platform successfully manages to minimize user risks when trading, exactly like 3Commas.
Bitsgap vs 3Commas Reviewed: Strategies Winner
| | |
| --- | --- |
| A variety of bots are available | Manual & Automated trading |
| Manual and automated trading is available | There is a margin for human error when done manually |
| Can miss an opportunity if not reviewed by the user | |
Trading strategies winner
You get a great variety of strategies in either case.
Bitsgap vs 3Commas Reviewed: Operating systems
| | |
| --- | --- |
| Smooth operation on major platforms | No bugs found. Full functionality on mobile and desktop |
| Intuitive interface, but there's no Bitsgap mobile app | Desktop version may sporadically lag |
In terms of apps and operating system requirements, you will be fully satisfied with either service.
Bitsgap vs 3Commas Reviewed: Privacy & Security Winner
| | |
| --- | --- |
| Personally identification information is not required | No reports of breaches or fraud |
| SSL secured communication channel | 2FA, IP detection and other security measures |
| Uses cookies for marketing, ads, and more. | |
Privacy and security winner
While no online service can be completely safe, Bitsgap does a better job of explaining their policies.
Bitsgap vs 3Commas Reviewed: Updates
| | |
| --- | --- |
| Alerts on multiple channels, no Bitsgap app notifications | Timely notifications on market updates |
| Bugs and delays may occur | Private updates through Telegram messenger |
| Lack of messaging integration features | Alerts can execute one function only |
3Commas is a more favorable pick due to more efficient notifications.
Bitsgap vs 3Commas Reviewed: Help and Support
| | |
| --- | --- |
| | Multiple educational articles and 24/7 support |
| Support turnaround time might be improved | Some blog articles lacks structure |
3Commas takes the lead as it gives more comprehensive knowledge and more practical tips for trading.
Bitsgap vs 3Commas Reviewed: Communities
| | |
| --- | --- |
| Active social media groups | Many ways for traders to communicate |
| Multiple supported languages | Community support for beginners |
Bitsgap vs 3Commas Reviewed: Features
Both services run in close proximity in terms of their common features but 3Commas wins due to more reliable bots and ready-made strategies.
3Commas vs Bitsgap — Automatic Trading
Bitsgap bot offers technical analysis, which makes it an advanced tool for a trader. It utilizes technical indicators such as RSI, Stoch RSI, EMA, Bollinger Bands, MACD, etc. Many users note that the bot performs especially well during upward market movements.
However, TA seems to be quite complex for beginner users – so they won't be able to utilize its full potential. Also, the bot requires more human presence and operation when the market is moving downward.
The 3Commas bots are very different from Bitsgap. They are based on the DCA (Dollar Cost Averaging) mechanism and use buy and sell recommendations according to Tradingview algorithms. The platform features simple and composite bots ranging in how many coins you can trade simultaneously.
The only negative is that the DCA-based mechanisms invest large amounts of base currency so you have to ensure you have enough free funds. Also, you should be careful about setting the base currency ratio and frequency.
3Commas vs Bitsgap — Trading Templates and Strategy Customization
Bitsgap gives you a choice between ready-made strategies and the ones you create from scratch. Beginners are more likely to stick to templates since they can be quickly set up without much trading knowledge. However, some testimonials on available strategies may not be written by true users, as online experts point out.
3Commas users can purchase automated bot algorithms built by other traders as well as create strategies themselves. The platform also allows you to make adjustments to some bot settings without having to make one on your own. Users should remember that changing parameters to their specific requirements may be risky. But if you feel confident about your abilities, it should not be a problem.
3Commas vs Bitsgap — Backtesting
Once you customize your chosen strategy or create one, you most likely will want to know if it will be profitable. Both services provide equal opportunities for testing your strategies without losing money. Backtesting allows you to see how the strategy will perform in the real world based on historical data. You can compare the effectiveness of different strategies before you find the right one.
3Commas vs Bitsgap — Signals and Risk-Minimizing Features
The Bitsgap bot automates your trades by following signals from third-party technical analysts (signalers). Similarly, 3Commas hosts multiple signals that you can choose from. The benefit of using 3Commas in this regard comes from an easy browsing layout. You can clearly see settings recommendations, average results, maximal profit, etc. It helps you make the right choice based on a sufficient amount of information.
As for risk-minimizing features, both platforms offer Take Profit, stop loss, and trailing stop loss. Most experts would agree that trading without safety mechanisms is irresponsible. So, these features limit your chance of major losses and losing everything you have.
3Commas vs Bitsgap — Social Trading
Bitsgap simplifies traders' lives with the Mirror Trading feature. Those who can't yet rely on their own judgment about the market can follow professional traders. This functionality is free to use provided you have an active subscription.
3Commas presents users with a feature called CopyTradingBot. Similar to Mirror Trading, it allows you to follow winning strategies developed by other traders and follow other traders' portfolio allocations. Their effectiveness can be further boosted by features like order books, new exchanges, etc.
Range of features winner: If you don't want to deal with the complexities of technical analysis, 3Commas is the service for you. 3Commas bots and strategies proved more trustworthy since they are developed by verified users.
Bitsgap vs 3Commas Reviewed: The Bottom Line
We've compared Bitsgap vs. 3Commas to understand which one is better as a go-to trading solution. 3Commas bots beat Bitsgap in many aspects mentioned. Let's finalize the comparison in a table. 
| | |
| --- | --- |
| | 3Commas Crypto Trading Bot |
| | 3Commas Crypto Trading Bot |
| | 3Commas Crypto Trading Bot |
| | |
| | |
| | |
| | 3Commas Crypto Trading Bot |
| | |
| | 3Commas Crypto Trading Bot |
| | 3Commas Crypto Trading Bot |
| | |
| | 3Commas Crypto Trading Bot |
As a result of head-to-head comparison across multiple factors, 3Commas has scored 10 points, while Bitsgap trading bot accumulated just 5 points. Overall, the 3Commas bots seem more efficient than Bitsgap. 
Bitsgap Bot Review: Verdict? 
Both Bitsgap and 3Commas are solid all-in-one trading solutions to boost your trading. You can react to the latest market changes, take live market conditions into account, and set market orders like limit orders, take-profit orders, and other trading orders across different cryptocurrency trading pairs. Even though you will succeed in trading with either platform, 3Commas bots perform better. Especially If you're looking for broad exchange support, crypto assets, flawless user experience, and unlimited exchange-trading features.
FAQ
This detailed Bitsgap vs 3Commas comparison addresses many aspects of each bot, and Bitsgap is a good trading bot for some traders. On the other hand, 3Commas features more tools for newbies and experts alike.

Your Bitsgap profits depend on several factors like initial allocation, risk/reward profile, current market volatility, macroeconomic situation beyond crypto, and more. Bitsgap can be as efficient as other crypto trading bots.

Bitsgap is an established automated trading software provider you can trust. However, you might still want to check reviews before using a bot.

Bitsgap offers a 7-day trial for paid plans. If you don't want to proceed with high-tier plans, you can stay free for as long as you want to.

Mikhail Goryunov
A proven leader, successful at establishing operational excellence and building high-performance teams with a sharp focus on value creation and customer success.