Shiba Inu (SHIB)
Live Price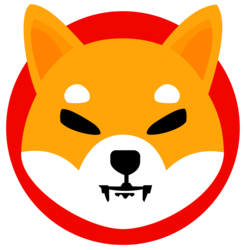 GBP 0.000007
+2.02%
Today's Current Price in British Pound
Market capitalization of a coin is calculated by multiplying the current price in USD or EUR of a single unit of coin by the current circulating supply of that coin available for sale or purchase on public exchanges.

Ex: If the price of BTC is currently $20,000 and there are 50,000 BTC available on public exchanges, then the Market Cap of BTC is $1,000,000,000.
GBP 4.17B
Volume of a coin is the total spot trading volume reported by all exchanges over the past 24 hours multiplied by the value of an individual unit of that coin.
GBP 98,075,354
Circulating supply is the approximate number of units of a coin that are currently circulating in the market in the hands of the general public.
589,344,640,000,000 SHIB
Release date is when the first tokens of this cryptocurrency were created and made available for mining or whatever other creation mechanism was specified in this token's blockchain protocol.
-
SHIB price Statistics
Shiba Inu Price Today
The percent change in price for this asset compared to 24 hours ago
GBP 0.00000693 / GBP 0.00000722
Popularity is based on the relative market cap of assets.
Shiba Inu Supply
Circulating supply shows the number of coins or tokens that have been issued so far.
Shiba Inu Market Cap
Market cap is calculated by multiplying the asset's circulating supply with its current price.
Shiba Inu Price Yesterday
GBP 0.0000069583925 / GBP 0.000007012375
GBP 0.000007012375 / GBP 0.0000069583925
Shiba Inu Price History
GBP 0.0000084270456 / GBP 0.0000090480359
GBP 0.0000068760928 / GBP 0.0000082115134
GBP 0.0000068760928 / GBP 0.000010390071
52 Week Low / 52 Week High
GBP 0.0000063239298 / GBP 0.000013966708
All Time High
Oct 28, 2021 (1 years ago)
The highest price paid for this asset since it was launched or listed.
All Time Low
Nov 28, 2020 (2 years ago)
Real-Time Shiba Inu Price Chart (SHIB to GBP)
About Shiba Inu
SHIB Price Live Data
The live price of SHIB is GBP 0.000007 per (SHIB/GBP) today with a current market cap of 4.17B GBP. 24-hour trading volume is GBP 98,075,354 GBP. SHIB to GBP price is updated in real-time. Shiba Inu is +2.02% in the last 24 hours. It has a circulating supply of GBP 589,344,640,000,000 SHIB.
Shiba Inu Coin Price Chart determines the exchange rates between major fiat currencies and cryptocurrencies – including BTC, ETH and XRP to USD, EUR, GBP. Conversion rates are based on Live SHIB Price Index and the price indices of other digital assets.
This content and any information contained therein is being provided to you for informational purposes only, does not constitute a recommendation by Coinbase to buy, sell, or hold any security, financial product, or instrument referenced in the content, and does not constitute investment advice, financial advice, trading advice, or any other sort of advice.
What is Shiba Inu (SHIB)?
The idea behind Shiba Inu was to give a community the power to run its own cryptocurrency. For many projects that emerged after bitcoin, a handful of people were arrowheads, and wielded so much power. With Shiba Inu, this was a point of departure with the adoption of a community-centric focus.
Governance, stewardship and control are vested wholly on Shiba Inu community members knowing that with shared ownership comes a greater sense of loyalty and commitment. 
The Shiba Inu coin is also known as SHIB, and it was designed to be Ethereum-compatible unlike Dogecoin (DOGE). The total supply was initially one quadrillion coins, although it has reduced over time due to token burns. 
As an ecosystem, Shiba Inu also runs a decentralized exchange, which is part of its latest innovations. It supports NFTs with its art incubator and its other evolving projects. 
How Does Shiba Inu Work?
The Shiba Inu website has an operational campaign to rescue Shiba Inu dog breeds, and this is driven by the community. In addition, Shiba Inu has a decentralized exchange called the ShibaSwap, which operates as a peer-to-peer platform, enabling SHIB trades as well as other currencies. Staking is also supported and SHIB holders can provide liquidity and earn rewards for their stake. 
All three tokens of the Shiba Inu community can be staked on the smart contract for interest earnings. BONE has 250 million tokens in circulation and holders have voting rights for changes to the Shiba Inu protocol through the Doggy decentralized autonomous  organization (DAO). BONE is also used to reward participants who stake on the platform. 
LEASH is the third token on the platform and was designed with a dogecoin-peg ratio of 1: 1,000. LEASH no longer operates with the rebase algorithm and serves now as a community store of value on the Shiba Inu platform. LEASH has a limited supply of 107,647 at this time.
Who created Shiba Inu?
Like Satoshi Nakamoto to Bitcoin, Ryoshi is the name of the inventor of Shiba Inu, and he has maintained the pseudonymous identity since the project launched in August 2020. Other than the inventor's publications and interaction within the community, nothing else is known about the persona.
How is SHIB different from DOGE?
Dogecoin was created in the image of bitcoin, with a proof-of-work algorithm. However, SHIB is Ethereum-compatible and staking is supported with its ShibaSwap decentralized exchange. On Shiba Inu, with its DEX, no intermediary is required before a trade can be completed, a willing buyer and willing seller mode is the standard here. 
In terms of resources needed for its operations, proof of stake systems like Shiba Inu are proven to use about 1 percent of energy required to power proof of work algorithms. This makes Shiba Inu more environment-friendly than Dogecoin. While both of them emerged as memecoins, the differences are recognizable. SHIB is the cryptocurrency with the largest circulating token numbers in the proof of stake ecosystem.
Shiba Ina's Doggy DAO and its NFT support opens it up to more productive uses and income for its development and consolidation. Shiba Inu has gone beyond serving as a memecoin to becoming an enabler of decentralized finance and a voice for 'plebs' or the 'financially -excluded' around the globe.
What Makes SHIBA INU Unique?
From the get-go, Shiba Inu set out to operate without a central figure that calls the shot. This approach set it apart from its peers, although the merits or otherwise of this is still open to conjecture. Ultimately, Shiba Inu aims to become a global currency that is equally accessible to all and sundry, irrespective of where you live on earth.
The Shiba Inu platform is also positioned to be a bridge for forks of leading DeFi protocols as they emerge. Shiba Inu is a ready platform for such new projects as the ethos of decentralized finance spreads around the world. The persistent token burns over the past year have seen it remove over one billion Shiba Inu coins from circulation.
In recent weeks, the launch of SHIB: The Metaverse has also made the news, introducing the erstwhile meme coin to another facet of the evolving world of cryptocurrencies and blockchain. The community tokens, games, virtual lands and ShibaSwap are all in the mix as this aspect of the Shiba Inu ecosystem goes live. 
A major takeaway as the Shiba Inu ecosystem introduces new projects is that more uses will emerge for the cryptocurrency, leading to better earning power and overall profitability. Holders of Shiba Inu will benefit as the price surges, leading to capital gains. 
The Shiba Inu platform will also become more valuable as its market capitalization grows with its market price increase. Greater usage across its operational fronts will impact market price, and leads to higher valuation.
How Many SHIBA INU (SHIB) Coins Are There in Circulation?
One quadrillion coins of Shiba Inu were in circulation at inception, but with over one billion tokens already burned, 549,063,278,876,302 SHIB are available at October 2022. The number of Shiba Inu coins will decrease with the passage of time as more coin burns take place. 
Coin burn as a value-addition strategy in the Shiba Inu ecosystem is akin to a share buyback, leaving coin holders with more value. This also reduces the number of tokens to whom the aggregate Shiba ecosystem value accrues. 
With a share buyback, the number of shares to whom the value of a company can be ascribed becomes fewer. Just like shares ranking for dividends, the number of tokens that will get the benefit of the aggregate value of the ecosystem after a coin burn also becomes fewer.
Using numbers, if 100 persons with 100 tokens owned a company worth 100,000 USD, they would each own $1,000 apiece if they had an equal number of tokens. The $1,000 value for 100 tokens will appreciate to $2,000 if the tokens reduce to 50. 
How Is the SHIBA INU Network Secured?
Shiba Inu operates on the Ethereum blockchain as an ERC-20 token while work is in progress on its Shibarium platform to host its ecosystem.  As a Proof of Stake ecosystem, validators on the platform need to provide security in Shiba Inu tokens before they can participate. The catch is that anyone who proves unscrupulous will lose the token deposit, and this is a security measure.
The other notable explanation is that no validator for block approval can tell for sure which transaction will be allocated as this goes on in a lottery-like model. The randomness eliminates any conspiracy to hijack or divert block approvals on the Shiba Ibu ecosystem. Since no unvetted wallet can participate in the block approval processes, the risk of a phantom hijack is greatly reduced.
The search for a truly decentralized solution has led the Shiba Inu community to chisel-out its Layer 2 solution. Shibarium would operate like BSC or Polygon, except that it comes with a more decentralized structure in place. With the Shiba Inu community having to vote on the direction of the ecosystem and major changes, if required, no central authority will wield so much power to the detriment of other members.
Crypto fear & Greed Index
Next Update
The next update will happen in:
9 hours, 24 minutes and 27 seconds
FAQ
Actual price of Shiba Inu to British Pound now is GBP 0.000007

You can buy Shiba Inu on any exchange or via p2p transfer. And the best way to trade Shiba Inu is through a 3commas bot.

You should not expect to get rich with Shiba Inu or any other new technology. It is always important to be on your guard when something sounds too good to be true or goes against basic economic principles.

You should not expect to get rich with Shiba Inu or any other new technology. It is always important to be on your guard when something sounds too good to be true or goes against basic economic principles.

Shiba Inu (SHIB) hit another all-time high over GBP 0.000063 in 28.10.2021.

Shiba Inu Market Cap is at a current level of 4.17B, up from 4.09B yesterday. This is a change of 2.02% from yesterday.

Latest 24-hour trading of Shiba Inu (SHIB) is GBP 98,075,354.

The current circulating supply of Shiba Inu is GBP 589,344,640,000,000 with the maximum amount of GBP 0.

Shiba Inu current Market rank is #16. Popularity is currently based on relative market cap.